Harts Barn Cookery School cook up Easter treats for the whole family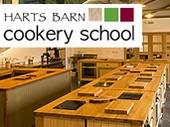 This Easter, Harts Barn Cookery School are offering fun courses for adults as well as the kids!

The new Harts Barn Cookery School set in the picturesque surroundings of the Harts Barn Craft Centre, just outside Longhope will be running Easter Egg hunts, courses and demonstrations throughout the Easter Break. For those interested in learning the art of making a traditional Easter Simnel Cake or Hot Cross Buns, there is a two hour workshop being run as part of the new, weekly Cookery Club and is open to everyone.

There will also be lots going on for children. Easter egg hunts will be combined with a farm tour, before the kids get stuck into making and decorating delicious Easter chocolates and biscuits. For something different, children (over 8 years old) and adults, can come and learn the art of sugar-craft and create a wonderful Easter Bunny to take home to impress their friends and family.

The Harts Barn Cookery School has even thought of how to keep the teenagers entertained over the Easter Holidays. They are running fun, hands-on courses teaching them how to make their own fresh pasta, pizza and pop corn!
Details of all the courses and how to book are on www.hartsbarncookeryschool.co.uk or call 01452 830 954.
---
Explore Gloucestershire
30 April 2011

For further information.



OTHER NEWS
• REVIEW: Canoeing on the River Wye with Way2Go Adventures
• CONFIRMED: Luminarium - Architects of Air at Taurus Crafts
• Kids go free at Westonbirt , 23 July-31 August
• US promise Air Tattoo show of force at RIAT 2011
• British Cable Wakeboard and Wakeskate National Championships: Cotswold Water Park
• Announcing Gloucestershire's newest Blues Festival in the Forest of Dean
• Perfect weather for ducks down at WWT Slmbridge
• Meet the lemur babies of Madagascar at Cotwolds Wildlife Park
• Fresh Air 2011 : Contemporary sculpture shows near Cirencester
• New arrival at Prinknash Bird Park
• Carry the forest in your pocket with new ForestXplorer iPhone app
• Bushcraft comes to the Forest of Dean with Forest Bushcraft
• Adam Henson to open Birdlands' 'Marshmouth Nature Reserve'
• The Christians and Robin Ince among the latest additions to the Wychwood Festival
• Air Tattoo welcomes back old flames
• Happy Birthday Brum!
• TV 'Brums' 20th Birthday Party Celebrations!
• Discover Cheltenham's Royal connections
• Treasure Trails produces fun Royal Wedding Trail
• Explore Gloucestershire iPhone APP - over 2000 downloads!
• Youngsters take over Slimbridge
• Easter School Activities in Gloucestershire
• Harts Barn Cookery School cook up Easter treats for the whole family
• 2011 Printed Guide NOW OUT
• The latest news from Wychwood Music Festival 2011
• Air Tattoo offers glimpse of RAF's future
• Threats and hostility finally kill off Cheese Rolling Festival
• Cheltenham's Art Gallery and Museums win £750k
• Air Tattoo proves it has the X Factor