Happy Birthday Brum!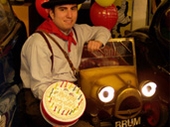 The superhero car celebrates 20 years on TV at the Cotswold Motoring Museum!

The Cotswold Motoring Museum in Bourton-on-the-Water is a nostalgic journey through motoring history, with memorabilia and vehicle collections to enchant young and old alike. This year the Cotswold Motoring Museum celebrates the 20th anniversary of the Brum TV series. The little superhero car first drove on to TV screens in 1991 and his adventures started and ended at the Cotswold Motoring Museum, where he lived and can still be found everyday!

The loveable car will be on show throughout the year for everyone to see at the Cotswold Motoring Museum and to celebrate this special event there will be a new display with activities and competitions.

To kick start the celebrations, the Cotswold Motoring Museum held a party for Brum on 18 April, where there was plenty of fun with balloons and birthday cards, and even a cake for him!
To continue the celebrations, there will be an exciting historical character in full dress giving out balloons in Bourton-on-the Water from good Friday to Easter Monday, plus when visiting the Museum children can have their photo taken with Brum and even make a card for Brum and send it to him – the best ones will be displayed in the Museum to encourage Brum to return to TV.

Michael Tambini, the Museum Curator says 'Children will love recognising the characters and following the activity sheets, we also have a Brum play area where children can ride on Brum, get creative with a Brum brass rubbing and play with lots of toys. And we haven't forgotten about the big kid's – adults will enjoy trying to identify copies of famous paintings made to look like characters from the show!'

Brum is based on an Austin 7 'Chummy' convertible and the Brum series, which is produced by Ragdoll Productions, was launched in 1991 and five series were made until 2002. Anne Wood, the founder of Ragdoll, was closely involved with the initial concept and chose the Museum as the home of Brum. Brum is aimed at pre-school children and features a mixture of mime and slap-stick and the original series was narrated by Toyah Wilcox.
Event: Brums 20th Birthday Party at Cotswold Motoring Museum
Date: Friday 22 - Monday 25 April 2011
Time: 10am - 6pm
Tickets: Normal admission prices apply
Where: Cotswold Motoring Museum, The Old Mill, Bourton on the Water, Glos. GL54 2BY
---
Explore Gloucestershire
20 April 2011

For further information.



OTHER NEWS
• REVIEW: Canoeing on the River Wye with Way2Go Adventures
• CONFIRMED: Luminarium - Architects of Air at Taurus Crafts
• Kids go free at Westonbirt , 23 July-31 August
• US promise Air Tattoo show of force at RIAT 2011
• British Cable Wakeboard and Wakeskate National Championships: Cotswold Water Park
• Announcing Gloucestershire's newest Blues Festival in the Forest of Dean
• Perfect weather for ducks down at WWT Slmbridge
• Meet the lemur babies of Madagascar at Cotwolds Wildlife Park
• Fresh Air 2011 : Contemporary sculpture shows near Cirencester
• New arrival at Prinknash Bird Park
• Carry the forest in your pocket with new ForestXplorer iPhone app
• Bushcraft comes to the Forest of Dean with Forest Bushcraft
• Adam Henson to open Birdlands' 'Marshmouth Nature Reserve'
• The Christians and Robin Ince among the latest additions to the Wychwood Festival
• Air Tattoo welcomes back old flames
• Happy Birthday Brum!
• TV 'Brums' 20th Birthday Party Celebrations!
• Discover Cheltenham's Royal connections
• Treasure Trails produces fun Royal Wedding Trail
• Explore Gloucestershire iPhone APP - over 2000 downloads!
• Youngsters take over Slimbridge
• Easter School Activities in Gloucestershire
• Harts Barn Cookery School cook up Easter treats for the whole family
• 2011 Printed Guide NOW OUT
• The latest news from Wychwood Music Festival 2011
• Air Tattoo offers glimpse of RAF's future
• Threats and hostility finally kill off Cheese Rolling Festival
• Cheltenham's Art Gallery and Museums win £750k
• Air Tattoo proves it has the X Factor