Bushcraft comes to the Forest of Dean with Forest Bushcraft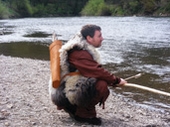 A new and exciting Bushcraft company comes to the Forest Of Dean, and aims to encourage the responsible use of our beautiful woodlands.
A new and exciting Bushcraft company has been set up in the Forest of Dean to bring specialist training for enthusiasts to the area. The company aims to instruct on all current subjects of 'Bushcraft and Survival' but also aims to specialise in the survival skills of our prehistoric ancestors, to give students of this fascinating subject a taste of prehistory. Forest Bushcraft has also launched a new website (www.forest-bushcraft.co.uk) which will provide details of forthcoming courses and provide an online shop for bushcraft equipment at competitive prices.
The concept of Forest Bushcraft was the brainchild of Mark Austin, outdoor pursuits instructor based in the Forest of Dean for over 15 years, and keen, experienced bushcraft enthusiast himself. Mark is a qualified canoe instructor and after many years of guiding students through the watercourses of Britain, Mark decided to explore the wilds of the Canadian outback; practicing the skills he will be teaching on the Forest Bushcraft courses.
Also instructing for the company will be Karl Lee, one of Britain's leading Primitive Skills specialists; Karl, who is a qualified archaeologist, has specialised in the study of prehistoric tools and living skills for over 20 years and has worked for many museums nationally, including the British Museum; he has also appeared on several archaeology and history TV documentaries. He has instructed in Bushcraft and survival skills for several years and jumped at the opportunity of working in the forest.
Forest Bushcraft will be something different for the UK market; like many companies they will teach the modern approach to bushcraft, however, Forest Bushcraft will be the only company in the UK to offer the opportunity to practice primitive skills whilst moving across the landscape. Some courses will lead students from one prehistoric site to another, sleeping in a range of cave and rock-shelter sites (as our ancestors did 10,000 years ago). Other courses will include canoe journeys down the Wye, stopping only to practice bushcraft skills along the way. Rather than hoping to be stranded with a knife and an axe, the students of Forest Bushcraft will be taught to make their own survival tools from flint and stone in addition to whatever else nature provides.
Forest Bushcraft courses have been specifically designed for general public students, youth groups, schools, families and corporate events. In addition to their range of day courses listed on the website, bespoke courses can also be arranged to cater for the requirements of individuals or groups.
Mark Austin added, "We hope that Forest Bushcraft will encourage people to appreciate the landscape and woodlands of the Forest of Dean whilst learning a range of fascinating skills. We strongly believe that this venture could provide a valuable educational resource that will potentially rejuvenate the connection that so many of us have lost with the land and woodlands of Britain. Also, with the present political uncertainty for the future of our woodlands, we would like to think we are offering a sensible method of encouraging tourism back into these areas, whilst teaching people how to do so respectfully and safely".
---
Explore Gloucestershire
3 May 2011

For further information.

Contact name : Mark & Maria Austin
Contact phone : 01594 835116
Also see : Forest Bushcraft
OTHER NEWS
• REVIEW: Canoeing on the River Wye with Way2Go Adventures
• CONFIRMED: Luminarium - Architects of Air at Taurus Crafts
• Kids go free at Westonbirt , 23 July-31 August
• US promise Air Tattoo show of force at RIAT 2011
• British Cable Wakeboard and Wakeskate National Championships: Cotswold Water Park
• Announcing Gloucestershire's newest Blues Festival in the Forest of Dean
• Perfect weather for ducks down at WWT Slmbridge
• Meet the lemur babies of Madagascar at Cotwolds Wildlife Park
• Fresh Air 2011 : Contemporary sculpture shows near Cirencester
• New arrival at Prinknash Bird Park
• Carry the forest in your pocket with new ForestXplorer iPhone app
• Bushcraft comes to the Forest of Dean with Forest Bushcraft
• Adam Henson to open Birdlands' 'Marshmouth Nature Reserve'
• The Christians and Robin Ince among the latest additions to the Wychwood Festival
• Air Tattoo welcomes back old flames
• Happy Birthday Brum!
• TV 'Brums' 20th Birthday Party Celebrations!
• Discover Cheltenham's Royal connections
• Treasure Trails produces fun Royal Wedding Trail
• Explore Gloucestershire iPhone APP - over 2000 downloads!
• Youngsters take over Slimbridge
• Easter School Activities in Gloucestershire
• Harts Barn Cookery School cook up Easter treats for the whole family
• 2011 Printed Guide NOW OUT
• The latest news from Wychwood Music Festival 2011
• Air Tattoo offers glimpse of RAF's future
• Threats and hostility finally kill off Cheese Rolling Festival
• Cheltenham's Art Gallery and Museums win £750k
• Air Tattoo proves it has the X Factor