British Cable Wakeboard and Wakeskate National Championships: Cotswold Water Park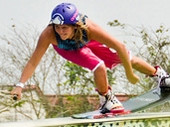 THE 15th British Cable Wakeboard and Wakeskate National Championships are set to be held at WMSki, in the heart of the Cotswold Water Park on July 23rd.

Sponsored by Teva, more than 70 of the UK's best riders, including Open Ladies World Champion Kirstine Mitchell, 23 and Girls World Champion, Chloe Goudie, will perform acrobatic aerial flips and spins over obstacles at Summer Lake near Cirencester.

WMSki Spokesman Will Gibney, said: "WMSki offers brilliant facilities and this is a fantastic opportunity to host a national event sponsored by Teva that is going to be one of the biggest held so far.

"As well as water sports from 9am, it's going to be a very family-friendly day with lots to do and finish with a party into the night starring acclaimed beatbox band 'Duke'."

WMSki opened in 2006 and so far more than 40,000 adults and children have been to this top UK venue to test drive one of the fastest growing sports in Europe.

Graphic Designer, Steph Caller, aged 26, of Cheltenham, came second in the National Championships and fourth in European Championships.

She said: "I started wakeboarding six years ago as I already enjoyed snowboarding and fell in love with this. I've just learned how to do the Blind Judge trick and that's my favourite at the moment.

"When I'm on the lake I forget about everything and just focus. It keeps me fit and I enjoy coaching the younger ones."

A-level student, Alex Newman, 18, of Cirencester, has been wakeboarding for more than three years and came fourth in National Championships before.

He said: "I aim to do better this year. I love the freedom, there's no pressure and it's great fun – except when the weather is cold. My best trick is the Mobe – a 360 degree back roll."
Swindon-based brothers, James and Christopher Harrington, 16 and 19, learned will both be taking part.

James, 16, of Haydon Wick, said: "It's exhilarating especially learning new tricks. I've won two competitions so far this year and come second in another. My aim is to compete in European and then World Championships."

Eleven-year-old Oscar Townsend of Culkerton near Tetbury is one of the youngest national competitors who started wakeboarding at just seven.

He said: "I've won a competition and come third in another. It's really exciting to do the tricks although not so much when the water is cold."
Wakeboarding Facts:
• Wakeboarding is a combination of water skiing, snowboarding and surfing
• Wakeskating is a cross between wakeboarding and skateboarding – with this the rider is not bound to the board as in wakeboarding but uses grip tape.
• The sports took off in the late 1980s and with more than 3 million people worldwide taking part wakeboarding is the fastest growing water sport in the world
• Around 75 per cent of participants are males aged 13 – 24
• Wakeboards can travel at speeds up to 24 miles-an-hour
Tricks of the Trade:
• Tricks are based on the Raley which looks rather like a superman move as the rider takes off from the water with arms and legs spread-eagled.
• Butterfooko – A Raley with a mid-air twist
• Rubber Chicken – Raley with 540 degree mid-air turn
• Double 'S' Bend – A difficult double forward flip
• Blind Judge – a Raley that sees the rider land backwards with handle held behind
• There's also the Tantrum, Tootsie Roll, Tsunami Flip and Scarecrow
---
Explore Gloucestershire
25 May 2011

For further information.



OTHER NEWS
• REVIEW: Canoeing on the River Wye with Way2Go Adventures
• CONFIRMED: Luminarium - Architects of Air at Taurus Crafts
• Kids go free at Westonbirt , 23 July-31 August
• US promise Air Tattoo show of force at RIAT 2011
• British Cable Wakeboard and Wakeskate National Championships: Cotswold Water Park
• Announcing Gloucestershire's newest Blues Festival in the Forest of Dean
• Perfect weather for ducks down at WWT Slmbridge
• Meet the lemur babies of Madagascar at Cotwolds Wildlife Park
• Fresh Air 2011 : Contemporary sculpture shows near Cirencester
• New arrival at Prinknash Bird Park
• Carry the forest in your pocket with new ForestXplorer iPhone app
• Bushcraft comes to the Forest of Dean with Forest Bushcraft
• Adam Henson to open Birdlands' 'Marshmouth Nature Reserve'
• The Christians and Robin Ince among the latest additions to the Wychwood Festival
• Air Tattoo welcomes back old flames
• Happy Birthday Brum!
• TV 'Brums' 20th Birthday Party Celebrations!
• Discover Cheltenham's Royal connections
• Treasure Trails produces fun Royal Wedding Trail
• Explore Gloucestershire iPhone APP - over 2000 downloads!
• Youngsters take over Slimbridge
• Easter School Activities in Gloucestershire
• Harts Barn Cookery School cook up Easter treats for the whole family
• 2011 Printed Guide NOW OUT
• The latest news from Wychwood Music Festival 2011
• Air Tattoo offers glimpse of RAF's future
• Threats and hostility finally kill off Cheese Rolling Festival
• Cheltenham's Art Gallery and Museums win £750k
• Air Tattoo proves it has the X Factor