Meet the lemur babies of Madagascar at Cotwolds Wildlife Park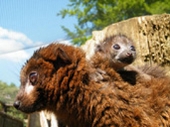 Cotswold Wildlife Park introduces possibly the most adorable babies in the primate world.
Newborn ring-tail (pictured centre), red bellied (pictured right with mum) and collared lemurs (pictured left with mum) are new arrivals to the walk-through exhibit, Madagascar. The lemurs are as free-roaming as the visitors who come to see them, so anyone can get up close to the babies (if they're lucky!)
The baby ring-tailed lemurs were named Will and Kate, in honour of the recent royal wedding. The other babies are as yet unnamed.
Cotswold Wildlife Park Curator, Jamie Craig, said: "Our lemur exhibit has experienced a baby boom this year with red bellied lemurs, collared lemurs and ring-tails all producing young. They are now busily exploring their surroundings and getting to know their new playmates and meeting the visitors in the walkthrough."
Last chance to see...
The island of Madagascar is home to some of the most fascinating animals in the world. All of its species are evolutionarily distinct and most are now globally threatened. Due to habitat destruction, many spectacular species have tragically become extinct.
Cotswold Wildlife Park is heavily involved in the Sifaka Project (www.helpsimus.org) which aims to save two of the rarest lemur species from extinction; the greater bamboo lemur and the crowned sifaka. Both species were named in Bradt's book 100 Animals To See Before They Die* and are cited on the IUCN Red List of Threatened Species. The bamboo lemur is classified Critically Endangered which means it is facing an extremely high risk of extinction in the wild. Cotswold Wildlife Park is proudly home to both species.
Additional information:
Ring-tailed babies Will and Kate were born to mum Hira and father Uba on 19th March 2011.
The baby male collared lemur was born on 25th March 2011 to Anais and Varika.
Red bellied baby female was born on 7th April 2011 to mum Maren and father Otys.
Madagascar was opened by comedienne Ruby Wax in April 2008. She also named two ring-tailed babies, one Max (after her son) and the other Ruby!
---
Explore Gloucestershire
24 May 2011

For further information.



OTHER NEWS
• REVIEW: Canoeing on the River Wye with Way2Go Adventures
• CONFIRMED: Luminarium - Architects of Air at Taurus Crafts
• Kids go free at Westonbirt , 23 July-31 August
• US promise Air Tattoo show of force at RIAT 2011
• British Cable Wakeboard and Wakeskate National Championships: Cotswold Water Park
• Announcing Gloucestershire's newest Blues Festival in the Forest of Dean
• Perfect weather for ducks down at WWT Slmbridge
• Meet the lemur babies of Madagascar at Cotwolds Wildlife Park
• Fresh Air 2011 : Contemporary sculpture shows near Cirencester
• New arrival at Prinknash Bird Park
• Carry the forest in your pocket with new ForestXplorer iPhone app
• Bushcraft comes to the Forest of Dean with Forest Bushcraft
• Adam Henson to open Birdlands' 'Marshmouth Nature Reserve'
• The Christians and Robin Ince among the latest additions to the Wychwood Festival
• Air Tattoo welcomes back old flames
• Happy Birthday Brum!
• TV 'Brums' 20th Birthday Party Celebrations!
• Discover Cheltenham's Royal connections
• Treasure Trails produces fun Royal Wedding Trail
• Explore Gloucestershire iPhone APP - over 2000 downloads!
• Youngsters take over Slimbridge
• Easter School Activities in Gloucestershire
• Harts Barn Cookery School cook up Easter treats for the whole family
• 2011 Printed Guide NOW OUT
• The latest news from Wychwood Music Festival 2011
• Air Tattoo offers glimpse of RAF's future
• Threats and hostility finally kill off Cheese Rolling Festival
• Cheltenham's Art Gallery and Museums win £750k
• Air Tattoo proves it has the X Factor