Perfect weather for ducks down at WWT Slmbridge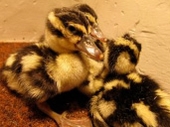 The unusually hot spring is thought to be behind a boom in ducklings at Slimbridge Wetland Centre.
On the eve of its annual May half term event Downy Duckling Days the Centre is overrun with fluffy ducklings.
Experts at the centre have said the mild weather earlier this year is behind the rise as it encouraged many species to lay their eggs sooner than usual and also appears to have boosted fertility rates by creating more opportunities for breeding.
Several of the species which have laid early are Whistling ducks. Normally their young would hatch in July but there are already four duckling broods up at the duckery.
Phoebe Young, duckery warden, said: "We are normally busy at this time of year but this is the busiest May I have ever witnessed.
"I think the weather would have given favourable mating opportunities so more eggs were fertile than usual and it seems also to have caused some species to lay their eggs earlier.
"It is great to have the Whistling duck ducklings so soon as they are real characters so I'm pleased people will see them who visit over Downy Duckling Week.
"They are nicknamed the bumble bees as their black and yellow down and rotund shape make them appear to levitate above their legs like bumble bees!
"Their penetrating whistle is captivating and you can hear them chattering amongst themselves from across the duckery."
Over May half term (Saturday 28 May to Sunday 5 June) families can go on a behind-the-scenes tour of the duckery to see where hundreds of young are reared each year and meet ducklings, goslings and cygnets.
As part of the tour, which is included in the cost of admission, they can see an embryo developing inside an egg using a special technique called candling.
---
Explroe Gloucestershire
26 May 2011

For further information.



OTHER NEWS
• REVIEW: Canoeing on the River Wye with Way2Go Adventures
• CONFIRMED: Luminarium - Architects of Air at Taurus Crafts
• Kids go free at Westonbirt , 23 July-31 August
• US promise Air Tattoo show of force at RIAT 2011
• British Cable Wakeboard and Wakeskate National Championships: Cotswold Water Park
• Announcing Gloucestershire's newest Blues Festival in the Forest of Dean
• Perfect weather for ducks down at WWT Slmbridge
• Meet the lemur babies of Madagascar at Cotwolds Wildlife Park
• Fresh Air 2011 : Contemporary sculpture shows near Cirencester
• New arrival at Prinknash Bird Park
• Carry the forest in your pocket with new ForestXplorer iPhone app
• Bushcraft comes to the Forest of Dean with Forest Bushcraft
• Adam Henson to open Birdlands' 'Marshmouth Nature Reserve'
• The Christians and Robin Ince among the latest additions to the Wychwood Festival
• Air Tattoo welcomes back old flames
• Happy Birthday Brum!
• TV 'Brums' 20th Birthday Party Celebrations!
• Discover Cheltenham's Royal connections
• Treasure Trails produces fun Royal Wedding Trail
• Explore Gloucestershire iPhone APP - over 2000 downloads!
• Youngsters take over Slimbridge
• Easter School Activities in Gloucestershire
• Harts Barn Cookery School cook up Easter treats for the whole family
• 2011 Printed Guide NOW OUT
• The latest news from Wychwood Music Festival 2011
• Air Tattoo offers glimpse of RAF's future
• Threats and hostility finally kill off Cheese Rolling Festival
• Cheltenham's Art Gallery and Museums win £750k
• Air Tattoo proves it has the X Factor