City Council Announces 75th Annual Gloucester Carnival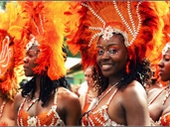 Gloucester's traditional Carnival Procession is back for a 75th successive year, and the City Council is planning to make this anniversary year's event better than ever.
The historic procession, which takes place on Saturday 23rd July, has been a part of the City summer calendar for the past 75 years, and organisers are hoping that more people than ever will choose to get involved this time around, and help to make the event a memorable celebration for everyone in Gloucester.
The carnival will feature live music, walkabout performers, food and drink, fairground rides, and lots more in Gloucester Park, as part of the City's annual Summer Festival programme.
Rather than taking its usual route in the city centre, this summer's parade will travel a slightly amended circuit. The parade will leave the park and turn into Park Road, Brunswick Road, Clarence Street, Spread Eagle Rd, Northgate Street, over The Cross and down Southgate Street, then left onto Spa Road, before returning to its start point.
Paul James, leader of the City Council said: "The Carnival is a real Gloucester tradition. It brings life and colour to the city's streets and brings our communities together. This year is the 75th anniversary, so we want to make it as big and bright as we can. I hope as many people as possible will take part."
Anyone interested in taking part in the carnival procession should download an entry form at www.gloucester.gov.uk/summer2011, contact Gloucester City Council on 01452 396391, e-mail guildhall@gloucester.gov.uk or pick up an entry form from Gloucester Tourist Information Centre, the Guildhall or North Warehouse in the Docks. Completed forms should be either emailed to guildhall@gloucester.gov.uk, or posted/delivered to Gloucester Guildhall.
The carnival procession will be the first in a great series of summer events in Gloucester. Other attractions include the Food Festival (July 22nd-24th), The Tall Ships Festival (August bank holiday), The Cathedral Flower Festival (July 13th-16th), the annual Rhythm and Blues Festival (July 23rd – 31st) the City's fireworks display (August 6th) and the opening of the newly refurbished Gloucester City Museum (opening in August). Further information on summer events in the City is available from Gloucester Tourist Information Centre.
---
Explore Gloucestershire
16 June 2011

For further information.



OTHER NEWS
• Pirates Invade the Dean Heritage Centre
• Renaissance Music at Lodge Park, Gloucestershire
• The £3 million restoration of the Everyman Theatre almost complete
• Shot in Cheltenham - Photographs from the past
• Celebrate Forest Discovery Day at Westonbirt
• Gloucester Cathedral wins praise for innovation in quality visitor attraction award
• Record-breaking early sales for The Times Cheltenham Literature Festival 2011
• Gloucester City Museum Official Opening
• 'Garden of the future' has opened at Slimbridge
• New activity attraction in the Forest of Dean
• Everyman Out There! The New Young Company Launches
• KIDS GO FREE this summer with the National Trust
• Local musicians, poets & artists join Treefest at Westonbirt
• Harts Barn to host first Plum Festival for the Forest of Dean
• The Times Cheltenham Literature Festival 2011 - details announced
• Award winning garden will open come rain or shine at WWT Slimbridge
• Blackfriars Priory opens its doors to visitors
• Cheltenham Horse Parade - Fine Form Exhibition
• World's rarest piglets make their debut... Warts and all!
• Grant helps Chedworth Roman Villa development
• Stars Shine at Air Tattoo
• Launch of 'LOVE YOUR ZOO' & 'ON YOUR DOORSTEP' at ICBP
• WORLD FIRST: Spoon-billed sandpiper chicks hatch in captivity
• Get back to nature this summer with Treefest at Westonbirt
• NEW OFFER: Free cuppa at Magicland in Cirencester
• Cheltenham's Everyman Theatre Restoration – Well under way!
• £3m makeover for top Hallmark Gloucester Hotel
• REVIEW: High ropes in the Forest of Dean with MOTIVA
• Comic Legend to re-open Everyman Theatre!
• FREE OFFER listings available for Gloucestershire businesses!
• New arrivals at Cotswold Wildlife Park!
• Screen star Emma Samms to join cast of Everyman pantomime
• City Council Announces 75th Annual Gloucester Carnival
• James Hunt Exhibition at the Cotswold Motoring Museum
• AWARD WINNER 2011: Cotswold Wildlife Park
• NEW OFFER: Free cup of tea at Primrose Vale PYO
• Luxury cinema comes to The Brewery in Cheltenham
• Vulcan Bomber returns to the 2011 Air Tattoo
• Fantastic flying kicks off RIAT Media launch
• Big boost to Cotswold Water Park near Cirencester
• Adam Henson to officially launch Harts Barn Farm Shop and Cookery School