1 July - Smoke Free Gloucestershire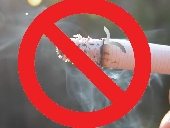 From 1 July 2007, virtually all enclosed public places and workplaces in England will be smokefree. This means that it will be against the law to smoke in the indoor parts of places such as pubs, bars, nightclubs, cafes and restaurants, lunch rooms, membership clubs and shopping centres. At work, smoking inside will become a thing of the past, and indoor smoking rooms will no longer be allowed. Public transport and work vehicles used by more than one person will also need to be smokefree. No-smoking signs will be displayed in all smokefree premises and vehicles, to make it clear where you can and can't smoke.
OTHER NEWS
• Puzzlewood for sale
• 1 July - Smoke Free Gloucestershire
• A Purr-fect Magical Evening at CATS
• Open date for Cheltenham Lido
• WIN tickets to the Royal International Air Tattoo
• Prizes for June's Competition update
• Howlers SOLD OUT!
• Another school holiday - need somewhere to go?
• Peter Pan on Ice
• Updated high res maps available
• Healthy Smoothie Competition!
• Tickets to CATS to be won!!!
• Green Arrow on target for Cotswolds Festival of Steam
• Chase the Cheese and relax at The Chase!
• Forest walks with wheels
• Book your balloon flight with Explore
• Joint Ticket offered by Berkeley Attractions
• Explore is a year old!
• Ballyhoo & Fundays Party Competition!
• Howlers - a great night out!
• STOP PRESS: Win season tickets for GCCC Cricket
• Jenner Museum set for £2m grant
• Press Day for Kemble Air Day 2007
• What a result for Stagecoach!
• Forest Bluebells - no litter please!
• Sandford Lido Update
• NEW 2007 Colour Guide now out