Screen star Emma Samms to join cast of Everyman pantomime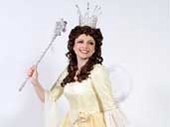 Emma Samms, star of hit TV shows Dynasty and General Hospital, will be on stage at the Everyman Theatre, Cheltenham this Christmas, playing the Good Fairy in Jack and the Beanstalk.

Emma, who now lives in Gloucestershire, has brought her two children to the Everyman theatre for many years to see the pantomime and is thrilled to now be part of it.

The Hollywood actress said: "Every year the Everyman produces a pantomime that is truly magical. It's everything a pantomime should be – gorgeous costumes, lovely singing and dancing and the funniest Dame I've ever seen. It's brilliant fun for both children and adults and I feel very privileged to be involved."

Emma Samms made a huge impact on TV in the 80's when she played Fallon Carrington Colby in the primetime soap Dynasty alongside Joan Collins, John Forsythe and Linda Evans. She also starred in the spin-off, The Colbys and as Holly Sutton in the hit US show General Hospital.

Emma originally trained as a ballet dancer with the Royal Ballet School but was forced to stop due to an injury. For the past 15 years she has been concentrating on raising her two children but has also found time to appear in numerous films and television shows both in the US and UK, including a recent episode of Casualty. The former Miss Universe host also makes regular appearances on ITV's Loose Women and BBC Radio 2 and starred in 'Shall We Dance' at the Sadlers Wells theatre in London, dancing with renowned dancer Adam Cooper in 2009.

On casting Emma, Geoffrey Rowe, Everyman theatre's Chief Executive said:
"Emma and I got chatting and I was surprised to discover an American TV star would want to fly across the Everyman stage as the Good Fairy in our pantomime! Actually, Emma is English and lives locally. I'm delighted she'll be joining us.
"Phil Clark (the director) and I met her. She can act, she can sing, she can certainly dance and she realised that we play at least 10 shows a week – so we handed her the magic wand and we start rehearsals in November!"
Jack and the Beanstalk - which opens on Friday, November 25 and runs until Sunday, January 8 - features lots of familiar faces from previous Everyman pantomimes and promises to be packed with songs, laughs, a beautiful girl or two and a comedy cow.
Tickets are available now from 012542 572573 or www.everymantheatre.org.uk
---
Explore Gloucestershire
17 June 2011

For further information.



OTHER NEWS
• Pirates Invade the Dean Heritage Centre
• Renaissance Music at Lodge Park, Gloucestershire
• The £3 million restoration of the Everyman Theatre almost complete
• Shot in Cheltenham - Photographs from the past
• Celebrate Forest Discovery Day at Westonbirt
• Gloucester Cathedral wins praise for innovation in quality visitor attraction award
• Record-breaking early sales for The Times Cheltenham Literature Festival 2011
• Gloucester City Museum Official Opening
• 'Garden of the future' has opened at Slimbridge
• New activity attraction in the Forest of Dean
• Everyman Out There! The New Young Company Launches
• KIDS GO FREE this summer with the National Trust
• Local musicians, poets & artists join Treefest at Westonbirt
• Harts Barn to host first Plum Festival for the Forest of Dean
• The Times Cheltenham Literature Festival 2011 - details announced
• Award winning garden will open come rain or shine at WWT Slimbridge
• Blackfriars Priory opens its doors to visitors
• Cheltenham Horse Parade - Fine Form Exhibition
• World's rarest piglets make their debut... Warts and all!
• Grant helps Chedworth Roman Villa development
• Stars Shine at Air Tattoo
• Launch of 'LOVE YOUR ZOO' & 'ON YOUR DOORSTEP' at ICBP
• WORLD FIRST: Spoon-billed sandpiper chicks hatch in captivity
• Get back to nature this summer with Treefest at Westonbirt
• NEW OFFER: Free cuppa at Magicland in Cirencester
• Cheltenham's Everyman Theatre Restoration – Well under way!
• £3m makeover for top Hallmark Gloucester Hotel
• REVIEW: High ropes in the Forest of Dean with MOTIVA
• Comic Legend to re-open Everyman Theatre!
• FREE OFFER listings available for Gloucestershire businesses!
• New arrivals at Cotswold Wildlife Park!
• Screen star Emma Samms to join cast of Everyman pantomime
• City Council Announces 75th Annual Gloucester Carnival
• James Hunt Exhibition at the Cotswold Motoring Museum
• AWARD WINNER 2011: Cotswold Wildlife Park
• NEW OFFER: Free cup of tea at Primrose Vale PYO
• Luxury cinema comes to The Brewery in Cheltenham
• Vulcan Bomber returns to the 2011 Air Tattoo
• Fantastic flying kicks off RIAT Media launch
• Big boost to Cotswold Water Park near Cirencester
• Adam Henson to officially launch Harts Barn Farm Shop and Cookery School