Cheltenham's Everyman Theatre Restoration – Well under way!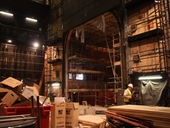 Explore Gloucestershire were kindly invited down to the Everyman Theatre to see what exactly was happening with the £3m refurbishment.
Already 5 weeks into the project, the Everyman Theatre's restoration is well underway and going according to plan, on budget and although very hard to see - ahead of schedule too!
Donning hard hats and hi-viz jackets we were taken for a guided tour of the Everyman Theatre and were even lucky enough to see the artists and crafts folk decorating the ornate ceiling. With the new sky scene complete with swallows and house martins soaring above us - in our eyes a refreshing improvement on the previous décor dating back to the 1980's.
The builders also found an old ticket dating back to May 1939 under a seat in the auditorium, for a 6.30pm performance - we're wondering which performace it could have been - anyone know?. See photo's below.

Gradually, Frank Matcham's 1891 auditorium (the oldest surviving Matcham interior) is being restored to its former glory, ready for the theatre's 120th anniversary later this year on 2nd October.

Gloucester-based building company Speller Metcalfe is carrying out the work, which will also include new and more comfortable seating, new carpets and refurbished front of house and foyer areas. The builders plan to leave on 5th September, giving the Everyman nearly 3 weeks to take down hoardings, set up catering areas and prepare for the public to return to the building.

The first full week of performances will be the award-winning play, 'The Madness of George III' on September 26 with David Haig but the very first performer to tread the boards in the newly restored auditorium, will be legendary comedian, Ken Dodd, on Friday 23 September.

Says Geoffrey Rowe, Chief Executive: "It's all very exciting and we're delighted that things are progressing well. I'm also thrilled that Ken Dodd, creator of the legendary Diddymen, will be the first to play in the restored auditorium. I cannot think of a more suitable artist to re-open the Everyman. He is the last of the traditional variety comics and has played here on many occasions and to great success over the years."

For more information on the Everyman's restoration and grand re-opening season, visit www.everymantheatre.org.uk
---
Explore Gloucestershire
27 June 2011
| | | |
| --- | --- | --- |
| A long lost ticket found | Workers on the dress circle | The new ceiling illustrations |
| | | |
| --- | --- | --- |
| Original wallpaper | Before and after decor | Working on the grand ceiling |


For further information.



OTHER NEWS
• Pirates Invade the Dean Heritage Centre
• Renaissance Music at Lodge Park, Gloucestershire
• The £3 million restoration of the Everyman Theatre almost complete
• Shot in Cheltenham - Photographs from the past
• Celebrate Forest Discovery Day at Westonbirt
• Gloucester Cathedral wins praise for innovation in quality visitor attraction award
• Record-breaking early sales for The Times Cheltenham Literature Festival 2011
• Gloucester City Museum Official Opening
• 'Garden of the future' has opened at Slimbridge
• New activity attraction in the Forest of Dean
• Everyman Out There! The New Young Company Launches
• KIDS GO FREE this summer with the National Trust
• Local musicians, poets & artists join Treefest at Westonbirt
• Harts Barn to host first Plum Festival for the Forest of Dean
• The Times Cheltenham Literature Festival 2011 - details announced
• Award winning garden will open come rain or shine at WWT Slimbridge
• Blackfriars Priory opens its doors to visitors
• Cheltenham Horse Parade - Fine Form Exhibition
• World's rarest piglets make their debut... Warts and all!
• Grant helps Chedworth Roman Villa development
• Stars Shine at Air Tattoo
• Launch of 'LOVE YOUR ZOO' & 'ON YOUR DOORSTEP' at ICBP
• WORLD FIRST: Spoon-billed sandpiper chicks hatch in captivity
• Get back to nature this summer with Treefest at Westonbirt
• NEW OFFER: Free cuppa at Magicland in Cirencester
• Cheltenham's Everyman Theatre Restoration – Well under way!
• £3m makeover for top Hallmark Gloucester Hotel
• REVIEW: High ropes in the Forest of Dean with MOTIVA
• Comic Legend to re-open Everyman Theatre!
• FREE OFFER listings available for Gloucestershire businesses!
• New arrivals at Cotswold Wildlife Park!
• Screen star Emma Samms to join cast of Everyman pantomime
• City Council Announces 75th Annual Gloucester Carnival
• James Hunt Exhibition at the Cotswold Motoring Museum
• AWARD WINNER 2011: Cotswold Wildlife Park
• NEW OFFER: Free cup of tea at Primrose Vale PYO
• Luxury cinema comes to The Brewery in Cheltenham
• Vulcan Bomber returns to the 2011 Air Tattoo
• Fantastic flying kicks off RIAT Media launch
• Big boost to Cotswold Water Park near Cirencester
• Adam Henson to officially launch Harts Barn Farm Shop and Cookery School