Get back to nature this summer with Treefest at Westonbirt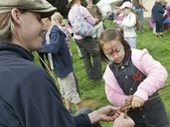 Four days of family fun, music, camping and crafts will take place over the August Bank Holiday weekend at Westonbirt, The National Arboretum in Gloucestershire, managed by the Forestry Commission.

The new four-day Treefest will incorporate the best of Westonbirt's signature summer event, the Festival of the Tree, with exciting new elements including camping, creative workshops and local live music.

Simon Hough, Events Business Manager at Westonbirt commented:
"We are planning a festival that truly celebrates all that our trees and nature inspire. The new format will have a focus on family fun, with activities chosen to celebrate the roles trees play in our lives during this, the International Year of Forests."

Visitors to Treefest will have the rare chance to camp in the stunning National Arboretum. Festival weekend and camping tickets start from £35 for Friends of Westonbirt Arboretum members and must be bought in advance.

Daily admission is free to Friends of Westonbirt Arboretum members. Standard daily tickets will give access to the exciting daily line-up and also allow free of charge admission to the evening live local music.

Advance discounts on daily tickets can be found on Westonbirt's website. Advance admission is £8 for concessions, £10 adults and kids go free throughout the event.

Traditional favourites, including wood carving demonstrations and craft sales, will compliment the new activities. Unique works of art will be created to be displayed at the arboretum throughout the year

Children's crafts and activities, local food, falconry displays, Morris dancing, demonstrations from the Westonbirt tree team and a medieval village add to the festival line up.

The festival will run from 26 - 29 August, with the daily programme from 10am-5pm and live music taking place until 8pm. More details are at www.forestry.gov.uk/westonbirt-treefest.
---
Explore Gloucestershire
7 July 2011

For further information.



OTHER NEWS
• Pirates Invade the Dean Heritage Centre
• Renaissance Music at Lodge Park, Gloucestershire
• The £3 million restoration of the Everyman Theatre almost complete
• Shot in Cheltenham - Photographs from the past
• Celebrate Forest Discovery Day at Westonbirt
• Gloucester Cathedral wins praise for innovation in quality visitor attraction award
• Record-breaking early sales for The Times Cheltenham Literature Festival 2011
• Gloucester City Museum Official Opening
• 'Garden of the future' has opened at Slimbridge
• New activity attraction in the Forest of Dean
• Everyman Out There! The New Young Company Launches
• KIDS GO FREE this summer with the National Trust
• Local musicians, poets & artists join Treefest at Westonbirt
• Harts Barn to host first Plum Festival for the Forest of Dean
• The Times Cheltenham Literature Festival 2011 - details announced
• Award winning garden will open come rain or shine at WWT Slimbridge
• Blackfriars Priory opens its doors to visitors
• Cheltenham Horse Parade - Fine Form Exhibition
• World's rarest piglets make their debut... Warts and all!
• Grant helps Chedworth Roman Villa development
• Stars Shine at Air Tattoo
• Launch of 'LOVE YOUR ZOO' & 'ON YOUR DOORSTEP' at ICBP
• WORLD FIRST: Spoon-billed sandpiper chicks hatch in captivity
• Get back to nature this summer with Treefest at Westonbirt
• NEW OFFER: Free cuppa at Magicland in Cirencester
• Cheltenham's Everyman Theatre Restoration – Well under way!
• £3m makeover for top Hallmark Gloucester Hotel
• REVIEW: High ropes in the Forest of Dean with MOTIVA
• Comic Legend to re-open Everyman Theatre!
• FREE OFFER listings available for Gloucestershire businesses!
• New arrivals at Cotswold Wildlife Park!
• Screen star Emma Samms to join cast of Everyman pantomime
• City Council Announces 75th Annual Gloucester Carnival
• James Hunt Exhibition at the Cotswold Motoring Museum
• AWARD WINNER 2011: Cotswold Wildlife Park
• NEW OFFER: Free cup of tea at Primrose Vale PYO
• Luxury cinema comes to The Brewery in Cheltenham
• Vulcan Bomber returns to the 2011 Air Tattoo
• Fantastic flying kicks off RIAT Media launch
• Big boost to Cotswold Water Park near Cirencester
• Adam Henson to officially launch Harts Barn Farm Shop and Cookery School