The Times Cheltenham Literature Festival 2011 - details announced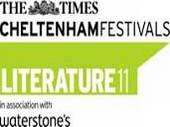 Festival organisers have today announced the full details of more than 500 inspiring, exciting and star-studded events at The Times Cheltenham Literature Festival 2011.

Over 600 of the world's greatest writers, thinkers, poets, politicians, actors and modern wits will come together in Cheltenham's most ambitious programme yet. Screen legend Christopher Lee, musician and radio broadcaster Jarvis Cocker, BAFTA-award-winning actress Joanna Lumley, comedian Johnny Vegas and presenter and film critic Jonathan Ross are just a handful of the speakers topping the bill.

Cheltenham Festivals Members will receive the programme in the post today ahead of advance booking opening on Monday 15th August.

The full programme has also been made available to download at - www.cheltenhamfestivals.com/literature-brochure-2011

As well as 500 mouth-watering events, 2011 also sees the creation of Cheltenham's new literary quarter in Montpellier Gardens, just two minutes' walk from the tented village in Imperial Square. Montpellier Gardens will welcome four brand-new venues, a huge bookshop, a sparkling Spiegeltent, delicious cafés, and quiet corners to relax with a book, catch-up with friends or enjoy storytelling, poetry and a smorgasbord of fantastic free events.

This exciting growth has inspired the adventurous Festival theme – Journeys of Discovery. The expedition will be led by five very different Guest Directors, who have each been invited to programme their own series of exciting events. Ben Fogle joins some of the world's top explorers and introduces Britain's first festival Explorer-in-Residence; Mike Atherton welcomes sporting heroes from field, track and turf; Jo Shapcott celebrates the joys of poetry; A L Kennedy brings literature to life with a series of live and surprising events; and Anjum Anand cooks up a treat on the Festival's very first Food Day.

The joy of reading a good book remains at the heart of the 2011 programme with a host of outstanding and inspiring writers taking centre stage throughout the Festival. Booker Prize-winning novelists Penelope Lively, A S Byatt, Ben Okri and Howard Jacobson will all be introducing Cheltenham to their latest works – and there will be a chance to meet the authors making the 2011 shortlist in an exclusive Man Booker Prize event. Bestselling thriller writer Lee Child will discuss his hugely successful career and new novel The Affair; crime writers extraordinaire Ruth Rendell and Val McDermid take a look at the extraordinary success of British crime fiction; and American author Anne Rice comes exclusively to Cheltenham to discuss her own gothic fiction including Interview with a Vampire, which inspired the Brad Pitt film. Classic literature is also explored as the lives and works of Virginia Woolf, Mervyn Peake, Lord Byron, Arthur Miller, Charles Dickens and H G Wells are all discussed, debated and enjoyed by experts and biographers. The joy of reading is explored to its full with the Bonne Maman Big Read, which aims to get festival fans reading this year's inspiring classic – Joseph Heller's Catch-22.

Alongside the literary greats, the 2011 line-up is bursting with big names from the small and silver screens. Screen legend Christopher Lee will join his niece, and highly acclaimed actress, Harriet Walter to look back at their very different acting careers; whilst John Landis, one of Hollywood's most renowned directors, looks at life at the other side of the lens. Terry Wogan, Jonathan Ross, Fern Britton, Penelope Keith, Joanna Lumley, Larry Lamb and 'dragon' Duncan Bannatyne are just some of the popular faces to look out for in Cheltenham this autumn.

A brand new series of events put together with The Radio Times will see the Festival take a behind the scenes look at some of the country's favourite television and radio programmes – the creators and cast will reveal what happens during the making of Downton Abbey; cast members reveal what it is like being part of the country's longest running soap, The Archers; Arlene Phillips is joined by Lilia Kopylova and Darren Bennett to look under the sequins of Strictly Come Dancing; and Adam Henson shares fond memories from Countryfile.

The line-up is bursting with literary laughs thanks to some of the country's leading comedians. Expect frank and funny conversations from Johnny Vegas, Frank Skinner, Dave Gorman, Marcus Brigstocke, Mark Watson and Will Self – plus look out for Little Britain's David Walliams as he reveals all about his hilarious and touching new children's book Billionaire Boy. Modern wit can be enjoyed thanks to the likes of Ian Hislop, Caitlin Moran, Grace Dent and Simon Hoggart.

The Festival thrives on the thrill of a good debate, and this year's line-up welcomes some leading political figures to Cheltenham. Ed Balls, Tony Benn, Alistair Darling, Michael Portillo and former politician turned multi-million selling author Jeffrey Archer will all be airing their views. Plus, interviewer extraordinaire Jeremy Paxman will examine the influence of the British Empire.

Book It!, the festival for families and young readers is at the thriving core of the programme with fun, exciting and surprising events every day of the Festival. Angelina Ballerina, Peppa Pig, The Gruffalo, Horrid Henry and Kipper will all be making an appearance alongside esteemed authors Michael Morpurgo, Lauren Child, Julia Donaldson and David Walliams.

This is just a taste of the many literary treats on offer in Cheltenham this autumn. Look out for culinary delicacies from chefs Hugh Fearnley-Whittingstall, Clarissa Dickson Wright, Angela Hartnett and Lorraine Pascale; sporting inspiration with Mike Atherton, Steve Redgrave and Mark Beaumont; and risqué revelations in Cheltenham Blue – featuring a burlesque evening, hot fiction and an event with leading sex therapist Pamela Stephenson Connolly.

Sarah Smyth, Artistic Director of the Festival commented

"This year's programme is hugely exciting - not only are we celebrating our move to Montpellier and the birth of the new Festival quarter, but the programme is bulging at the seams with hundreds of mouth-watering events. Getting my hands on the brochure for the first time today gave me a huge thrill and I hope that the audience of 120,000 who joined us last year come back for more at what's going to be a tremendously exciting ten days."

To start your own journey of discovery today download the full line-up below.
---
Explore Gloucestershire 2011
9 August 2011

For further information.



OTHER NEWS
• Pirates Invade the Dean Heritage Centre
• Renaissance Music at Lodge Park, Gloucestershire
• The £3 million restoration of the Everyman Theatre almost complete
• Shot in Cheltenham - Photographs from the past
• Celebrate Forest Discovery Day at Westonbirt
• Gloucester Cathedral wins praise for innovation in quality visitor attraction award
• Record-breaking early sales for The Times Cheltenham Literature Festival 2011
• Gloucester City Museum Official Opening
• 'Garden of the future' has opened at Slimbridge
• New activity attraction in the Forest of Dean
• Everyman Out There! The New Young Company Launches
• KIDS GO FREE this summer with the National Trust
• Local musicians, poets & artists join Treefest at Westonbirt
• Harts Barn to host first Plum Festival for the Forest of Dean
• The Times Cheltenham Literature Festival 2011 - details announced
• Award winning garden will open come rain or shine at WWT Slimbridge
• Blackfriars Priory opens its doors to visitors
• Cheltenham Horse Parade - Fine Form Exhibition
• World's rarest piglets make their debut... Warts and all!
• Grant helps Chedworth Roman Villa development
• Stars Shine at Air Tattoo
• Launch of 'LOVE YOUR ZOO' & 'ON YOUR DOORSTEP' at ICBP
• WORLD FIRST: Spoon-billed sandpiper chicks hatch in captivity
• Get back to nature this summer with Treefest at Westonbirt
• NEW OFFER: Free cuppa at Magicland in Cirencester
• Cheltenham's Everyman Theatre Restoration – Well under way!
• £3m makeover for top Hallmark Gloucester Hotel
• REVIEW: High ropes in the Forest of Dean with MOTIVA
• Comic Legend to re-open Everyman Theatre!
• FREE OFFER listings available for Gloucestershire businesses!
• New arrivals at Cotswold Wildlife Park!
• Screen star Emma Samms to join cast of Everyman pantomime
• City Council Announces 75th Annual Gloucester Carnival
• James Hunt Exhibition at the Cotswold Motoring Museum
• AWARD WINNER 2011: Cotswold Wildlife Park
• NEW OFFER: Free cup of tea at Primrose Vale PYO
• Luxury cinema comes to The Brewery in Cheltenham
• Vulcan Bomber returns to the 2011 Air Tattoo
• Fantastic flying kicks off RIAT Media launch
• Big boost to Cotswold Water Park near Cirencester
• Adam Henson to officially launch Harts Barn Farm Shop and Cookery School