Harts Barn to host first Plum Festival for the Forest of Dean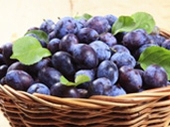 Harts Barn Rural Enterprise Centre is to host the Forest of Dean's first ever Plum Crazy Festival on the weekend of 20th and 21st August.

The Festival will be a free family day out - with lots going on for children and adults, including plum games! There will be plum tastings, cookery demos, photography talks, orchard visits, local producer stalls, treasure hunts, craft shops and stalls, cider tasting as well as a display from the Gloucestershire Orchard Group.

The plum orchards at Harts Barn produce an array of varieties: Bells, Green Gages, Blaisdon Reds and Victorias. Harts Barn Cookery School will be running free cookery demonstrations throughout the weekend, to help people get the most out of this abundant fruit of the Forest.

The Plum Crazy festival marks the first in a series of monthly events to be held at Harts Barn Rural Enterprise Centre. Next month, a local producer market will be hosted - with the theme of apples and pears.

Harts Barn Rural Enterprise Centre has gradually developed to form a unique centre with Arts and Crafts, an award winning Tea Room, Cookery School, Farm Shop, Fruit Orchards and Farm, Pets Barn Vet Centre and Business Centre. At its heart is a magnificent Norman hunting lodge, one of the oldest properties in the Forest of Dean, built by William Duke of Normandy (1068). It also has a small lake and picnic area making it an ideal venue for the Forest's first plum festival.

Yvette Farrell, Manager of Harts Barn Cookery School commented, "We are often asked for recipes and tips on what do with plums as so many people in the surrounding areas have trees in their gardens and end up with all the plums going to rot! This is the first time we've held a plum festival and we hope that all ages will come along to have fun and celebrate all things plum! Then we hope to do the same for the apple and the pear!"
---
Explore Gloucestershire
12 August 2011

For further information.



OTHER NEWS
• Pirates Invade the Dean Heritage Centre
• Renaissance Music at Lodge Park, Gloucestershire
• The £3 million restoration of the Everyman Theatre almost complete
• Shot in Cheltenham - Photographs from the past
• Celebrate Forest Discovery Day at Westonbirt
• Gloucester Cathedral wins praise for innovation in quality visitor attraction award
• Record-breaking early sales for The Times Cheltenham Literature Festival 2011
• Gloucester City Museum Official Opening
• 'Garden of the future' has opened at Slimbridge
• New activity attraction in the Forest of Dean
• Everyman Out There! The New Young Company Launches
• KIDS GO FREE this summer with the National Trust
• Local musicians, poets & artists join Treefest at Westonbirt
• Harts Barn to host first Plum Festival for the Forest of Dean
• The Times Cheltenham Literature Festival 2011 - details announced
• Award winning garden will open come rain or shine at WWT Slimbridge
• Blackfriars Priory opens its doors to visitors
• Cheltenham Horse Parade - Fine Form Exhibition
• World's rarest piglets make their debut... Warts and all!
• Grant helps Chedworth Roman Villa development
• Stars Shine at Air Tattoo
• Launch of 'LOVE YOUR ZOO' & 'ON YOUR DOORSTEP' at ICBP
• WORLD FIRST: Spoon-billed sandpiper chicks hatch in captivity
• Get back to nature this summer with Treefest at Westonbirt
• NEW OFFER: Free cuppa at Magicland in Cirencester
• Cheltenham's Everyman Theatre Restoration – Well under way!
• £3m makeover for top Hallmark Gloucester Hotel
• REVIEW: High ropes in the Forest of Dean with MOTIVA
• Comic Legend to re-open Everyman Theatre!
• FREE OFFER listings available for Gloucestershire businesses!
• New arrivals at Cotswold Wildlife Park!
• Screen star Emma Samms to join cast of Everyman pantomime
• City Council Announces 75th Annual Gloucester Carnival
• James Hunt Exhibition at the Cotswold Motoring Museum
• AWARD WINNER 2011: Cotswold Wildlife Park
• NEW OFFER: Free cup of tea at Primrose Vale PYO
• Luxury cinema comes to The Brewery in Cheltenham
• Vulcan Bomber returns to the 2011 Air Tattoo
• Fantastic flying kicks off RIAT Media launch
• Big boost to Cotswold Water Park near Cirencester
• Adam Henson to officially launch Harts Barn Farm Shop and Cookery School