Everyman Out There! The New Young Company Launches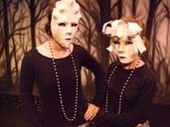 Celebrating 25 years of the Youth Theatre in Cheltenham, the Everyman Theatre has launched a brand new venture of professional training for young people.

Young people will be able to get involved in theatre with the new EYC.
At the very centre of creative arts in Gloucestershire, Cheltenham's Everyman Theatre is celebrating 25 years of its Youth Theatre by launching a new venture of professional training for young people to mark the occasion. Alongside this the Everyman is organising a special party and they are looking for ex-members to help them celebrate!

The new Everyman Young Company (EYC) is an exciting programme of events and performances throughout the year, with professional theatre training offered to young people across the county.
Those aged from 7 to 18, split into four age range groups, will be able to take part in sessions held at Gloucester Road Primary School in Cheltenham every week and sessions are fully inclusive and accessible for any young person interested.

Head of Education at the Everyman Theatre, Louise Partridge, said: 'The Young Company offers a fantastic opportunity not only to learn about every aspect of theatre, from performance skills to writing scripts, backstage skills and directing, but it is a safe place to develop confidence, self-discipline and self esteem too. 'The groups all have an opportunity to stage one production a year in the Studio Theatre at the Everyman and the new 2012 Summer School will give all of the young people the opportunity to perform together on the main stage.'

Help Celebrate!!!
Next summer the Everyman will hold a big party at the theatre to celebrate the last 25 years of youth theatre work. Creative Project Coordinator Caro Day says 'We are looking to get in touch with as many ex-members and ex-youth theatre leaders as possible who have worked with us over the last 25 years and helped to make the youth theatre such a fantastic and inspiring opportunity for so many young people. Over the last 25 years many young members have gone on to further training at university and drama schools, and have been employed in professional productions around the world. If you are an ex member yourself please get in contact with us at EYC@everymantheatre.org.uk we would love to see you and hear any stories you have about your time with us'.

For more information on the new EYC or to book a space, call the Everyman Theatre box office on (01242) 572573 or visit everymantheatre.org.uk.
---
Explore Gloucestershire
17 August 2011

For further information.



OTHER NEWS
• Pirates Invade the Dean Heritage Centre
• Renaissance Music at Lodge Park, Gloucestershire
• The £3 million restoration of the Everyman Theatre almost complete
• Shot in Cheltenham - Photographs from the past
• Celebrate Forest Discovery Day at Westonbirt
• Gloucester Cathedral wins praise for innovation in quality visitor attraction award
• Record-breaking early sales for The Times Cheltenham Literature Festival 2011
• Gloucester City Museum Official Opening
• 'Garden of the future' has opened at Slimbridge
• New activity attraction in the Forest of Dean
• Everyman Out There! The New Young Company Launches
• KIDS GO FREE this summer with the National Trust
• Local musicians, poets & artists join Treefest at Westonbirt
• Harts Barn to host first Plum Festival for the Forest of Dean
• The Times Cheltenham Literature Festival 2011 - details announced
• Award winning garden will open come rain or shine at WWT Slimbridge
• Blackfriars Priory opens its doors to visitors
• Cheltenham Horse Parade - Fine Form Exhibition
• World's rarest piglets make their debut... Warts and all!
• Grant helps Chedworth Roman Villa development
• Stars Shine at Air Tattoo
• Launch of 'LOVE YOUR ZOO' & 'ON YOUR DOORSTEP' at ICBP
• WORLD FIRST: Spoon-billed sandpiper chicks hatch in captivity
• Get back to nature this summer with Treefest at Westonbirt
• NEW OFFER: Free cuppa at Magicland in Cirencester
• Cheltenham's Everyman Theatre Restoration – Well under way!
• £3m makeover for top Hallmark Gloucester Hotel
• REVIEW: High ropes in the Forest of Dean with MOTIVA
• Comic Legend to re-open Everyman Theatre!
• FREE OFFER listings available for Gloucestershire businesses!
• New arrivals at Cotswold Wildlife Park!
• Screen star Emma Samms to join cast of Everyman pantomime
• City Council Announces 75th Annual Gloucester Carnival
• James Hunt Exhibition at the Cotswold Motoring Museum
• AWARD WINNER 2011: Cotswold Wildlife Park
• NEW OFFER: Free cup of tea at Primrose Vale PYO
• Luxury cinema comes to The Brewery in Cheltenham
• Vulcan Bomber returns to the 2011 Air Tattoo
• Fantastic flying kicks off RIAT Media launch
• Big boost to Cotswold Water Park near Cirencester
• Adam Henson to officially launch Harts Barn Farm Shop and Cookery School