Zulu evening at Ellenborough Park: An Audience with Rob Caskie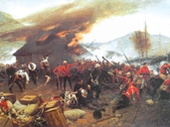 ELLENBOROUGH PARK'S 'ZULU' EVENING A FEAST FOR THE TASTEBUDS
Anglo-Zulu British army ration packs inspire fine dining menu designed by executive head chef David Kelman
Ellenborough Park's executive head chef, David Kelman, has developed a radical menu inspired by British army ration packs from the 1879 Anglo-Zulu war.
The menu will be served on Tuesday 18th October at 'An Audience with Rob Caskie', a one-off event hosted by the world-famous historian and storyteller. The event will relive Rorke's Drift, the infamous battle that launched the career of Sir Michael Caine in the 1964 hit movie, Zulu.
Guests attending Caskie's entertaining historical talk will enjoy a fusion of South African meets Welsh flavour combinations, designed to reflect the two countries' relationship, as the majority of British Soldiers that served in the 1879 battle were Welsh.
There is an unusual twist on the pre-starter 'amuse bouche', which is a contemporary interpretation of the contents of Victorian soldiers' ration packs. To reflect the ration of white maize meal porridge, small portions of beef and army biscuits, Kelman has crafted a dish of savoury porridge with braised beef, garnished with biscuits brown.
Other courses on the menu include a starter of Red Mullet, Crab and Scallop Terrine with a Cauliflower Puree. A main of Roast Saddle of Welsh Lamb with a Casserole of Beans and Pulses served with Wild Mushrooms and Glazed Root Vegetables. Dessert is Iced Amarula Parfait with Liquid Toffee Brandy Snap Tuille, and Glazed Bananas. The meal will be rounded off with Coffee and Welsh Cakes.
Born in the Natal Midlands, KwaZulu Natal, South Africa, historian Rob Caskie, served with the Zulu troops during his national service. His background, passion and enthusiasm brings alive military history, through inspirational and evocative tales.
Historians, those with a military connection, or anyone with an appetite for a good story, as well as excellent fine dining, will enjoy this memorable event.
David Kelman, Ellenborough Park's executive head chef, said: "As a Welshman, I have grown up hearing about the famous battle and its remarkable history has fascinated me for many years. It was a real challenge to bring to life the battle through food, but I think we've achieved a memorable menu inspired by a Victorian soldier's basic ration."
The evening will also feature an exclusive display of original Victorian army relics, on loan from The Regimental Museum of The Royal Welsh, based in the Brecon Beacons.
'An Audience with Rob Caskie' takes place on Tuesday 18th October, at 7pm. Doors open at 6.30pm. Tickets may be ordered by calling 01242 808628 and quoting 'Rorke's Drift'.
The talk with canapé and drinks reception, followed by the exclusive fine-dining dinner is £65 per person. Otherwise, guests can enjoy the talk, reception and dinner as well as an overnight stay including luxury Cotswold breakfast for £340 per room (based on two adults sharing as a full event package).
---
Explore Gloucestershire
16 September 2011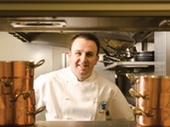 David Kelman: Head chef at Ellenborough Park



For further information.



OTHER NEWS
• National Trails walks now available on the Explore Gloucestershire iPhone APP
• Air Tattoo announces Big Freeze
• Live 'n' Deadly live from Cotswold Wildlife Park
• Cheltenham Racecourse to host the London 2012 Olympic Torch
• DIY Christmas at Taurus Crafts
• "Set Your Taste Buds Off With a Bang at Our Monthly Food Market This Bonfire Night"
• See Westonbirt's trees in a new light this Christmas!
• Firework Displays in Gloucestershire
• New Stagecoach West 'County Link' bus route to help Explore Gloucestershire more!
• The wild stars of Autumnwatch swoop into Slimbridge
• RESTAURANT REVIEW: The Inn at Fossebridge in the Cotswolds
• Charity exhibition of original work by Joy Adamson at Ellenborough Park
• NEW OFFER: £20 meal deal for two at Joules Restaurant in Cheltenham
• 'Patrick Conoley, 75 Years of Sculpture' Exhibition
• October Half Term & Halloween in Gloucestershire
• Win £100 and FREE travel with Stagecoach West buses!
• Joseph & the Amazing Technicolor Dreamcoat Back at the Everyman this Half Term
• Photography & Poetry inspired by Autumn at Westonbirt Arboretum
• A taste of Italy comes to Tewkesbury
• Sculptor brings his magic to Puzzlewood
• The 2011 Cheltenham Literature Festival update
• Explore Gloucestershire iPhone APP: Version 1.1 now available
• Explore Gloucestershire APP: Now over 4,000 downloads!
• BBC Autumnwatch makes Westonbirt its October home
• Scary volunteers needed for Frightmare at Over Farm!
• Treasure trove of rarities is a delight for twitchers
• Autumn arrives early at Westonbirt Arboretum
• Zulu evening at Ellenborough Park: An Audience with Rob Caskie
• Robert Powell to star in Everyman Theatre Birthday Celebrations