Sculptor brings his magic to Puzzlewood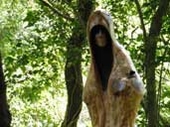 A Herefordshire sculptor is celebrating after winning a prestigious commission to create a wooden angel for the National Trust, which will be displayed at one of its properties.

Ed Elliott, who specialises in life-size mystical figures, was commissioned by the Trust – the UK's biggest landowner – to provide the piece for an exhibition at the Mottisfont estate in Hampshire next month (NOVEMBER).

He was one of nine successful artists who won £250 and had materials supplied to create a figure for the Angels exhibition which will be running during the winter.

This is the second high-profile exhibition Mr Elliott, 26, will be taking part in over the coming months.

His figures will also be open to view at Puzzlewood in the Forest of Dean, the ancient woodland which is open to the public and has become a popular location for TV and film sets.

There he has created a sculpture trail of exhibits to be set amongst the trees for Puzzlewood's Halloween celebrations which take place between October 21 and 31.

"To be able to exhibit at one of these top quality locations is really great, but to be displaying my work at both is fantastic," said Mr Elliott, who lives at Tarrington, between Hereford and Ledbury.

"The opening of my new studio could not have come at a better time – it really feels like I am taking a massive step forward.

"Both Mottisfont and Puzzlewood are ideal environments in which to exhibit the sculptures.

"Working figuratively was originally inspired by mythology and folklore, but recently my sculptures have tended to relate to aspects of the human consciousness with the aim to prompt a specific reaction. Placement is key for experiencing the work."

Mr Elliott has had a fascination with art since he was a young boy when drawing was a favourite pastime".

After completing a foundation course at the University of Gloucestershire, he achieved an honours degree in Fine Art, specialising in Sculpture at Cardiff School of Art & Design.

His new studio is at the Trumpet Corner, just outside Ledbury, and it is now open to the public.
---
Explore Gloucestershire
5 October 2011

For further information.



OTHER NEWS
• National Trails walks now available on the Explore Gloucestershire iPhone APP
• Air Tattoo announces Big Freeze
• Live 'n' Deadly live from Cotswold Wildlife Park
• Cheltenham Racecourse to host the London 2012 Olympic Torch
• DIY Christmas at Taurus Crafts
• "Set Your Taste Buds Off With a Bang at Our Monthly Food Market This Bonfire Night"
• See Westonbirt's trees in a new light this Christmas!
• Firework Displays in Gloucestershire
• New Stagecoach West 'County Link' bus route to help Explore Gloucestershire more!
• The wild stars of Autumnwatch swoop into Slimbridge
• RESTAURANT REVIEW: The Inn at Fossebridge in the Cotswolds
• Charity exhibition of original work by Joy Adamson at Ellenborough Park
• NEW OFFER: £20 meal deal for two at Joules Restaurant in Cheltenham
• 'Patrick Conoley, 75 Years of Sculpture' Exhibition
• October Half Term & Halloween in Gloucestershire
• Win £100 and FREE travel with Stagecoach West buses!
• Joseph & the Amazing Technicolor Dreamcoat Back at the Everyman this Half Term
• Photography & Poetry inspired by Autumn at Westonbirt Arboretum
• A taste of Italy comes to Tewkesbury
• Sculptor brings his magic to Puzzlewood
• The 2011 Cheltenham Literature Festival update
• Explore Gloucestershire iPhone APP: Version 1.1 now available
• Explore Gloucestershire APP: Now over 4,000 downloads!
• BBC Autumnwatch makes Westonbirt its October home
• Scary volunteers needed for Frightmare at Over Farm!
• Treasure trove of rarities is a delight for twitchers
• Autumn arrives early at Westonbirt Arboretum
• Zulu evening at Ellenborough Park: An Audience with Rob Caskie
• Robert Powell to star in Everyman Theatre Birthday Celebrations