'Patrick Conoley, 75 Years of Sculpture' Exhibition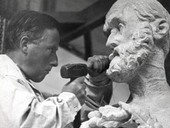 Saturday 5th November – Saturday 3rd December
This major exhibition of Gloucestershire sculptor Patrick Conoley's work, celebrates his life and art. It gathers together more than 120 sculptures from the 1930s to 2010. Sadly Patrick died in January 2011 but he derived great pleasure from planning the early stages of this display of his unique talent. He was honoured that Gloucester Museum and Art Gallery were to mark his 75 years of carving.

His talent was first recognised and nurtured at Kingham Hill School. Patrick then began his Apprenticeship at R L Boulton & Sons in Cheltenham and attended Cheltenham Art School under the sculptor Adam Seaton White, its then Principal. At Boulton's, his mentor was George Hailing, himself part of an unbroken line of apprentice sculptors stretching back to Robert Lockwood Boulton himself.

Patrick's sculptures went from strength to strength and he was to produce hundreds, usually in wood or stone, many of which are to be found in and on public buildings, churches and cathedrals, as well as in private hands. There are a large number to be found in Gloucestershire, examples of which include the life-size stone Blue Coat Boy at Sir Thomas Rich's School, a dramatic life-size crucifix in wood at St Augustine of Canterbury Church, Matson and Dionysus at The High School for Girls, Gloucester. Three of his most familiar sculptures are the classical Pittville Pump Room figures. Standing 7 feet 6 inches high, they are an impressive sight, gazing out over Pittville Park in Cheltenham. They were re-created by Patrick in 1965, in the style of the original sculptures, carved by Lucius Gahagan in 1827.

He is responsible for carving the 53 grotesques for Magdalen College that run the full length of its High Street frontage, as well as more than 150 other carvings at the College, including the floodlit Great Tower figures of St Mary Magdalen and St John The Baptist. He has more grotesques on Christchurch, Oxford, all done in the 1970s and sympathetic to the period of the buildings. He also carved The Prince of Wales Feathers and the Welsh Dragon, both standing over 6 feet high, for Cardiff University and he has sculptures in Belmont and Tewkesbury Abbeys, in Saint Paul's and Lichfield Cathedrals, and as far afield as the United States and South Africa.

He used his skill to help in the restoration of Blenheim Palace and countless other buildings. Towards the end of his life he produced an impressive series of carvings based on wildlife subjects.

Very many of Patrick's creations are in private hands and his work is increasingly sought after. Whereas the Pump Room figures confined him to working in a particular style, as they were replacing originals, other sculptures testify to his genuine creativity. Works such as 'Blithe Spirits', carved in 2006, and 'Hurricane', inspired by a series of high profile disasters captured by television cameras and sculpted in 2008.

Patrick never sought publicity but was always delighted when his skills and art were acknowledged and admired. He was greatly looking forward to this exhibition, which brings together many of his creations and he was enjoying planning it right up until the time of his death.
The exhibition is at the Gloucester City Museum, Brunswick Rd, Gloucester, GL1 1HP
---
Explore Gloucestershire
22 October 2011

For further information.



OTHER NEWS
• National Trails walks now available on the Explore Gloucestershire iPhone APP
• Air Tattoo announces Big Freeze
• Live 'n' Deadly live from Cotswold Wildlife Park
• Cheltenham Racecourse to host the London 2012 Olympic Torch
• DIY Christmas at Taurus Crafts
• "Set Your Taste Buds Off With a Bang at Our Monthly Food Market This Bonfire Night"
• See Westonbirt's trees in a new light this Christmas!
• Firework Displays in Gloucestershire
• New Stagecoach West 'County Link' bus route to help Explore Gloucestershire more!
• The wild stars of Autumnwatch swoop into Slimbridge
• RESTAURANT REVIEW: The Inn at Fossebridge in the Cotswolds
• Charity exhibition of original work by Joy Adamson at Ellenborough Park
• NEW OFFER: £20 meal deal for two at Joules Restaurant in Cheltenham
• 'Patrick Conoley, 75 Years of Sculpture' Exhibition
• October Half Term & Halloween in Gloucestershire
• Win £100 and FREE travel with Stagecoach West buses!
• Joseph & the Amazing Technicolor Dreamcoat Back at the Everyman this Half Term
• Photography & Poetry inspired by Autumn at Westonbirt Arboretum
• A taste of Italy comes to Tewkesbury
• Sculptor brings his magic to Puzzlewood
• The 2011 Cheltenham Literature Festival update
• Explore Gloucestershire iPhone APP: Version 1.1 now available
• Explore Gloucestershire APP: Now over 4,000 downloads!
• BBC Autumnwatch makes Westonbirt its October home
• Scary volunteers needed for Frightmare at Over Farm!
• Treasure trove of rarities is a delight for twitchers
• Autumn arrives early at Westonbirt Arboretum
• Zulu evening at Ellenborough Park: An Audience with Rob Caskie
• Robert Powell to star in Everyman Theatre Birthday Celebrations