RESTAURANT REVIEW: The Inn at Fossebridge in the Cotswolds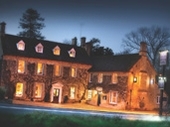 Travelling home after experiencing the spectacular autumn colours at Westonbirt Arboretum, we passed The Inn at Fossebridge, or as I used to refer to it as 'the pub in the dip'. This reminded us of our last visit back in the summer when we met up with an old friend for lunch. We were soon talking about the great time and great food we had and it wasn't long before we were on the phone booking a table for that night. We were in luck. A table for 2 was the only availability.

A few hours later and we were back at The Inn at Fossebridge, a beautiful Cotswold building and only twenty minutes drive from Cheltenham. On arrival we were given a cosy corner in the bar area next to the fire, which like the atmosphere was very warming.

We chose our meal from the Autumn Dinner menu and the Fossebridge Specials menu. Service was prompt and our waitress was helpful and friendly.

I decided on the Slow Roast Tomato and Cotswold Brie Tart with rocket salad and balsamic reduction to start (£6.00). This was a good choice as it was not too filling but very tasty. My husband decided on the Beetroot and Vodka Gravadlax with fennel and dill salad (£7.50). Liking all the ingredients he was intrigued as to how they would all come together in one dish. It was a winner. He didn't appear to have any objections to his main course either, Roast Scotch Rump Steak with braised ox-cheek, creamed potatoes, glazed carrots and liqueur (£21.50). Always one for his steaks to be cooked to his liking (medium rare) the plate came out looking very well presented with the steak sliced and cooked to perfection. He was very quiet during this course, only pausing to say "this is gorgeous", and stating that the ox-cheek was the perfect companion for the rump. The carrots also got a special mention.

I chose the Roasted Butternut Squash, Watercress, Sage, Ricotta Cheese (£12.50), which was complemented by pine nuts and Salsa Verde. It seemed like a good seasonal choice for autumn and I was not to be disappointed. 


We both managed to save a small space for dessert. My husband chose the Warm Treacle Tart with clotted cream, which has always been a bit of a favourite of his. I was slightly disappointed that he didn't want the Pear Tarte Tatin for two to share with Cotswold Vanilla Ice Cream. Have we really been married that long? No, treacle tart beats pear, hands down!

My choice of Lavender Crème Brulee was divine. The delicate lavender flavour was something I had never encountered before and have only ever been used to the smell and never the taste.

So all in all, we had a very pleasant dining experience at The Inn at Fossebridge and it won't be long until we visit again. Highly recommended.
---
Explore Gloucestershire
24 October 2011

For further information.



OTHER NEWS
• National Trails walks now available on the Explore Gloucestershire iPhone APP
• Air Tattoo announces Big Freeze
• Live 'n' Deadly live from Cotswold Wildlife Park
• Cheltenham Racecourse to host the London 2012 Olympic Torch
• DIY Christmas at Taurus Crafts
• "Set Your Taste Buds Off With a Bang at Our Monthly Food Market This Bonfire Night"
• See Westonbirt's trees in a new light this Christmas!
• Firework Displays in Gloucestershire
• New Stagecoach West 'County Link' bus route to help Explore Gloucestershire more!
• The wild stars of Autumnwatch swoop into Slimbridge
• RESTAURANT REVIEW: The Inn at Fossebridge in the Cotswolds
• Charity exhibition of original work by Joy Adamson at Ellenborough Park
• NEW OFFER: £20 meal deal for two at Joules Restaurant in Cheltenham
• 'Patrick Conoley, 75 Years of Sculpture' Exhibition
• October Half Term & Halloween in Gloucestershire
• Win £100 and FREE travel with Stagecoach West buses!
• Joseph & the Amazing Technicolor Dreamcoat Back at the Everyman this Half Term
• Photography & Poetry inspired by Autumn at Westonbirt Arboretum
• A taste of Italy comes to Tewkesbury
• Sculptor brings his magic to Puzzlewood
• The 2011 Cheltenham Literature Festival update
• Explore Gloucestershire iPhone APP: Version 1.1 now available
• Explore Gloucestershire APP: Now over 4,000 downloads!
• BBC Autumnwatch makes Westonbirt its October home
• Scary volunteers needed for Frightmare at Over Farm!
• Treasure trove of rarities is a delight for twitchers
• Autumn arrives early at Westonbirt Arboretum
• Zulu evening at Ellenborough Park: An Audience with Rob Caskie
• Robert Powell to star in Everyman Theatre Birthday Celebrations