DIY Christmas at Taurus Crafts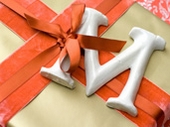 Let Taurus Crafts take the strain of some of your Christmas preparation.

On Saturday November 12th, a number of local crafts people will be running activities to help you and your children make personalised presents for friends and family. Whether an individually decorated plate, a hand carved tile, Danish Christmas cookies, a hand decorated glass coaster, a piece of jewellery, salt dough Christmas decorations for the tree or textile based table decorations, your children can work with crafts people to make personal gifts of real 'distinction'.

Meanwhile, our November 12th Sausage Saturday will have a Christmas theme. A collection of local food producers will be trying to tempt you to think of their produce for Christmas. Graham Waddington, of Native Breeds will be showing his award winning charcuterie and with an 'All about Poultry Sausage Saturday' cooking a Smoked Turkey, Pork and Cranberry Sausage and a seasonal Duck and Goose Saucisse served with a piping hot Cider Sauce. James McCrindle of McCrindles Vintage Cider will be bringing a bit of Christmas cheer to the market with hot spicy mulled cider on draught as well as vintage cider and perry to celebrate his first year of operation and his first awards. Elaine of Maggie's cheese will be tasting her award winning range for Christmas so you can pre-order and she can make enough. Our preserve maker will be here with her Xmas marmalade and more. In La Bodega, Esther with be tasting 3 Christmas beers and newly arrived wines from Strawberry Hill, the award winning Newent-based wine maker. There will also be fresh local bread, garden fresh seasonal vegetables, a range of local cheeses and Christmas Hampers.
---
Explore Gloucestershire
6 November 2011

For further information.



OTHER NEWS
• National Trails walks now available on the Explore Gloucestershire iPhone APP
• Air Tattoo announces Big Freeze
• Live 'n' Deadly live from Cotswold Wildlife Park
• Cheltenham Racecourse to host the London 2012 Olympic Torch
• DIY Christmas at Taurus Crafts
• "Set Your Taste Buds Off With a Bang at Our Monthly Food Market This Bonfire Night"
• See Westonbirt's trees in a new light this Christmas!
• Firework Displays in Gloucestershire
• New Stagecoach West 'County Link' bus route to help Explore Gloucestershire more!
• The wild stars of Autumnwatch swoop into Slimbridge
• RESTAURANT REVIEW: The Inn at Fossebridge in the Cotswolds
• Charity exhibition of original work by Joy Adamson at Ellenborough Park
• NEW OFFER: £20 meal deal for two at Joules Restaurant in Cheltenham
• 'Patrick Conoley, 75 Years of Sculpture' Exhibition
• October Half Term & Halloween in Gloucestershire
• Win £100 and FREE travel with Stagecoach West buses!
• Joseph & the Amazing Technicolor Dreamcoat Back at the Everyman this Half Term
• Photography & Poetry inspired by Autumn at Westonbirt Arboretum
• A taste of Italy comes to Tewkesbury
• Sculptor brings his magic to Puzzlewood
• The 2011 Cheltenham Literature Festival update
• Explore Gloucestershire iPhone APP: Version 1.1 now available
• Explore Gloucestershire APP: Now over 4,000 downloads!
• BBC Autumnwatch makes Westonbirt its October home
• Scary volunteers needed for Frightmare at Over Farm!
• Treasure trove of rarities is a delight for twitchers
• Autumn arrives early at Westonbirt Arboretum
• Zulu evening at Ellenborough Park: An Audience with Rob Caskie
• Robert Powell to star in Everyman Theatre Birthday Celebrations