RESTAURANT REVIEW: The Craven Arms at Brockhampton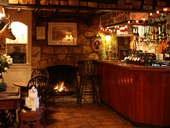 It was one of those horrible autumn to winter transitional days – no wind, no rain, no sun, no atmosphere – just a dull, gloomy day. I looked at my husband. I said "pub", he said "where", I said "country", he said "Craven Arms". I said "treat me to a meal and I'll drive". He smiled, winked and said "job done".
We've always liked the Craven Arms, ever since we discovered it for a birthday meal on a hot sunny day a few years ago. The Craven Arms is a proper country pub situated along a small drive off the main road in the sleepy Cotswold village of Brockhampton. As it's only a short fifteen minute drive for us from Cheltenham, it's an ideal place to escape to and has always had a cosy, warm atmosphere and the locals are welcoming and always ready to embrace a conversation. That's the reason we chose this pub that evening to cheers us up!
The menu has something for everyone and we were spoilt for choice. From the 'Specials Menu' I chose a Red Onion and Goats Cheese Tartlet served on a bed of leaves with a balsamic dressing (£5.50) for my starter. Very tasty with a lovely pastry case. The other half indulged himself with a whole baked Camembert with Beetroot and Horseradish Chutney with crusty rolls (£6.50). The chutney was definitely a hit and being a keen 'closet' preserves-maker my husband was eager to get the recipe from the chef.
For the main I chose the Tuna Grillstone (£13.95) with new potatoes and roasted vegetables. It's a great way to get your steak cooked just to your liking, and it has to be said that I did cook it to perfection. A lemongrass and chilli butter (£1 extra) added a little extra zing. Hubby opted for the homemade Steak and Ale Pie with chips and vegetables (£11.95). He was rather insistent in the car on the way to the Craven Arms of having a wholesome, autumnal dish to accompany a pint or three of real ale to cheer him up. He was not disappointed!
Being a fan of Crème Brule I decided that I should try something different but insisted that the other half should try it so I could at least get a spoonful. I opted for the chocolate and profiterole cheesecake - it was truly scrumptious.
So after a thoroughly enjoyable meal and a couple of Ramblers Ales husband's mood had lifted from his earlier grumpyness and he was indeed a very happy chappy. We both were!
The Craven Arms is complete with a snug for relaxing, a bar, restaurant and a back room (once a games room) that has comfortable seating for drinking, socialising and dining too. Always a talking point is the old 16th century stone window and once exterior wall separating the bar from the restaurant, giving an oldy-worldy feel. Warm log fires complete making any visit to the Craven Arms an enjoyable one.
The one problem is that my husband now wants to move to the countryside with a proper country pub, like the Craven Arms as his local!
---
Explore Gloucestershire
28 November 2011

For further information.



OTHER NEWS
• Latest new from Gloucestershire Warwickshire Railway
• OFFER: Winter Warmers at The Inn at Fossebridge
• Plan B announce Westonbirt Concert date for 2012
• RESTAURANT & ACCOMMODATION REVIEW: The Ship Inn at Newnham
• RESTAURANT REVIEW: The Craven Arms at Brockhampton
• ENTERTAINMENT REVIEW: Jack and the Beanstalk at the Everyman Theatre