RESTAURANT & ACCOMMODATION REVIEW: The Ship Inn at Newnham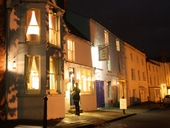 We decided to meet up with friends from the Forest of Dean at The Ship Inn at Newnham on Severn. We heard the Ship had a new menu which we were eager to try.
The local butcher "Lyes" are very proud of their local produce and The Ship Inn has come up with a brand new menu to reflect this, and has become the Forest's only dedicated steakhouse and burger bar. Deciding to make a good night of it we decided to send the kids to their grandparents and stay the night.
On our arrival The Ship Inn looked warm and inviting, with the exterior being lit with lanterns. The building which dates back to the 17th Century is set back from the main road and is in an ideal location to explore the Forest of Dean and the perfect base to see the Seven Bore - especially as there are river views from some of the bedrooms. It also boasts an enclosed courtyard and garden to the rear.

After a refreshing drink we were shown to our room. At the top of The Ship, room 6 commanded a great view which was highlighted in the morning as the mist rose over the River. The room was very substantial and the centre piece was a huge four poster bed. The room contained everything we needed to make our stay as comfortable as possible (even fluffy towelling robes). With lots of drawer and wardrobe space we could have stayed a whole lot longer!

So, onto the food. The menu caters for everyone and you can eat in the cosy bar, complete with log fire or the restaurant. Determined to be able to eat dessert I opted for cheesy garlic bread to start. Others in my party had Blanch Bait, mixed leaves, garlic aioli (£4.50) and Prawn Cocktail finished with Jumbo Prawn and brown bread (£4.75). The starters went down well and we didn't have to wait long for our main course. My party opted for steaks which I was informed were cooked to perfection. They were served with mushrooms, tomatoes rustic fries and salad (£16.50) Sauces if required were an extra £1.50. My husband had a new gourmet 4 oz. Ships "RAT" burger (lamb with rosemary and thyme) complete with rustic fries and salad. Definitely got a thumbs up for this one and it offered good value for money at just £7.75. No one tackled the 'Titanic' burger, an immense 12oz burger with steak, pork and lamb - one for the very hungry we decided. Being a pescatarean I opted for the Cajun Salmon Darne. This was an oven roasted salmon fillet with a Cajun crust which was served with Heritage crushed potato cake, salad and a Pesto and hollandaise sauce. It was delicious. The service throughout the meal could not be faulted and Carrie made sure that we were all very happy customers. To end our delightful gourmet experience two of us opted for the homemade crème brûlée with shortcake biscuit, one the Ships own homemade Trio of Ripple ice-cream and the fourth English cheeses, apple and grape chutney and biscuits. Being a bit of a crème brûlée fan I was not disappointed.

After a fabulous evening of food and good company we departed to bed only to be told that The Ship Inn was haunted. Whether or not this was true we cannot say, but the only spirits we saw that evening were behind the bar!
After a very comfortable night's sleep we then experienced the excellent full English breakfast. Not eating meat the staff were more than happy to accommodate me (a request that has been frowned upon at other places we have stayed).
We highly recommend the Ship Inn at Newnahm for an excellent dining experience and fantatsic accomodation, but to appreciate the two is without doubt a must-do delight.
---
Explore Gloucestershire
25 November 2011

For further information.



OTHER NEWS
• Latest new from Gloucestershire Warwickshire Railway
• OFFER: Winter Warmers at The Inn at Fossebridge
• Plan B announce Westonbirt Concert date for 2012
• RESTAURANT & ACCOMMODATION REVIEW: The Ship Inn at Newnham
• RESTAURANT REVIEW: The Craven Arms at Brockhampton
• ENTERTAINMENT REVIEW: Jack and the Beanstalk at the Everyman Theatre