RESTAURANT REVIEW: Joules Restaurant in Cheltenham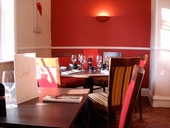 Tucked away in Clarence Square at The Clarence Court Hotel is Joules Restaurant. Recommended by friends we popped along one evening as we had been told that their pizzas were delicious. Joules serves Italian cuisine and prides itself on its stone baked pizzas, as well as offering an extensive menu including a range of pasta dishes, steaks, homemade burgers and fajitas.
Joules Restaurant is situated on the lower floor of the hotel and there is seating outside with picturesque views of the fine Regency architecture of Clarence Square in warmer months. In the restaurant, there are two areas where you can relax before or after your meal – by the bar or in a separate lounge area.

It was apparent soon after we arrived that we would be well looked after. A hotel guest had been reading and asked if his pizza could be heated through as he had been eating very slowly. No problem at all.

The staff were very attentive and soon we were perusing the menu with a glass of very pleasing house Rose in hand (Bottle £12.50). I chose Homemade Mozzarella Sticks in breadcrumbs (£4.95) with a pizza dipping sauce followed by a Quattro Formaggi Pizza with Gorgonzola, Fontal, Parmesan and Mozzarella (£8.95). My husband opted for Half-rack of Barbequed Ribs (£5.95) which were slow cooked with a special BBQ sauce and for the main, a Pescatore Pizza with tiger prawns, smoked salmon, tuna, mozzarella and tomatoes (£11.50).

The Mozzarella sticks were a tasty light starter that was well complemented by the sauce. The Barbequed ribs were a small meal in themselves and much enjoyed. We both thoroughly enjoyed our pizzas and would recommend them highly. The four cheeses on mine were delicious. My husband was very pleased with his choice and couldn't believe how many tiger prawns were on it (we counted 12). He also commented on how well the smoked salmon married-up with the tuna and prawns.

Struggling to finish my pizza we managed to find a small spot for dessert. Recommended by our waiter we chose the Chocolate Cookie Cheesecake with raspberries. It proved to be an excellent choice.

Joules Restaurant is a little gem tucked away on the fringes of Pittville Park, but only five minutes from the town Centre. It is the ideal location for couples, friend and families to get together. You can be assured that you will be very well looked after and very well fed.
---
Anne Lem
Explore Gloucestershire
2 January 2012

For further information.



OTHER NEWS
• The Gruffalo at Dean Heritage Centre - dates announced
• New exhibition for 2012 at the Cotswold Motoring Museum
• The Ultimate Valentine's Day winner revealed!
• 400 trees to be planted in Pittville Park to celebrate Queen's Jubilee
• Aviation Jewel set for Diamond Display
• The Wanted to perform at Westonbirt Arboretum this summer
• Win the Ultimate Valentine's Day with Beechwood!
• RESTAURANT REVIEW: Mü Brasserie in Cheltenham
• February 2012 Half Term Holiday Activities in Gloucestershire
• Air Tattoo flies high in awards
• Madness announce forest show at Westonbirt
• Announcing.... A Feast of Festivals in 2012
• LATEST!: 5,000 Explore Gloucestershire iPhone APP's now downloaded!
• RESTAURANT REVIEW: Joules Restaurant in Cheltenham
• Conserving Chedworth's mosaics
• Research into possible Woodchester wild cat finds no cat DNA on deer
• Coming Soon - the Gruffalo at Dean Heritage Centre
• EMF to play at Lakefest Music Festival in May 2012
• Major milestone imminent in the new Cheltenham Art Gallery & Museum