Madness announce forest show at Westonbirt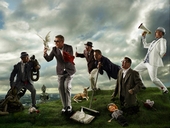 Madness have announced a West Country show for the summer. Their performance at Westonbirt Arboretum forms part of Forestry Commission Live Music 2012.

Recognised as one of the leading bands of the ska-rooted revival, Madness experienced a huge haul of hits in the 80s going on to spend more weeks on the charts in that decade than any other group. They are renowned for their storming outdoor live and festival shows and year after year generation after generation have grown to love hits like 'One Step Beyond', 'Our House', 'Baggy Trousers', 'Embarrassment', 'Wings Of A Dove', 'House Of Fun', 'My Girl' and 'Driving In My Car'. After 30 years Madness remain a British pop institution.

The band is currently holed up recording their tenth album, the follow up to the critically acclaimed 'The Liberty of Norton Folgate,' so fans can expect new material alongside legendary classics.

Forestry Commission Live Music is an independent programme bringing music to new audiences without commercial branding or sponsorship. With everything required for a great night out including full catering and bar facilities, Westonbirt gigs are renowned for their relaxed atmosphere. There is also a bonus for concert-goers' green credentials as income generated from ticket sales is spent on improving this internationally important tree collection.

Commenting on the show Madness front man Suggs said "Since we played last in Westonbirt something strange has been happening down in the west country...the crowds have been going crazy, we can't wait to get back there for even more nutty times."
Event: Madness plus guests at Westonbirt Arboretum
Date: Sunday 24 June 2012
Tickets: £36.50 (subject to booking fee) go on sale at 9.00am Friday 13 January from the Forestry Commission box office tel 03000 680400 or buy online at
Where: Westonbirt Arboretum, near Tetbury, Gloucestershire
---
Explore Gloucestershire
9 January 2012

For further information.



OTHER NEWS
• The Gruffalo at Dean Heritage Centre - dates announced
• New exhibition for 2012 at the Cotswold Motoring Museum
• The Ultimate Valentine's Day winner revealed!
• 400 trees to be planted in Pittville Park to celebrate Queen's Jubilee
• Aviation Jewel set for Diamond Display
• The Wanted to perform at Westonbirt Arboretum this summer
• Win the Ultimate Valentine's Day with Beechwood!
• RESTAURANT REVIEW: Mü Brasserie in Cheltenham
• February 2012 Half Term Holiday Activities in Gloucestershire
• Air Tattoo flies high in awards
• Madness announce forest show at Westonbirt
• Announcing.... A Feast of Festivals in 2012
• LATEST!: 5,000 Explore Gloucestershire iPhone APP's now downloaded!
• RESTAURANT REVIEW: Joules Restaurant in Cheltenham
• Conserving Chedworth's mosaics
• Research into possible Woodchester wild cat finds no cat DNA on deer
• Coming Soon - the Gruffalo at Dean Heritage Centre
• EMF to play at Lakefest Music Festival in May 2012
• Major milestone imminent in the new Cheltenham Art Gallery & Museum