EMF to play at Lakefest Music Festival in May 2012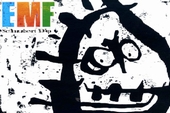 Gloucestershire chart sensations, EMF, are set to return to the stage after signing up to two county festivals this year. The band have put pen to paper and agreed to play Lakefest in Tewkesbury on Friday 18th May, followed by Westbury-On-Severn Cider Festival on Saturday 25th August.

The band are set to delight festival goers by performing Schubert Dip, their acclaimed multi-million selling debut album, in its entirety. The album features worldwide number one hit "Unbelievable" alongside the worldwide top ten singles "I Believe", "Children" and "Lies". The performances will also see them play tracks from the album that have never been played live.

The shows coincide with the 21st anniversary release of the album and its subsequent chart success in both the UK and US. These special performances will be the first time that EMF, who hail from Cinderford in the Forest Of Dean, have ever played the album from start to finish, a fact that adds to the excitement it will bring to organisers of both festivals and fans alike. This is also the first time in 3 years that EMF have performed together.

Organiser Martin Newell of Lakefest 2012 said, "We are thrilled to be able to announce EMF's involvement in what will be a very memorable festival for a lot of reasons. They are one of Gloucestershire's biggest bands in history and for them to agree to reform and play this special show for us is an honour – one that no-one will want to miss."

Lakefest is to be held on 18th and 19th of May at Croft Farm Water Park in Bredons Hardwick, near Tewkesbury. Other exciting acts on the bill include The Levellers, Reef, Dodgy, Toploader , Chesney Hawkes and Miles Hunt & Erica Nockalls of The Wonder Stuff.
---
Explore Gloucestershire
23 January 2012

For further information.



OTHER NEWS
• The Gruffalo at Dean Heritage Centre - dates announced
• New exhibition for 2012 at the Cotswold Motoring Museum
• The Ultimate Valentine's Day winner revealed!
• 400 trees to be planted in Pittville Park to celebrate Queen's Jubilee
• Aviation Jewel set for Diamond Display
• The Wanted to perform at Westonbirt Arboretum this summer
• Win the Ultimate Valentine's Day with Beechwood!
• RESTAURANT REVIEW: Mü Brasserie in Cheltenham
• February 2012 Half Term Holiday Activities in Gloucestershire
• Air Tattoo flies high in awards
• Madness announce forest show at Westonbirt
• Announcing.... A Feast of Festivals in 2012
• LATEST!: 5,000 Explore Gloucestershire iPhone APP's now downloaded!
• RESTAURANT REVIEW: Joules Restaurant in Cheltenham
• Conserving Chedworth's mosaics
• Research into possible Woodchester wild cat finds no cat DNA on deer
• Coming Soon - the Gruffalo at Dean Heritage Centre
• EMF to play at Lakefest Music Festival in May 2012
• Major milestone imminent in the new Cheltenham Art Gallery & Museum