Coming Soon - the Gruffalo at Dean Heritage Centre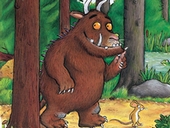 If you go down to the deep dark woods of Soudley you might just come face to face with a hungry Gruffalo!

The Dean Heritage Centre (DHC) has gained permission to use the UK's best loved children's book, The Gruffalo, to create an interactive woodland trail at the popular visitor attraction.
Written by Childrens' Laureate (2011-2013) Julia Donaldson with illustrations by Axel Scheffler, the Gruffalo story has captured the hearts of families throughout the UK and beyond.

"A gruffalo? What's a gruffalo?"
"A gruffalo! Why, didn't you know? He has terrible tusks, and terrible claws, and terrible teeth in his terrible jaws."


The Gruffalo, Julie Donaldson

Following the success of their Christmas Forest Fairy Tale trail, staff at the DHC are busily preparing a spectacular trail including all of the characters from this much loved children's story.
Centre Manager, Nathalie Hall, said "We are absolutely delighted to receive permission to develop the Gruffalo trail across our site. The original idea was conjured up by one of our volunteers and after careful negotiation with the publishers we have received the go ahead.
"I believe our location, set against a spectacular forest backdrop will provide the perfect setting to illustrate the story and we have a team of talented chainsaw carvers and volunteers who will create 3D figurines based on the popular characters. There will also be interactive elements for children to interact with and learn from.'

The Centre is looking for a company or companies to sponsor elements of the trail so please contact Nathalie via nathalie@deanheritagecentre.com for more details.

The actual opening date of the trail has not yet been confirmed but centre staff are hoping Easter may see the gruesome Gruffalo arrive onsite – watch this space!!.

For more information on the DHC please visit the new and improved website www.deanheritagecentre.com or call 01594 822170.

Picture courtesy of The Gruffalo, the author Julia Donaldson, the illustrator Axel Scheffler and Macmillan Children's Books, London.
---
Explore Gloucestershire
25 January

For further information.



OTHER NEWS
• The Gruffalo at Dean Heritage Centre - dates announced
• New exhibition for 2012 at the Cotswold Motoring Museum
• The Ultimate Valentine's Day winner revealed!
• 400 trees to be planted in Pittville Park to celebrate Queen's Jubilee
• Aviation Jewel set for Diamond Display
• The Wanted to perform at Westonbirt Arboretum this summer
• Win the Ultimate Valentine's Day with Beechwood!
• RESTAURANT REVIEW: Mü Brasserie in Cheltenham
• February 2012 Half Term Holiday Activities in Gloucestershire
• Air Tattoo flies high in awards
• Madness announce forest show at Westonbirt
• Announcing.... A Feast of Festivals in 2012
• LATEST!: 5,000 Explore Gloucestershire iPhone APP's now downloaded!
• RESTAURANT REVIEW: Joules Restaurant in Cheltenham
• Conserving Chedworth's mosaics
• Research into possible Woodchester wild cat finds no cat DNA on deer
• Coming Soon - the Gruffalo at Dean Heritage Centre
• EMF to play at Lakefest Music Festival in May 2012
• Major milestone imminent in the new Cheltenham Art Gallery & Museum