RESTAURANT REVIEW: Mü Brasserie in Cheltenham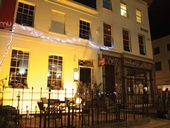 Mü Brasserie is situated in Regent Street, a very short walk from the Everyman Theatre, and the perfect venue for a 'quality meal' before 'the Show'.

Situated in an elegant Regency building the contemporary interior has been tastefully designed to suit the building. Mü Brasserie is laid out over two floors. Upstairs the dining area caters for up to 30 people and is ideal for a family meal, special occasion or private dining. 

On arrival we were welcomed to the restaurant by Simon the owner/manager and shown to our cosy table for two next to the window. Looking into the winters night, although not appealing at the time (5 below zero!) the seating area outside Mü had a great cosmopolitan feel and would be the place to enjoy a summers lunch or evening meal.

We chose a bottle of Pino Grigio Blush and perused the menu. It's an interesting menu and we came to the conclusion that it had obviously been well researched and planned. It's not too extensive that you spend an age whittling your favorites into smaller groups, but we definitely thought it catered for everyone that we at least know. So we discussed the menu while drinking wine and nibbling on bread with an oil and balsamic dip. Simon came over and explained the menu and specials board with detailed knowledge and this gave us the opportunity to ask any questions – with his help our final decisions were made.

I started with Smoked Haddock Fishcake with lemon and horseradish cream and dressed leaves (£6.50). My husband chose the Salt and Pepper Squid with chilli citrus salsa (£5.50). The fishcake was succulent and combined with the sauce made a light dish ooze with delicious flavours. The squid also received top marks – battered and deep fried, tentacles and all, with the chilli salsa was the business. As Mü Brasserie prides itself on its steaks and salads I opted for the Baked Beetroot and Goats Cheese Salad (available as a starter at £6.50 or main at £9). For a salad to be successful as a main dish it has to be a bit special, and this really was. The beetroot and goats' cheese proved to be a great combination and the balsamic crouton served as a tasty base for the whole dish. New to the menu is locally sourced venison and my husband chose a 6oz fillet of 'Withington Wild' venison on a bed of creamy mashed potato green beans and beetroot and a port jus (£20). A stipler for liking his steaks cooked medium rare, it was encouraging when Simon suggested that the venison be served this way – my husband whole-heartedly agreed. When the plate arrived the presentation was faultless, with the venison resting on the creamy mash and vegetables and the jus drizzled over the gastronomic delight. Cutting into the venison was effortless and the first taste he described as not just mouthwatering, but 'heaven on earth'.

For pudding I chose the Blueberry Crème Brulee (£5) with was accompanied by a small scoop of vanilla ice cream in a brandy snap basket and the other half went back to his childhood and ordered a Knickerbocker Glory (£5.50). Mine was delicious and it would appear that this Knickerbocker Glory at least had become a lot more refined over the decades, although my husband did miss the cherry at the bottom! We concluded that it was a successful twist on a 70's classic.

We left Mü Brasserie feeling elated. We had a wonderful evening of excellent food, good wine in a great restaurant. We could not fault the service and found all staff to be friendly, approachable and knowledgeable. Without doubt we will be returning very soon, and probably taking advantage of their pre-theatre 'early bird' menu!
---
Anne Lem
Explore Gloucestershire
2 February 2012
Mu Brasserie Special Offers

The Early Bird Menu 6pm – 7.30
Perfect for theatregoers 
2 courses £12, 3 Courses £15

Lunch @ Mu
2 courses £10; 3 courses £12


Wednesday Wine Club
Bring your own wine – no corkage 
Booking essential
For further information.



OTHER NEWS
• The Gruffalo at Dean Heritage Centre - dates announced
• New exhibition for 2012 at the Cotswold Motoring Museum
• The Ultimate Valentine's Day winner revealed!
• 400 trees to be planted in Pittville Park to celebrate Queen's Jubilee
• Aviation Jewel set for Diamond Display
• The Wanted to perform at Westonbirt Arboretum this summer
• Win the Ultimate Valentine's Day with Beechwood!
• RESTAURANT REVIEW: Mü Brasserie in Cheltenham
• February 2012 Half Term Holiday Activities in Gloucestershire
• Air Tattoo flies high in awards
• Madness announce forest show at Westonbirt
• Announcing.... A Feast of Festivals in 2012
• LATEST!: 5,000 Explore Gloucestershire iPhone APP's now downloaded!
• RESTAURANT REVIEW: Joules Restaurant in Cheltenham
• Conserving Chedworth's mosaics
• Research into possible Woodchester wild cat finds no cat DNA on deer
• Coming Soon - the Gruffalo at Dean Heritage Centre
• EMF to play at Lakefest Music Festival in May 2012
• Major milestone imminent in the new Cheltenham Art Gallery & Museum