New exhibition for 2012 at the Cotswold Motoring Museum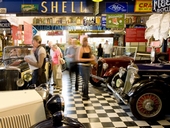 Brand new exhibition for 2012 "The History of Motoring in 10 objects"

The Cotswold Motoring Museum have selected nine significant and interesting objects, now visitors are invited to choose the tenth.

A brand new and fascinating exhibition at the Cotswold Motoring Museum in Bourton-on-the-Water has unveiled the museum's top nine objects that best illustrate key landmarks in the History of Motoring, and now it's inviting visitors to the exhibition to vote for the tenth and final item.

Inspired by the 2010 British Museum Exhibition broadcast on BBC Radio 4, which described the history of the world in 100 objects, the Cotswold Motoring Museum have sifted through the many thousands of objects in the Museum to collate their top nine items, some of which are rather quirky and a few are just plain intriguing!

It took a year of research for the Museum team to whittle down the list of objects, and Michael Tambini, Museum Curator, admits there were some lively debates along the way! 'We came to a consensus in the end,' he laughs. 'There were some things I was keener on than others, but it was important to give an overall picture of the industry, rather than just concentrating on one area like technology. We also knew there were bound to be some things that had been left out and that people would come along and say, "Why didn't you include this? It's the most important thing in the motoring world." That's why we left the gap for a 10th object.'

And what's Michael's personal favourite? 'Probably the 'ECU'- the 'Electronic Control Unit'; You might think that is a surprising choice for somebody who enjoys driving around in a classic car, but I think the ECU is one of the most significant developments in modern motoring and something that is here to stay. Virtually every function of the car is now influenced or directly controlled by an ECU. It helps the car to be more efficient, less polluting, and safer to drive.

So what do you think the tenth item should be? Visit the Cotswold Motoring Museum this year and you'll get your chance to pin your vote on a special suggestion board at the end. There is sure to be tough competition with many prized objects vying for the tenth spot!

The exhibition will be open every day until the winning item is announced in December. For opening times, admission prices and directions visit cotswoldmotoringmuseum.co.uk or email your suggestion for the tenth object to museum@cotswoldmotormuseum.co.uk
---
Explore Gloucestershire
28 February 2012

For further information.



OTHER NEWS
• The Gruffalo at Dean Heritage Centre - dates announced
• New exhibition for 2012 at the Cotswold Motoring Museum
• The Ultimate Valentine's Day winner revealed!
• 400 trees to be planted in Pittville Park to celebrate Queen's Jubilee
• Aviation Jewel set for Diamond Display
• The Wanted to perform at Westonbirt Arboretum this summer
• Win the Ultimate Valentine's Day with Beechwood!
• RESTAURANT REVIEW: Mü Brasserie in Cheltenham
• February 2012 Half Term Holiday Activities in Gloucestershire
• Air Tattoo flies high in awards
• Madness announce forest show at Westonbirt
• Announcing.... A Feast of Festivals in 2012
• LATEST!: 5,000 Explore Gloucestershire iPhone APP's now downloaded!
• RESTAURANT REVIEW: Joules Restaurant in Cheltenham
• Conserving Chedworth's mosaics
• Research into possible Woodchester wild cat finds no cat DNA on deer
• Coming Soon - the Gruffalo at Dean Heritage Centre
• EMF to play at Lakefest Music Festival in May 2012
• Major milestone imminent in the new Cheltenham Art Gallery & Museum