Six more King Penguins - Birdland's new arrivals from Edinburgh Zoo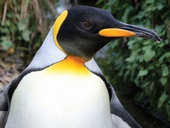 All of you who have been to Birdland Park & Gardens will know that they are lucky to have the only group of King Penguins in England, Wales and Ireland, with the only other birds being at Edinburgh Zoo.

Well, due to refurbishments at Edinburgh Zoo, six male King Penguins are having a long holiday and staying with fellow penguins at Bourton-on-the-Water's popular visitor attraction in the Cotswolds. This will increase the group size of King Penguins to 20 birds, with a ratio of fifteen males and five females.

The penguins will be with Birdland for 6 months, and are currently in quarantine until the end of March.

One of the Kings is known as Sir Nils Olav, so why not pop over and see him and the other penguins from April onwards – or if you can't wait then look at the them on the Birdland Penguin Cam.
Earlier in the year Birdland also became home for two young Cassowary's who travelled all the way from Germany. More birds will be making their way later this year too, so keep your eyes open and binoculars at the ready.
---
Explore Gloucestershire
15 March 2012

For further information.



OTHER NEWS
• Guide to the Queen's Diamond Jubilee Events in Gloucestershire
• EIIR Fylpast at Air Tattoo by 27 RAF Hawk jets to mark Diamond Jubilee
• Treasure Trails Free Jubilee Quiz Trail
• Brand new restaurant Ruby Tuesday opening this June at The Brewery, Cheltenham!
• Gruffalo Trail attracts monster numbers to the Dean Heritage Centre
• Athlete to headline at Lakefest 2012
• STOP PRESS: Explore Gloucestershire APP for Android phones coming soon!
• REVIEW: A weekend adventure in the Forest of Dean with Forest Bushcraft
• Over 6,000 downloads of the Explore Gloucestershire iPhone APP!
• Limited day tickets available at Lakefest 2012!
• Rare jet to be 'TSAR' of the show at RIAT 2012
• Egg-stra Special Air Tattoo Offer - Earlybird Ticket Prices Egg-stended Over Easter!
• Easter School Holiday Activities in Gloucestershire
• Tewkesbury Food and Drink Festival cancelled
• Olympic Torch route announced
• Rare Osprey to swoop at the Air Tattoo this summer 2012
• Six more King Penguins - Birdland's new arrivals from Edinburgh Zoo
• One month to go: The Times Cheltenham Science Festival
• Lechlade Festival - iconic 80s ska band The Beat to headline 2012 Festival
• See WWT Slimbridge in a whole new light
• The Glass Menagerie, Cheltenham Everyman's first in-house production in 15 years
• Birdland - now home to the only group of King Penguins in the UK
• Cotswold Wildlife Park unveils a very rare birth - the UK's first ever Wolverine cubs
• Award winning authors at Wychwoods Children's Literaure Festival
• Sudeley Castle celebrating a special Jubillee
• Did you know Dennis Potter? Get involved with an exciting celebration of his life and work.
• Return of the Explore Gloucestershire at its Best Photography Competition
• 2012 Explore Gloucestershire printed guide NOW OUT
• March of The Penguins at Birdland Park & Gardens
• Sandford Parks Lido Opening Day 21 April