Limited day tickets available at Lakefest 2012!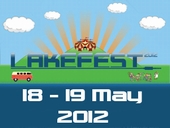 Owing to public demand, the organisers of Lakefest 2012 are pleased to announce the release of an extremely limited number of day tickets to the event.
Lakefest 2012 'Day Tckets' are available for both dates, with just 500 for each being made available. Priced at just £39 for Friday 18th May and £44 for Saturday 19th May, they are already selling like proverbial 'hot cakes' and early purchase is strongly advised.
So don't delay - get over to www.lakefest.co.uk/tickets and bag your ticket for the hottest festival this year!
---
Explore Gloucestershire
10 April 2012

For further information.



OTHER NEWS
• Guide to the Queen's Diamond Jubilee Events in Gloucestershire
• EIIR Fylpast at Air Tattoo by 27 RAF Hawk jets to mark Diamond Jubilee
• Treasure Trails Free Jubilee Quiz Trail
• Brand new restaurant Ruby Tuesday opening this June at The Brewery, Cheltenham!
• Gruffalo Trail attracts monster numbers to the Dean Heritage Centre
• Athlete to headline at Lakefest 2012
• STOP PRESS: Explore Gloucestershire APP for Android phones coming soon!
• REVIEW: A weekend adventure in the Forest of Dean with Forest Bushcraft
• Over 6,000 downloads of the Explore Gloucestershire iPhone APP!
• Limited day tickets available at Lakefest 2012!
• Rare jet to be 'TSAR' of the show at RIAT 2012
• Egg-stra Special Air Tattoo Offer - Earlybird Ticket Prices Egg-stended Over Easter!
• Easter School Holiday Activities in Gloucestershire
• Tewkesbury Food and Drink Festival cancelled
• Olympic Torch route announced
• Rare Osprey to swoop at the Air Tattoo this summer 2012
• Six more King Penguins - Birdland's new arrivals from Edinburgh Zoo
• One month to go: The Times Cheltenham Science Festival
• Lechlade Festival - iconic 80s ska band The Beat to headline 2012 Festival
• See WWT Slimbridge in a whole new light
• The Glass Menagerie, Cheltenham Everyman's first in-house production in 15 years
• Birdland - now home to the only group of King Penguins in the UK
• Cotswold Wildlife Park unveils a very rare birth - the UK's first ever Wolverine cubs
• Award winning authors at Wychwoods Children's Literaure Festival
• Sudeley Castle celebrating a special Jubillee
• Did you know Dennis Potter? Get involved with an exciting celebration of his life and work.
• Return of the Explore Gloucestershire at its Best Photography Competition
• 2012 Explore Gloucestershire printed guide NOW OUT
• March of The Penguins at Birdland Park & Gardens
• Sandford Parks Lido Opening Day 21 April