One month to go: The Times Cheltenham Science Festival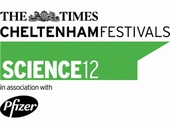 Next month more than 300 of the world's greatest scientists, thinkers, comedians and writers will come together to celebrate and explore the wonders of the natural world, the complexities of the human mind and the mysteries of space.

With a varied programme ranging from psychology to robotics and morality to cosmology, there's a debate, hands-on experience or entertaining night out for all at this year's Cheltenham Science Festival.
The programme of events has been put together to provoke debate, challenge assumptions and satisfy the curiosity of people who question everything. The Guest Directors this year are space scientist Dr Maggie Aderin-Pocock, and comedian Marcus Brigstocke.

Speakers include Barry Marshall, Ruby Wax, Vivienne Westwood, Simon Mayo, Tim Spector, Russell Foster, Lucie Green, Matt Parker, Alice Roberts, Evan Davis, Robert Winston, Andrea Sella, Robin Ince, Josie Long, Kevin Fong, Adam Rutherford, Sebastian Seung, Kate Humble, Jim Al-Khalili, Dawn Harper and Brian Cox.

This year's event highlights include:
Nobel Prize winner Professor Barry Marshall will explore why doctors and scientists have been experimenting on themselves since the 16th century 

Professor Lord Robert Winston will argue that science is an essential part of our culture, despite not being widely recognised as such, calling for action to put science on an equal footing with the arts.
Vivienne Westwood in conversation with Jonathon Porritt on how our inability to act on climate change is intimately connected to the financial crisis and our lack of culture
.
Neuroscientist Professor Russell Foster discusses what happens when people don't get enough sleep and reveals the results of a UK sleep survey.
Hacktivism - Cyber terrorists or legitimate political protest? Hacktivists – like Wikileaks and Anonymous – target the online systems if governments, companies, law enforcement agencies and individuals to stage a protest in the name of free speech and civil rights. Is this a good thing? Join us to explore digital security and the future of hacktivism
.
With the Olympics weeks away, sport psychologists will explore how athletes respond to and prepare for the stress of competition and deal with emotional and psychological pressures at Going for Gold
·
Mental illness, its stigmas and ups and downs will be discussed by Ruby Wax.
Psychologist Professor Robin Dunbar will explore romantic love and how our evolutionary programming still affects our behaviour.
Can you look thin, but be fat? Imaging scientist Professor Jimmy Bell looks at people he has dubbed 'Tofi' – 'thin outside, fat inside'.
The over-arching Festival theme of RE:Generation will be discussed in the broadest of terms through everything from medicine and technology, to renewable energy sources, the recovery of the economy, the ethics of bringing about change, and more.

The Festival also offers free hands-on science in 'Area 42', with exhibits including: experiments with rotting primitive vertebrates to reveal how the characteristic features that allow us to identify fossil vertebrates are transformed and then lost during decay; examples of robotics being developed including a Robot Football Team; a simulation of the cryptography and secure communication devices being developed; and live retinal scanning.

Visitors to the Festival from the 15 – 17th June will also have the opportunity to meet and talk to KeJi – a new interactive installation and game. 'KeJi' (meaning 'science and technology in Mandarin) is a collaborative commission by Cheltenham Science Festival and research group, i‐DAT. The playful installation will be based around an artificial intelligent creature that Festival visitors can 'speak' to through tweets and sms txts. KeJi maintains a symbiotic relationship with humans by synchronizing its heart with the average heart beat of the people it interacts with.

With hundreds of events and drop-in activities for adults and children, this year's The Times Cheltenham Science Festival features something for all the family.
The six-day Festival programme is online at www.cheltenhamfestivals.com/science
---
Explore Gloucestershire
17 May 2012

For further information.



OTHER NEWS
• Guide to the Queen's Diamond Jubilee Events in Gloucestershire
• EIIR Fylpast at Air Tattoo by 27 RAF Hawk jets to mark Diamond Jubilee
• Treasure Trails Free Jubilee Quiz Trail
• Brand new restaurant Ruby Tuesday opening this June at The Brewery, Cheltenham!
• Gruffalo Trail attracts monster numbers to the Dean Heritage Centre
• Athlete to headline at Lakefest 2012
• STOP PRESS: Explore Gloucestershire APP for Android phones coming soon!
• REVIEW: A weekend adventure in the Forest of Dean with Forest Bushcraft
• Over 6,000 downloads of the Explore Gloucestershire iPhone APP!
• Limited day tickets available at Lakefest 2012!
• Rare jet to be 'TSAR' of the show at RIAT 2012
• Egg-stra Special Air Tattoo Offer - Earlybird Ticket Prices Egg-stended Over Easter!
• Easter School Holiday Activities in Gloucestershire
• Tewkesbury Food and Drink Festival cancelled
• Olympic Torch route announced
• Rare Osprey to swoop at the Air Tattoo this summer 2012
• Six more King Penguins - Birdland's new arrivals from Edinburgh Zoo
• One month to go: The Times Cheltenham Science Festival
• Lechlade Festival - iconic 80s ska band The Beat to headline 2012 Festival
• See WWT Slimbridge in a whole new light
• The Glass Menagerie, Cheltenham Everyman's first in-house production in 15 years
• Birdland - now home to the only group of King Penguins in the UK
• Cotswold Wildlife Park unveils a very rare birth - the UK's first ever Wolverine cubs
• Award winning authors at Wychwoods Children's Literaure Festival
• Sudeley Castle celebrating a special Jubillee
• Did you know Dennis Potter? Get involved with an exciting celebration of his life and work.
• Return of the Explore Gloucestershire at its Best Photography Competition
• 2012 Explore Gloucestershire printed guide NOW OUT
• March of The Penguins at Birdland Park & Gardens
• Sandford Parks Lido Opening Day 21 April