EIIR Fylpast at Air Tattoo by 27 RAF Hawk jets to mark Diamond Jubilee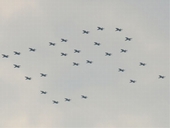 The dramatic flypast of RAF Hawks that flew over Windsor Castle at the weekend as part of the Armed Forces' tribute to HM The Queen will provide the centrepiece of the Royal International Air Tattoo's Diamond Jubilee celebrations at RAF Fairford in Gloucestershire this summer.
Visitors to the airshow on July 7-8 will be able to see a repeat of the EIIR flypast, comprising 27 BAE Systems' Hawk fast jets from RAF Valley in Anglesey and RAF Leeming in Yorkshire.
Other Diamond Jubilee attractions will include specially-painted aircraft, a display of current and historic aircraft with 'Royal' connections and a Diamond Jubilee Lawn featuring a wide variety of themed attractions with a street party atmosphere.
Air Tattoo spokesman Richard Arquati said the Air Tattoo would provide the perfect complement to this summer's Diamond Jubilee celebrations.
He said: "Mass flypasts are only rarely staged because of the incredible amount of practice and planning involved. To have the opportunity to feature the EIIR element of the Armed Forces' official tribute to the Queen at Fairford is not only a great honour but it will also provide a wonderful spectacle for our visitors."
Also at the Air Tattoo will be a number of legendary aircraft also celebrating their 60th anniversaries, including the Vulcan bomber, the US Air Force B-52 and the Vampire T11.
This summer's Air Tattoo will feature aircraft from around the world, including South Korea, Russia, Colombia and Saudi Arabia. The eight-hour flying programme includes the European debut of the United Arab Emirates' Al Fursan display team, the Red Arrows and the unique MV-22 Osprey.
The Air Tattoo is staged in support of the Royal Air Force Charitable Trust. Tickets, priced from £39, are available from airtattoo.com or by calling 0800 107 1940. All accompanied under-16s go free. Free parking.
---
Explore Gloucestershire
23 May 2012

For further information.

Contact phone : RIAT Tickets: 0800 107 1940
Also see : RIAT 2012
OTHER NEWS
• Guide to the Queen's Diamond Jubilee Events in Gloucestershire
• EIIR Fylpast at Air Tattoo by 27 RAF Hawk jets to mark Diamond Jubilee
• Treasure Trails Free Jubilee Quiz Trail
• Brand new restaurant Ruby Tuesday opening this June at The Brewery, Cheltenham!
• Gruffalo Trail attracts monster numbers to the Dean Heritage Centre
• Athlete to headline at Lakefest 2012
• STOP PRESS: Explore Gloucestershire APP for Android phones coming soon!
• REVIEW: A weekend adventure in the Forest of Dean with Forest Bushcraft
• Over 6,000 downloads of the Explore Gloucestershire iPhone APP!
• Limited day tickets available at Lakefest 2012!
• Rare jet to be 'TSAR' of the show at RIAT 2012
• Egg-stra Special Air Tattoo Offer - Earlybird Ticket Prices Egg-stended Over Easter!
• Easter School Holiday Activities in Gloucestershire
• Tewkesbury Food and Drink Festival cancelled
• Olympic Torch route announced
• Rare Osprey to swoop at the Air Tattoo this summer 2012
• Six more King Penguins - Birdland's new arrivals from Edinburgh Zoo
• One month to go: The Times Cheltenham Science Festival
• Lechlade Festival - iconic 80s ska band The Beat to headline 2012 Festival
• See WWT Slimbridge in a whole new light
• The Glass Menagerie, Cheltenham Everyman's first in-house production in 15 years
• Birdland - now home to the only group of King Penguins in the UK
• Cotswold Wildlife Park unveils a very rare birth - the UK's first ever Wolverine cubs
• Award winning authors at Wychwoods Children's Literaure Festival
• Sudeley Castle celebrating a special Jubillee
• Did you know Dennis Potter? Get involved with an exciting celebration of his life and work.
• Return of the Explore Gloucestershire at its Best Photography Competition
• 2012 Explore Gloucestershire printed guide NOW OUT
• March of The Penguins at Birdland Park & Gardens
• Sandford Parks Lido Opening Day 21 April