IMPACT! - New exhibition at the Cotswold Motoring Museum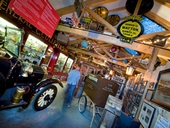 Discover the IMPACT of motoring today at the Cotswold Motoring Museum's insightful and educational exhibition.
Explore five of the major challenges engineers face today, the imaginative solutions currently being explored to overcome them and how they IMPACT you
The Cotswold Motoring Museum, located in the perfect day trip destination of Bourton on the Water, has seven galleries packed full with over 50 vehicles including cars, motorcycles, caravans and pedal cars. The Museum explores the fascinating journey through motoring history and the IMPACT exhibition only proves that the history of motoring is far from over!

The exhibition addresses some of the most important environmental challenges of today - how would we manage without oil, are there just too many cars on the road, can we reduce pollution and what would happen if each car in Britain travelled just one mile less per year?
Divided into five related topics, IMPACT draws attention to the challenges we face and examines the solutions currently being explored, covering air pollution; oil consumption; the route to lower usage; engine technology and the responsibility of ownership. Educating visitors over a range of thought-provoking and useful topics, you can find out how we could organise our journeys and manage our roads to make them less congested and less wasteful, as well as why this is the cheapest time in the last 50 years to own a motor car. You'll also find interesting trends and statistics, for example it is predicted that there will be more cars in China in 2030 than there were in the world in 2000.
But the exhibition doesn't end there, volunteers and friends of the museum have created five supporting documents which can be accessed on the Cotswold Motoring Museum website or emailed to visitors at their request, providing more in depth answers and acting as a gateway to reports and papers available online.
Michael Tambini, curator of the Cotswold Motoring Museum, says "The topics covered in IMPACT are too important for us to ignore. While the challenges we face might seem daunting, we have discovered scientists, engineers and policy makers who are finding novel and imaginative ways to take motoring into a new era."
The Cotswold Motoring Museum and IMPACT exhibition are open daily between 10am-6pm until 16 December. For opening times, admission prices and directions visit cotswoldmotoringmuseum.co.uk
---
Explore Gloucestershire
25 May 2012

For further information.



OTHER NEWS
• The Importance of Being Earnest at The Everyman Theatre
• Contemporary Artists invited to Lodge Park
• Raising the roof for Cheltenham Art Gallery and Museum's new extension
• Westonbirt Arboretum launches competition to name one of the entrances to its tree collection
• Rare crocodiles hatch at Cotswold Wildlife Park
• An Education in Fashion - Gloucestershire College during Cheltenham Fashion Week
• Cowley Manor Transformed by Cheltenham Fashion Week's 'Boutique 24'
• The Wire now open and taking bookings - WATCH VIDEO!
• Cheltenham Devil's Aquathlon - are you up for a challenge?
• Paws in the Park - New date, New Venue
• Gloucester Through The Ages set to bring History to life at forthcoming BiG Gloucester History Festival
• Protecting Chipping Campden's silversmith heritage
• Kofi Annan & J.K. Rowling take centre stage at the 2012 Cheltenham Literature Festival
• Reduced Rates for Lido Season Tickets
• 'Forest Reflections' at the Dean Heritage Centre
• School Holiday Events in Gloucestershire
• First ever spoon-billed sandpiper chicks hatch in the UK
• Go pink to pay £1 entry on Flamingo Lagoon opening day at WWT Slimbridge
• Classic Air Tattoo thrills 130,000 visitors
• EXTRA PRIZE! Win tickets to Nicole & Martin at Taurus Crafts
• New EXCLUSIVE Offer! £2 off family ticket to Clearwell Caves
• Stealth to steal show at the Royal International Air Tattoo
• ACCOMMODATION REVIEW: A stay in a log cabin at Whitemead Forest Park
• News from Cheltenham Music Festival
• Strawberries now in abundance at Over Farm Market near Gloucester
• Zebra foal shows off its tiny stripes at Cotswold Wildlife Park
• NEW OFFER: £2 Off PYO Strawberries at Primrose Vale Farm Shop
• New Exhibition and Father's Day Special at the Dean Heritage Centre
• REVIEW: The Glass Menagerie at The Everyman Theatre
• Celebrate 90 years of the People's Car at the Cotswold Motoring Museum on Fathers Day
• Great Blues – No Bull at Taurus Blues Festival
• Cheltenham Everyman mounts its first in-house production in 15 years!
• IMPACT! - New exhibition at the Cotswold Motoring Museum