New Exhibition and Father's Day Special at the Dean Heritage Centre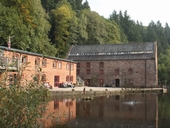 Visitors can bring their Dad to the Dean Heritage Centre for FREE this Father's Day as the Centre opens its latest exhibition by Forest of Dean photographer Ben Locke.
One visitor paying full price will be able to treat their dad to free admission which includes entry to the Gruffalo Woodland Trail and the Ben Locke Photography exhibition.
Ben lives in the local area which is where the majority of his photography is done. He uses a wide range of techniques including infrared photography to produce images that reflect the beauty of motion in natural forms such as clouds, stars and lakes. Featured on Spring Watch and more recently the cover of the Wye Valley and Forest of Dean visitor's guide for 2012, Ben's work is becoming increasing popular throughout Gloucestershire and beyond.
The collection showcases the landscapes and wildlife of the area and is a fantastic opportunity to see up close and intimate images of fallow deer, wild boar and other animals that dwell in the forest.
When asked about his latest exhibition Ben said, 'I'm looking forward to showing some new pieces in the gallery. I've used the space at the Centre before and I'm looking forward to returning. It's the ideal place to showcase my photography of the Forest of Dean. I hope visitors enjoy looking at them.'
Why not bring the family down for a day at the centre and a hearty Sunday roast lunch in the onsite café. Dad's receive a free tea coffee or soft drink with their roast dinner and the café boasts a wide range of cakes, sandwiches and a Gruffalo children's menu.
Entry to the Ben Locke photography exhibition is included in the Dean Heritage Centre's admission fee.
---
Explore Gloucestershire
14 May 2012

For further information.



OTHER NEWS
• The Importance of Being Earnest at The Everyman Theatre
• Contemporary Artists invited to Lodge Park
• Raising the roof for Cheltenham Art Gallery and Museum's new extension
• Westonbirt Arboretum launches competition to name one of the entrances to its tree collection
• Rare crocodiles hatch at Cotswold Wildlife Park
• An Education in Fashion - Gloucestershire College during Cheltenham Fashion Week
• Cowley Manor Transformed by Cheltenham Fashion Week's 'Boutique 24'
• The Wire now open and taking bookings - WATCH VIDEO!
• Cheltenham Devil's Aquathlon - are you up for a challenge?
• Paws in the Park - New date, New Venue
• Gloucester Through The Ages set to bring History to life at forthcoming BiG Gloucester History Festival
• Protecting Chipping Campden's silversmith heritage
• Kofi Annan & J.K. Rowling take centre stage at the 2012 Cheltenham Literature Festival
• Reduced Rates for Lido Season Tickets
• 'Forest Reflections' at the Dean Heritage Centre
• School Holiday Events in Gloucestershire
• First ever spoon-billed sandpiper chicks hatch in the UK
• Go pink to pay £1 entry on Flamingo Lagoon opening day at WWT Slimbridge
• Classic Air Tattoo thrills 130,000 visitors
• EXTRA PRIZE! Win tickets to Nicole & Martin at Taurus Crafts
• New EXCLUSIVE Offer! £2 off family ticket to Clearwell Caves
• Stealth to steal show at the Royal International Air Tattoo
• ACCOMMODATION REVIEW: A stay in a log cabin at Whitemead Forest Park
• News from Cheltenham Music Festival
• Strawberries now in abundance at Over Farm Market near Gloucester
• Zebra foal shows off its tiny stripes at Cotswold Wildlife Park
• NEW OFFER: £2 Off PYO Strawberries at Primrose Vale Farm Shop
• New Exhibition and Father's Day Special at the Dean Heritage Centre
• REVIEW: The Glass Menagerie at The Everyman Theatre
• Celebrate 90 years of the People's Car at the Cotswold Motoring Museum on Fathers Day
• Great Blues – No Bull at Taurus Blues Festival
• Cheltenham Everyman mounts its first in-house production in 15 years!
• IMPACT! - New exhibition at the Cotswold Motoring Museum