Zebra foal shows off its tiny stripes at Cotswold Wildlife Park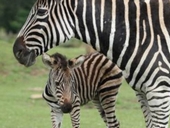 A Chapman's zebra foal, only a few weeks old, stays near its mother while taking in the surroundings of its new home at Cotswold Wildlife Park in Oxfordshire.
Keepers at Cotswold Wildlife Park were surprised when one of the oldest zebras in the group fell pregnant. The as yet unnamed foal was born on 5th June to twelve year old first-time mother Sarah. As one of the lowest ranking females in the group, Sarah hadn't previously shown any signs of interest in mating with Dampy, the foal's father, so it was to some surprise when she became pregnant. Usually dominant females within the group give birth, so the foal is an unexpected delightful addition to the herd.
The new foal shares its large paddock at the Cotswold Wildlife Park not only with its family of Chapman's zebras (Equus burchellii chapmanni) but with three white rhinos. Both fascinating species have been at the Park for over thirty years and this latest arrival marks the Park's forty-fifth zebra birth.
Curator of Cotswold Wildlife Park, Jamie Craig, said: "We are always delighted with any birth at the Park but to arrive at work to the sight of a new born foal gambolling around the zebra and rhino paddock was especially satisfying – watching the youngster settling in with the herd and familiarising itself with the rhino under the watchful eye of its mother was a real treat for the visitors on the day. We look forward to watching it develop, hopefully with slightly more "African" weather!"
Cotswold Wildlife Park is open evry day (except Christmas Day) so why not pop on down and see the new zebra foal along with over 260 species of other animals in stunning landscape parkland and gardens.
---
Explore Gloucestershire
25 June 2012

For further information.



OTHER NEWS
• The Importance of Being Earnest at The Everyman Theatre
• Contemporary Artists invited to Lodge Park
• Raising the roof for Cheltenham Art Gallery and Museum's new extension
• Westonbirt Arboretum launches competition to name one of the entrances to its tree collection
• Rare crocodiles hatch at Cotswold Wildlife Park
• An Education in Fashion - Gloucestershire College during Cheltenham Fashion Week
• Cowley Manor Transformed by Cheltenham Fashion Week's 'Boutique 24'
• The Wire now open and taking bookings - WATCH VIDEO!
• Cheltenham Devil's Aquathlon - are you up for a challenge?
• Paws in the Park - New date, New Venue
• Gloucester Through The Ages set to bring History to life at forthcoming BiG Gloucester History Festival
• Protecting Chipping Campden's silversmith heritage
• Kofi Annan & J.K. Rowling take centre stage at the 2012 Cheltenham Literature Festival
• Reduced Rates for Lido Season Tickets
• 'Forest Reflections' at the Dean Heritage Centre
• School Holiday Events in Gloucestershire
• First ever spoon-billed sandpiper chicks hatch in the UK
• Go pink to pay £1 entry on Flamingo Lagoon opening day at WWT Slimbridge
• Classic Air Tattoo thrills 130,000 visitors
• EXTRA PRIZE! Win tickets to Nicole & Martin at Taurus Crafts
• New EXCLUSIVE Offer! £2 off family ticket to Clearwell Caves
• Stealth to steal show at the Royal International Air Tattoo
• ACCOMMODATION REVIEW: A stay in a log cabin at Whitemead Forest Park
• News from Cheltenham Music Festival
• Strawberries now in abundance at Over Farm Market near Gloucester
• Zebra foal shows off its tiny stripes at Cotswold Wildlife Park
• NEW OFFER: £2 Off PYO Strawberries at Primrose Vale Farm Shop
• New Exhibition and Father's Day Special at the Dean Heritage Centre
• REVIEW: The Glass Menagerie at The Everyman Theatre
• Celebrate 90 years of the People's Car at the Cotswold Motoring Museum on Fathers Day
• Great Blues – No Bull at Taurus Blues Festival
• Cheltenham Everyman mounts its first in-house production in 15 years!
• IMPACT! - New exhibition at the Cotswold Motoring Museum