ACCOMMODATION REVIEW: A stay in a log cabin at Whitemead Forest Park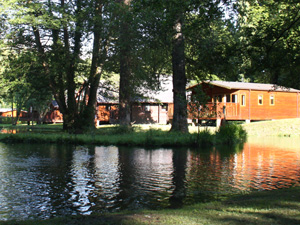 Last time I was in the Forest of Dean for a short break was during the very cold April on a 'Bushcraft Weekend' with my digs for the night being a makeshift wooden shelter. An amazing experience but a far cry from the cosy benefits my family and I experienced at Whitemead Forest Park for a few days in June – yep the sun shone too.
Accommodation at Whitemead comprises of log cabins that cater for up to eight people and apartments that can cater for up to six. There are also excellent facilities for tents and caravans.
Treating ourselves to a traditional deluxe log cabin our high expectations were not greeted with an anti-climax on arrival. The serene woodland setting with ponds and river set in a wooded glade oozed a tranquil and relaxing environment. Whitemead Forest Park is set in an ideal location to explore The Forest of Dean and if you've never visited before you will be surprised at the number of activities and attractions that the Forest has to offer.
The wooden two bedroomed accommodation came complete with everything you would expect, including a dishwasher, fridge freezer and microwave. The living area was open plan with kitchen and dining areas with double doors leading to the veranda, complete with outside table and chairs. This area was also gated and ideal for small children and pets. Our two delightful Springer's found it the ideal place to view the local wildlife! (Although pets are welcomed at Whitemead some cabins are strictly dog free so everyone is catered for). The bedrooms had lots of cupboard space and ours also had a wall mounted plasma TV and en-suite with shower. Another couple of cupboards ensured that you could quite happily stay for a couple of weeks if you wanted.
Central to Whitemead is the leisure complex. It has everything you need for an enjoyable break away. There is a shop that stocks the basics, newspapers, maps camping requisites and gifts. A self-service eating facility during the day also provides takeaway meals and a restaurant ensures that you always have the choice of eating in or out. On the weekends and during school holiday's entertainment is provided in the large Venue. Use of the facilities is included in your stay. If you fancy a pamper session there is health and beauty salon on site providing various treatments including fish pedicures. Prices for this are very reasonable. Various events throughout the year are also open to the public so if you're local to Whitemead then keep an eye out.
The swimming pool at Whitemead has various sections and was bigger than expected comprising of a children's pool, two Jacuzzis, a steam room and sauna. A lifeguard is always on duty. The kids loved it and it was certainly the first and last port of call for our two. The communal changing room means that it is also great for families (nothing worse than a struggle with small children and babies in a very confined space). After a swim you can pop toddlers into the soft play area to really tire them out or outside there is a huge grassy area and a secure play area.
Whitemead's 'Foresters Family Restaurant' was reasonably priced with something for everyone. The service and food were extremely good, and although we were unable to manage a shared Whitemead Super Sharing Sundae I can thoroughly recommend the chocolate fondant! We retired to the light airy bar to finish our evening.
After a just a few days we can honestly say that we had a very relaxing break - a break much needed after a very manic week. We are sure that it is much busier during the school holidays and it's great for children. However, if you want a quiet break out of school time, this would take quite a lot of beating. We did notice that visitors during this period included quite a few retired people and some who had obviously taken their grandchildren.
---
Explore Gloucestershire
28 June 2012
Special offers: Summer 2012 only.
Whitemead are offering 40% off short breaks during the school summer holidays, a three night weekend or four night mid-week break for up to six is now from just £411. For more information and bookings call 0800 247 1445 or visit whitemead.co.uk
*For stays from 20 July to 30 August 2012. Offer valid on the published CSMA Club public tariff. Subject to availability, valid for new bookings only and not valid in conjunction with any other offer. Book by 20 August 2012. Price based on stays between 24 and 30 August.
| | | |
| --- | --- | --- |
| Whitemead Play Area | Whitemead log cabin | River by Whitemead |


For further information.



OTHER NEWS
• The Importance of Being Earnest at The Everyman Theatre
• Contemporary Artists invited to Lodge Park
• Raising the roof for Cheltenham Art Gallery and Museum's new extension
• Westonbirt Arboretum launches competition to name one of the entrances to its tree collection
• Rare crocodiles hatch at Cotswold Wildlife Park
• An Education in Fashion - Gloucestershire College during Cheltenham Fashion Week
• Cowley Manor Transformed by Cheltenham Fashion Week's 'Boutique 24'
• The Wire now open and taking bookings - WATCH VIDEO!
• Cheltenham Devil's Aquathlon - are you up for a challenge?
• Paws in the Park - New date, New Venue
• Gloucester Through The Ages set to bring History to life at forthcoming BiG Gloucester History Festival
• Protecting Chipping Campden's silversmith heritage
• Kofi Annan & J.K. Rowling take centre stage at the 2012 Cheltenham Literature Festival
• Reduced Rates for Lido Season Tickets
• 'Forest Reflections' at the Dean Heritage Centre
• School Holiday Events in Gloucestershire
• First ever spoon-billed sandpiper chicks hatch in the UK
• Go pink to pay £1 entry on Flamingo Lagoon opening day at WWT Slimbridge
• Classic Air Tattoo thrills 130,000 visitors
• EXTRA PRIZE! Win tickets to Nicole & Martin at Taurus Crafts
• New EXCLUSIVE Offer! £2 off family ticket to Clearwell Caves
• Stealth to steal show at the Royal International Air Tattoo
• ACCOMMODATION REVIEW: A stay in a log cabin at Whitemead Forest Park
• News from Cheltenham Music Festival
• Strawberries now in abundance at Over Farm Market near Gloucester
• Zebra foal shows off its tiny stripes at Cotswold Wildlife Park
• NEW OFFER: £2 Off PYO Strawberries at Primrose Vale Farm Shop
• New Exhibition and Father's Day Special at the Dean Heritage Centre
• REVIEW: The Glass Menagerie at The Everyman Theatre
• Celebrate 90 years of the People's Car at the Cotswold Motoring Museum on Fathers Day
• Great Blues – No Bull at Taurus Blues Festival
• Cheltenham Everyman mounts its first in-house production in 15 years!
• IMPACT! - New exhibition at the Cotswold Motoring Museum