EXTRA PRIZE! Win tickets to Nicole & Martin at Taurus Crafts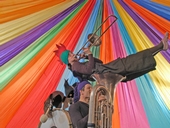 Explore Gloucestershire have teamed up with Taurus Crafts just outside Lydney in the Forest of Dean for an extra prize in this month's competition - a family ticket to the incredible 'Nicole & Martin' worth £25.
The fabulous Swiss travelling entertainers – Nicole & Martin will be entertaining at Taurus Crafts with three shows in three days with their amazing adaptations of traditional European fairy tales. 'More than theatre' their shows are an incredible mix of circus skills, acrobatics, miming, acting, multiple instruments, comedy and creative costume. Find out more information about Nicole & Martin @ Taurus Crafts.
For your chance to win this great prize and three more fabulous prizes including tickets to the Best of British Show, TreeFest at Westonbirt and a family ticket to Birdland Park & Gardens visit our Competition page.
---
Explore Gloucestershire
5 July 2012

For further information.



OTHER NEWS
• The Importance of Being Earnest at The Everyman Theatre
• Contemporary Artists invited to Lodge Park
• Raising the roof for Cheltenham Art Gallery and Museum's new extension
• Westonbirt Arboretum launches competition to name one of the entrances to its tree collection
• Rare crocodiles hatch at Cotswold Wildlife Park
• An Education in Fashion - Gloucestershire College during Cheltenham Fashion Week
• Cowley Manor Transformed by Cheltenham Fashion Week's 'Boutique 24'
• The Wire now open and taking bookings - WATCH VIDEO!
• Cheltenham Devil's Aquathlon - are you up for a challenge?
• Paws in the Park - New date, New Venue
• Gloucester Through The Ages set to bring History to life at forthcoming BiG Gloucester History Festival
• Protecting Chipping Campden's silversmith heritage
• Kofi Annan & J.K. Rowling take centre stage at the 2012 Cheltenham Literature Festival
• Reduced Rates for Lido Season Tickets
• 'Forest Reflections' at the Dean Heritage Centre
• School Holiday Events in Gloucestershire
• First ever spoon-billed sandpiper chicks hatch in the UK
• Go pink to pay £1 entry on Flamingo Lagoon opening day at WWT Slimbridge
• Classic Air Tattoo thrills 130,000 visitors
• EXTRA PRIZE! Win tickets to Nicole & Martin at Taurus Crafts
• New EXCLUSIVE Offer! £2 off family ticket to Clearwell Caves
• Stealth to steal show at the Royal International Air Tattoo
• ACCOMMODATION REVIEW: A stay in a log cabin at Whitemead Forest Park
• News from Cheltenham Music Festival
• Strawberries now in abundance at Over Farm Market near Gloucester
• Zebra foal shows off its tiny stripes at Cotswold Wildlife Park
• NEW OFFER: £2 Off PYO Strawberries at Primrose Vale Farm Shop
• New Exhibition and Father's Day Special at the Dean Heritage Centre
• REVIEW: The Glass Menagerie at The Everyman Theatre
• Celebrate 90 years of the People's Car at the Cotswold Motoring Museum on Fathers Day
• Great Blues – No Bull at Taurus Blues Festival
• Cheltenham Everyman mounts its first in-house production in 15 years!
• IMPACT! - New exhibition at the Cotswold Motoring Museum