Classic Air Tattoo thrills 130,000 visitors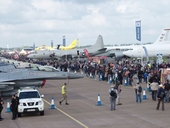 One OF the best in recent years: that was the verdict after a star-studded line-up lived up to expectations at the Royal International Air Tattoo at RAF Fairford in Gloucestershire.
Despite the inclement weather, over 130,000 visitors attended during the show period, and their resilience was rewarded with some truly spectacular flying, with the Black Eagles aerobatic display team from South Korea getting everyone talking with a breath-taking debut performance.
Organisers were delighted to provide a classic Air Tattoo line-up, made possible by: debut visits from the air arms of Japan, Colombia and South Korea; five other aerobatic display teams, including crowd favourites The Red Arrows, plus the first Air Tattoo appearance of Al Fursan (The Knights from the United Arab Emirates); and iconic aircraft such as the USAF B-2 Spirit stealth bomber, the ever-popular Avro Vulcan, and the Bell-Boeing Osprey MV-22.
A total of 39 air arms from 25 nations were represented at the event, bringing in 268 aircraft and 10 hot-air balloons. And 43 senior military representatives attended the Air Chiefs' Conference which preceded the airshow.
Considering the country had endured the wettest June on record, organisers made the decision to cap visitor numbers early, to ensure that the airshow could safely continue no matter what the weather. Safety was the paramount concern, and organisers were delighted that by Sunday afternoon their contingency plans appeared to be holding up.
Less than two per cent of the cars using our parking areas on Saturday (July 7) required assistance, and we are pleased to report that our teams were able to get all of them safely on their way.
The event got off to a spectacular start with the christening of the A400M "Atlas", the RAF's new next-generation transport aircraft, when the Air Tattoo was delighted to welcome Government officials. Peter Luff, Minister of Defence Equipment, Support and Technology, was the guest of honour at the official ceremony.
The weather failed to dampen spirits with the crowds enjoying a variety of showground activities: on the ground the Taiko drummers from the Iruma Air Base in Japan stole the show, performing choreographed drumming routines and encouraging young visitors to try the hand at drumming. The troupe arrived on board a Boeing KC-767J from the Japanese Air Self-Defense Force (JASDF), the first operational aircraft from Japan to appear at a flying display outside Asia, and went down a storm with their colourful, noisy and exuberant routines.
Special guests included: HRH the Duke of Gloucester; HRH Lieutenant General Prince Feisal bin Hussein of Jordan, Patron of the Air Tattoo's Flying Scholarships for Disabled People; Chief of the Air Staff, Air Chief Marshal Sir Stephen Dalton; Gen Norton A. Schwartz, Chief of Staff, USAF; the Rt Hon Philip Hammond, Secretary of State for Defence; and Gen Sung Il Hwan, Korea's Chief of Air Staff.
Air Tattoo Chief Executive Tim Prince said: "This has been a challenging year, but the great British public, and our overseas visitors, have supported us as they always do. We warmly welcomed our new visitors from Japan, South Korea and Colombia, who have helped the Air Tattoo maintain its reputation as one of the greatest international military airshows, and we continue to be grateful for the fantastic support from the RAF and the United States Air Force, who continue to see the benefits the Air Tattoo brings in terms of defence diplomacy.
"We are particularly grateful to BAE Systems and Lockheed Martin who have committed to extending their sponsorship until 2016, which is great news, and would like to thank our volunteers who play a pivotal role in making the Air Tattoo happen."
The Air Tattoo medical teams reported relatively few incidents over the weekend. Chief Medical Officer Sara Hall reported that 152 visitors had been treated for minor injuries, including hayfever, cuts and bruises, while several were transferred to hospital for further treatment. These included a gentlemen who developed leg pains after being involved in a road traffic accident off-site, and a lady who collapsed with a cardiac arrest.
And Senior Fire Officer Barry Scott reported a safe Air Tattoo, with the main incident being a request on Thursday from Wiltshire Fire & Rescue Service for help in bringing a large fire near Royal Wootton Bassett under control.
First-time Air Tattoo visitor Freddie d'Ambrumenil, 27, from Bristol, said: "I loved all the different types of aircraft, the displays were fantastic, and it was great to see so many different nations represented. I enjoyed walking around and also the chance to interact with the crews and to see inside the aircraft. And I liked the vintage cars too – there really was something for everybody."
Grant McFadden, 34, from Glasgow in Scotland, said: "This is my first time at RIAT and it's been a brilliant day. There are so many aircraft from so many countries and my favourite flying display was from the Polish MiG-29: that was excellent!"
And the Couzens family – Gerry, 78, Matthew, 49, and 15-year-old Mark from nearby Swindon all enjoyed their day. Matthew said: "We're having an excellent time: we're on our way to see the B-2, and Mark and I are looking forward to seeing the Red Arrows," while Gerry added: "I served in Korea during World War II, so I'm naturally looking forward to watching the Black Eagles, and I hope to re-visit Korea next year, for the first time since the War."

The Royal International Air Tattoo is staged annually in support of the Royal Air Force Charitable Trust which, in turn, awards grants in support of the RAF family, including serving personnel and Air Cadets. Since it was established in January 2005, the Trustees have awarded over £1.69 million to a wide range of projects and initiatives.
---
Explore Gloucestershire
9 July 2012

For further information.



OTHER NEWS
• The Importance of Being Earnest at The Everyman Theatre
• Contemporary Artists invited to Lodge Park
• Raising the roof for Cheltenham Art Gallery and Museum's new extension
• Westonbirt Arboretum launches competition to name one of the entrances to its tree collection
• Rare crocodiles hatch at Cotswold Wildlife Park
• An Education in Fashion - Gloucestershire College during Cheltenham Fashion Week
• Cowley Manor Transformed by Cheltenham Fashion Week's 'Boutique 24'
• The Wire now open and taking bookings - WATCH VIDEO!
• Cheltenham Devil's Aquathlon - are you up for a challenge?
• Paws in the Park - New date, New Venue
• Gloucester Through The Ages set to bring History to life at forthcoming BiG Gloucester History Festival
• Protecting Chipping Campden's silversmith heritage
• Kofi Annan & J.K. Rowling take centre stage at the 2012 Cheltenham Literature Festival
• Reduced Rates for Lido Season Tickets
• 'Forest Reflections' at the Dean Heritage Centre
• School Holiday Events in Gloucestershire
• First ever spoon-billed sandpiper chicks hatch in the UK
• Go pink to pay £1 entry on Flamingo Lagoon opening day at WWT Slimbridge
• Classic Air Tattoo thrills 130,000 visitors
• EXTRA PRIZE! Win tickets to Nicole & Martin at Taurus Crafts
• New EXCLUSIVE Offer! £2 off family ticket to Clearwell Caves
• Stealth to steal show at the Royal International Air Tattoo
• ACCOMMODATION REVIEW: A stay in a log cabin at Whitemead Forest Park
• News from Cheltenham Music Festival
• Strawberries now in abundance at Over Farm Market near Gloucester
• Zebra foal shows off its tiny stripes at Cotswold Wildlife Park
• NEW OFFER: £2 Off PYO Strawberries at Primrose Vale Farm Shop
• New Exhibition and Father's Day Special at the Dean Heritage Centre
• REVIEW: The Glass Menagerie at The Everyman Theatre
• Celebrate 90 years of the People's Car at the Cotswold Motoring Museum on Fathers Day
• Great Blues – No Bull at Taurus Blues Festival
• Cheltenham Everyman mounts its first in-house production in 15 years!
• IMPACT! - New exhibition at the Cotswold Motoring Museum