Protecting Chipping Campden's silversmith heritage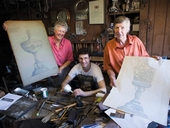 A major project to safeguard 3000 historic silversmith drawings has been officially launched in Chipping Campden.
The Hart Silversmiths Trust, an independent charity set up to conserve the 100-year old drawings collection, is working with local heritage organisations, businesses and volunteers to conserve, archive and research the precious drawings so that they can be enjoyed by future generations.
The £48,000 project is being made possible by a grant of £29,800 from the Heritage Lottery Fund, along with the generous support of local trusts and foundations and individual donors.
Of major cultural and historical importance, the collection contains drawings of the Processional Cross used at Coronation of Queen Elizabeth II, and the designs submitted for the making of the Royal Ascot Hunt Cup.
The drawings have been donated to the Trust by David Hart, grandson of George Hart who came to Chipping Campden as a young silversmith in 1902. Since this time the family have become one of the most important silversmiths of the 20th century, and they continue the tradition today led by David, his son William, nephew Julian and fellow silversmith Derek Elliott.
David Hart and Chairman of the Trustees Andrew Thornton said, "We are thrilled and grateful to have received the support of the Heritage Lottery Fund and are confident that in conserving these wonderful drawings and providing access to them we will stimulate interest in silver, in the Arts & Crafts movement and in rural Gloucestershire life from the 19th century to the current day."
Volunteers from NADFAS, the National Association of Decorative & Fine Arts Societies, are now beginning training from Gloucestershire Archives to carefully clean the drawings before they are stored safely in the Archives' specialist temperature-controlled environment. With the professional support of G4S in Broadway, the leading facilities management business, the drawings will then be scanned into a digital archive to make them available for educational and research purposes. A selection of the drawings will also be the subject of a major exhibition, researched and prepared by students at the University of Warwick.
Heather Forbes, County & Diocesan Archivist at Gloucestershire Archives said, "The Hart drawings are a unique and irreplaceable archive collection. We're very pleased to be able to share our skills and experience with local volunteers to ensure that these records are preserved safely and made more accessible for the whole community."
Chris Wilkins, Director of Communications at G4S said, "This is an important project to help preserve the area's rich silversmith heritage and when complete will ensure that these works can be viewed by local generations to come. We're delighted to support the Trust and its partners and will be providing professional services support."
Richard Bellamy, Acting Head of South West at the Heritage Lottery Fund said, "As a last vestige of Ashbee's Guild of Handicraft, Hart's Silversmiths serves as a living link to William Morris's Arts and Crafts Movement of the 19th century and we were therefore delighted to be able to support this project to preserve the company's important archive of drawings, ensuring its continued availability for future generations."
---
Explore Gloucestershire
13 August 2012

For further information.



OTHER NEWS
• The Importance of Being Earnest at The Everyman Theatre
• Contemporary Artists invited to Lodge Park
• Raising the roof for Cheltenham Art Gallery and Museum's new extension
• Westonbirt Arboretum launches competition to name one of the entrances to its tree collection
• Rare crocodiles hatch at Cotswold Wildlife Park
• An Education in Fashion - Gloucestershire College during Cheltenham Fashion Week
• Cowley Manor Transformed by Cheltenham Fashion Week's 'Boutique 24'
• The Wire now open and taking bookings - WATCH VIDEO!
• Cheltenham Devil's Aquathlon - are you up for a challenge?
• Paws in the Park - New date, New Venue
• Gloucester Through The Ages set to bring History to life at forthcoming BiG Gloucester History Festival
• Protecting Chipping Campden's silversmith heritage
• Kofi Annan & J.K. Rowling take centre stage at the 2012 Cheltenham Literature Festival
• Reduced Rates for Lido Season Tickets
• 'Forest Reflections' at the Dean Heritage Centre
• School Holiday Events in Gloucestershire
• First ever spoon-billed sandpiper chicks hatch in the UK
• Go pink to pay £1 entry on Flamingo Lagoon opening day at WWT Slimbridge
• Classic Air Tattoo thrills 130,000 visitors
• EXTRA PRIZE! Win tickets to Nicole & Martin at Taurus Crafts
• New EXCLUSIVE Offer! £2 off family ticket to Clearwell Caves
• Stealth to steal show at the Royal International Air Tattoo
• ACCOMMODATION REVIEW: A stay in a log cabin at Whitemead Forest Park
• News from Cheltenham Music Festival
• Strawberries now in abundance at Over Farm Market near Gloucester
• Zebra foal shows off its tiny stripes at Cotswold Wildlife Park
• NEW OFFER: £2 Off PYO Strawberries at Primrose Vale Farm Shop
• New Exhibition and Father's Day Special at the Dean Heritage Centre
• REVIEW: The Glass Menagerie at The Everyman Theatre
• Celebrate 90 years of the People's Car at the Cotswold Motoring Museum on Fathers Day
• Great Blues – No Bull at Taurus Blues Festival
• Cheltenham Everyman mounts its first in-house production in 15 years!
• IMPACT! - New exhibition at the Cotswold Motoring Museum