The Cotswolds is in a league of its own when it comes to events in England.

Not only does it boast four amazing air shows, but the Cotswolds is home to some of the strangest and most bizarre traditions and events you'll find in the world!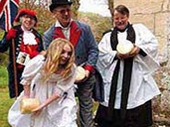 © Randwick cheeserolling
Where else can you find pieces of cheese being rolled anti-clockwise around a churchyard (see picture on right), or the mad, insane or plain stupid running down an incredibly steep hill (some say cliff!) after a lump of cheese?
Where else can you see people kicking seven bales of straw out of each other's shins?
Where else can you see feats of strength and stamina with individuals and teams running up a street with a woolsack on their back?
Where else can you see two football teams go head to head in a river?
Where else can you witness deerhounds racing against a backdrop of a magnificent, historic countryside den of iniquity?
There's only one place in the world that hosts all these fantastic events – The Cotswolds!
---
Events to look forward to in the Cotswolds in 2013...
The Cotswold calendar of events starts in January. At Painswick Rococo Gardens the very early stages of Spring emerge, with an amazing whitewash of snowdrops.
---
February 2013
The snowdrops flower well into February and can be seen elsewhere all over the Cotswolds including Westonbirt Arboretum.

Adam Henson
Spring is well under way in March as lambing begins. Lambing on a large scale can be witnessed at the Cotswold Farm Park, home to 'BBC Countryfile' TV presenter Adam Henson (pictured here with a Cotswold Sheep). Many rare breeds can be seen here.
---
Easter is at the end of March in 2013 and this sees the majority of seasonal visitor attractions in the Cotswolds opening their gates, with many of them starting the season with an array of Easter egg hunts and activities for children to enjoy. See Explore Gloucestershire's list of the best Cotswolds visitor attractions...
---
The month of May. Well this is the month where it all starts to get a bit lively!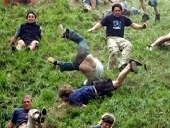 © www.cheese-rolling.co.uk
The death defying display of locals and entries from all four corners of the globe will be participating in the annual Cheeserolling at Coopers Hill near Gloucester. This ever growing in popularity traditional event is a must for thrill seeking individuals or as we see it – mad! There are several races where competitors line up at the top of a very steep hill and then on starters orders chase, run, roll or simply fall after a whole Double Gloucester cheese. There are injuries each year and it's not for the faint hearted, so be warned!
Also during the Whit weekend is the annual Tetbury Woolsack races. Again this is for the heroic and normally involves fit (very fit) and rigorously trained (well mostly) individuals running up a street in Tetbury with a cumbersome woolsack on their backs. As well as individual races there are team events and it really is a great day for the family to enjoy.
---
On the Friday of Whitsun Bank Holiday weekend the Cotswolds will be celebrating its own special Olympics. Yep – for the brave, stupid and determined only, or those out there who just like pain!


Mad antics including the famous 'shin kicking' at the Robert Dover Olympick Games near Chipping Campden in the Cotswolds.
The 2013 Robert Dover Olympick Games are held each year at Dover Hill just outside the quintessential Cotswold market town of Chipping Campden. Each year local teams gather for an evening to participate in many races, fun and games. For those who you who remember 'It's a Knockout!' from the 1970's, it has similarities, but with a Cotswold flavour. The last event of the evening is the 'shin-kicking' contest. It's quite simple really. Two opponents take hold of each other by the shoulders and proceed in kicking each others shins, with the only protection being that of straw which is stuck down or up the leg garments! There are injuries so again be warned! Afterwards everybody heads back down the hill to Chipping Campden for an evening of entertainment which might see a few flagons of cider and ale drunk! Somewhere in the madness of the evening's fun, a new 'queen' is chosen and paraded through the streets.
Events at the Gloucestershire Warwickshire Steam Railway this month see a Classic Vehicle Day and a visit from Thomas the Tank Engine and his friends.
During June visit the beautiful gardens at Sudely Castle for their Rose Week.
The 2013 Cotswold Show on 6 - 7 July has grown in size and quality over the last few years, and sees a fine mixture of traditional Cotswold trades, farming, countryside pursuits alongside many other activities including motorcycle stunts and daredevil parachute displays. For the foodies, this is also a great chance to take a wander around the food tents and experience some local tastes – delicious!
It's big! It's loud! It's back on the 20 - 21 July! The biggest military airshow in the world again welcomes a plethora of aircraft from numerous countries. The 2013 Royal International Air Tattoo at Fairford is quite literally an awesome and spectacular airshow.


Stunning air displays from aerobatic teams all around the world at the Royal International Air Tattoo at Fairford in the Cotswolds.
---
August 2013
The summer school holidays sees the numerous visitor attractions in the Cotswolds entertain during August with many activities and things to see and do, but on August Bank Holiday Monday get your waterproofs out!
Nope! – not because it's going to rain, but in Bourton-on-the-Water a very unusual and thoroughly entertaining event takes place. The annual 'Football match in the River Windrush' is pure excellence even if you hate football. The local Bourton Rovers football club don their wetsuits and snorkels... ok they don't really, but they split themselves into two teams and play a football match in the shallow waters of the Windrush in the heart of Bourton-on-the-Water. Be FULLY prepared to get wet if you get too close!
We went along in 2009 and made a video - enjoy...
At the end of October keep a sharp eye out for our special Halloween pages, where you'll find many spooky goings on in the Cotswolds at many tourist attractions.
Westonbirt by Vicki Davies
October of course is the start of Autumn and the Cotswolds is not only blessed with some of the most picturesque scenery in England, but boasts two amazing arboreta which capture the mood and colour of the trees as they start to transform. Westonbirt Arboretum near Tetbury in the South Cotswolds, and Batsford Arboretum located just outside Moreton-in-Marsh in the North Cotswolds, are definitely worth a visit during the autumn months.
---
November 2013
The magnificent autumn colours can be witnessed throughout the Cotswolds during November too.
We also have special pages listing Firework displays throughout the Cotswolds.
---
There are numerous Christmas activities at many visitor attractions in the Cotswolds including Santa Claus visits. There's an enchanted Christmas at Westonbirt Arboretum and a magical Christmas fantasy at Clearwell Caves. Prinknash Bird & Deer Park put on a great display of illuminations and create a magical Winter Wonderland. Christmas craft workshops take place at the Corinium Museum in Cirencester and there are many Christmas fayres at numerous towns and villages scattered around the Cotswolds.
---
Please check with the contact telephone numbers or websites before planning your visit. Sometimes events can be cancelled for various reasons and we wish you to enjoy your day out.