Mediaeval Mayhem at Joust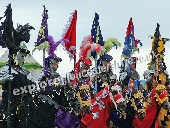 Wow, what an action packed day. Joust certainly ticked all the boxes for a family day out with something for everyone.

We took our 2 children and went with some friends and their five children - quite a big group to keep entertained and we were not to be disappointed.

On arrival you soon get used to mingling with folk dressed in mediaeval attire and with nothing modern in sight you could easily believe you had travelled back in time.

Everyone involved was relaxed and enjoying themselves, but also witty and very informative. The children learnt a lot - from how battles were fought to the gory details of the arrow removal from the eye of Henry V (yuk!). They loved it and had to be virtually dragged home at the end of the day.

The Mediaeval Baebes provided a relaxing break to the middle of the day with their interpretation of Mediaeval music and song. The husband was very impressed!.

As I say, something for everyone including some very fit jousting knights and Cossack stunt riders. The programme for the day was packed from beginning to end so an early start would be recommended.
Entry to the Castle was included in the ticket price, but if you were having too much fun you could redeem this on a later visit if you kept your ticket.,

We will definitely return next year. Congratulations to the organizers - we'll be back for 2007.