Great British Cheese Festival, Cheltenham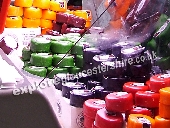 We visited the Cheltenham Cheese Festival on Saturday 30 September 2006, and met up with friends for the start of an interesting day out.

The Cheese Festival which was held in Cheltenham's famous Montpellier Gardens was well set out with various marquees, some for food, others for Masterclasses, books, herbs, cider and wines.

The village green area was designated for activities such as cheese tossing, falconry displays by Geoff Dalton from Cotswold Falconry, a Rodeo Bull , Dream readers and street style entertainers performing an array of marvellous juggling skills and acrobatic stunts.

The Cheese Market and Food from Britain Market tents were extremely busy.
The Cheese Market with tempting selections of award-winning cheeses to be tasted, savoured and brought.
The British Food tent offered some equally delicious foodstuffs ranging from scotch eggs to scallops. Any accompaniment for cheese was on offer - infact this was definitely a cheese lovers paradise!

So we nibbled away and bought our favourites.

Eventually exhuasted we decided to find our partners. We had a strong idea where they would be - stronger than the most mature cheddar on offer...
...The Big-Top Tent!

The huge marquee was filled with crowds sampling and buying some of the best local ciders, ales and wine - most of which I think my husband and comrades had tasted - very merry indeed!

We decided to go for a glass or two of wine ourselves, which gave us the opportunity to discuss our Cheese Festival outing.

To sum up, the mood was definitely that of a large social gathering - so much so that we heard that cider levels were runnimg low by the end of the day. - I wonder why?

If you love cheese this is an event not to be missed - we'll be back for 2007.