2008 Slimbridge Beer Festival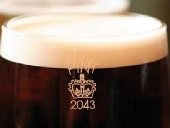 Tickets for the 2008 Slimbridge Beer Festival are selling fast!
The event will be held on SATURDAY 21 JUNE AT THE SLIMBRIDGE WILDFOWL AND WETLANDS TRUST.
All the proceeds go to local scouts, so the event is good fun in a good cause.
Last year's event was sold out well in advance and so was the previous year.
So, to avoid disappointment, everyone is encouraged to buy their tickets as soon as possible.
As a genuine community event, the festival is supported by many local people and organisations and, in return, tries to promote local talent and business.

Local businesses are invited to sponsor a barrel for £50. For this, they receive two free tickets, a sponsorship sign over their preferred beer barrel, and acknowledgements on the website as well as on the beer menu given to every attendee.
As in previous years, music will be provided by popular local bands. And the excellent beer selection will be complimented by specially brewed local beers. Food will be available, as well as wine, lager, cider and soft drinks for non-beer drinkers.
More details and tickets are available online at the festival website www.slimbeerfest.co.uk.
Tickets are also on sale at Slimbridge Post Office, The Tudor Arms in Slimbridge and Inches in Dursley. If you require more information or tickets please ring 07967524241.
---
13 April 2008
Explore Gloucestershire
OTHER NEWS
• Hot Air Ballooning at Sudeley Castle this weekend
• Vintage Jets to salute the RAF at Kemble Air Day 2008
• Caving fun at Clearwell Caves
• SAVE £££'s - Book in advance for the 2008 Kemble Air Day!
• NEW on-line ticket booking with Stagecoach buses
• Old bangers needed for the 2008 Cotswold Show
• Amy Hatcher coming to the 2008 Cotswold Show
• Performances at the Everyman Theatre in June
• Gloucester Rugby Club tackles the 2008 Cotswold Show
• Out of the Hat - Residents offer extended
• The Red Arrows only date this summer with RIAT 2008
• Performances at the Everyman Theatre in May
• The National Waterways Museum re-opens 24 May
• SPECIAL OFFER at the Cheltenham Chase Hotel
• Tewkesbury Food and Drink Festival – opens its doors this weekend.
• May School Holidays in Gloucestershire 2008
• Asparagus now ready at Primrose Vale & Over Farm
• Enjoy a round of golf at Shipton Golf Course
• Sports Relief re-run at Pittville Park this Sunday
• Listen to the 2008 Cheltenham Jazz Festival PodCast!
• World famous Shakespeare's Globe comes to Sudeley Castle
• Gloucester shouts about its future!
• 2008 Slimbridge Beer Festival
• Your chance to create the new Tewkesbury Smoothie!!!
• Tickets now on sale to the 2008 Cheltenham Science Festival
• NEW high quality maps of Gloucestershire now available!
• NEW 2008 printed guide now available!
• NEW 2008 Photography Competition - Gloucestershire at its Best!
• Do you want to sell your wares at Kemble Air Day 2008?
• What's on at The Everyman in April 2008
• April School Holidays in Gloucestershire 2008
• Last few tickets left for Howlers at the Hall
• Fabulous prizes in to be won April's Competition!
• NEW Cheltenham Food & Drink Festival in June 2008
• Reduced entry to Out of the Hat in Tewkesbury