Performances at the Everyman Theatre in May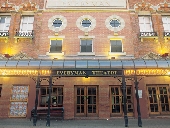 The Everyman Theatre will be getting involved in the Jazz Festival at the beginning of May kicking off with a show from Clare Teal, the singer/songwriter who was voted the British Jazz vocalist of the Year 2007. There are also a couple of late night jazz sessions in the County Bar with Jim Hart and Joe Lee Wilson, both performing with the Alex Steele Trio.
If you're a bit of a murder mystery fan then the Agatha Christie Theatre Company's highly acclaimed production of And Then There Were None will certainly give you excellent value for money.
Keep On Moving in The Studio Theatre takes its inspiration from the fairgrounds of bygone days and the lives of those who lived and worked them. It takes you back to a time of toffee apples and bearded ladies and anything can happen. The Studio Theatre also sees Wedding Story about a child's anxieties for a new family, featuring live music, magic and juggling it draws on influences from traditional Jewish and Eastern European folk tales.
On the 13 May the Bonachela Dance Company will perform a spectacular production from Rafael Bonachela, who was recently involved in choreographing a show for Kylie Minogue. It's a show involving intense physicality with high-tech imagery.
From the 15 - 18 May, Tolstoy's epic War & Peace 1 & 2 adapted by Helen Edmundson will be presented by Shared Experience. This production is split into parts 1 & 2 which can be seen at separate performances or in one day on Double-Bill performance days with a supper break between the two parts.
Focus Theatre will be entertaining us in the Studio Theatre with a number of productions with This Is Where Its At on 20 May, which showcases the variety and scope of their work. They'll also be performing a Dennis potter classic Blue Remembered Hills and Letting Their Hair Down featuring Broadway revue material.
The world famous Russian Ice Stars return to the Everyman with yet another breathtaking show. This time it's Beauty and the Beast. - one not to be missed!
During the evening of 26 May AeroSoul comes to Cheltenham, a ten piece band bringing you some soul classics.
This month there'll be plenty to laugh about during The Comedy Shop on Tour 2008 featuring some of the best alternative comedy from the Edinburgh festival. The show will feature Jo Caulfield, Manuel Martinez, Phil Walker and Brendan Riley. Some of you may have seen Jo at Howlers at the Hall recently. It was a sell-out so here's a golden opportunity to catch her hugely entertaining act if you missed out.
The month draws to a close with A Portrait of Stephan Grappelli performed by some of the musicians who have performed with the master of Jazz.
Now in its 10th year Knockin On Heavens Door delivers some very convincing portrayals of musical icons such as Presley, Orbison, Holly and Cochrane in a lively feel-good factor show.

---
30 April 2008
Explore Gloucestershire




For further information.



OTHER NEWS
• Hot Air Ballooning at Sudeley Castle this weekend
• Vintage Jets to salute the RAF at Kemble Air Day 2008
• Caving fun at Clearwell Caves
• SAVE £££'s - Book in advance for the 2008 Kemble Air Day!
• NEW on-line ticket booking with Stagecoach buses
• Old bangers needed for the 2008 Cotswold Show
• Amy Hatcher coming to the 2008 Cotswold Show
• Performances at the Everyman Theatre in June
• Gloucester Rugby Club tackles the 2008 Cotswold Show
• Out of the Hat - Residents offer extended
• The Red Arrows only date this summer with RIAT 2008
• Performances at the Everyman Theatre in May
• The National Waterways Museum re-opens 24 May
• SPECIAL OFFER at the Cheltenham Chase Hotel
• Tewkesbury Food and Drink Festival – opens its doors this weekend.
• May School Holidays in Gloucestershire 2008
• Asparagus now ready at Primrose Vale & Over Farm
• Enjoy a round of golf at Shipton Golf Course
• Sports Relief re-run at Pittville Park this Sunday
• Listen to the 2008 Cheltenham Jazz Festival PodCast!
• World famous Shakespeare's Globe comes to Sudeley Castle
• Gloucester shouts about its future!
• 2008 Slimbridge Beer Festival
• Your chance to create the new Tewkesbury Smoothie!!!
• Tickets now on sale to the 2008 Cheltenham Science Festival
• NEW high quality maps of Gloucestershire now available!
• NEW 2008 printed guide now available!
• NEW 2008 Photography Competition - Gloucestershire at its Best!
• Do you want to sell your wares at Kemble Air Day 2008?
• What's on at The Everyman in April 2008
• April School Holidays in Gloucestershire 2008
• Last few tickets left for Howlers at the Hall
• Fabulous prizes in to be won April's Competition!
• NEW Cheltenham Food & Drink Festival in June 2008
• Reduced entry to Out of the Hat in Tewkesbury