Vulcan on its way to the Royal International Air Tattoo next weekend!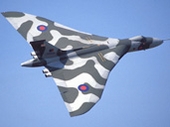 AIR TATTOO ADDS VULCAN TO STAR LINE-UP
The legendary Vulcan bomber has been added to the Royal International Air Tattoo's flying display next weekend after its operators won a last-minute battle to have the aircraft airworthy in time for the world's largest military airshow.
The Vulcan, one of the most iconic warbirds of the Cold War era, was restored to flying condition in 2008 following a massive £7 million public campaign.
In order to display each year, the aircraft has to pass a series of rigorous tests, and operators overcame both financial and technical challenges to ensure that once again, the world's only airworthy Vulcan would take to the skies for another season.
Vulcan XH558, which was built in 1960, enjoyed a 33-year career in the RAF, including service during the Falklands War. Along with the Valiant and the Victor, the three aircraft comprised the Royal Air Force's legendary V-bomber force, designed to protect the UK from nuclear threat from the 1950s to the 1980s.
The ambitious restoration of XH558 was supported by a £2.5 million grant from the Lottery Fund, a £500,000 donation from philanthropist Jack Hayward, commercial sponsors plus contributions from more than 20,000 members of the public. The campaign also received significant fundraising support from the Air Tattoo throughout the restoration project.
Last year, its appearance at the Air Tattoo was considered by many to have been the highlight during the airshow's eight-hour flying display.
Air Tattoo Chief Executive Mr Tim Prince said he was delighted to be welcoming back such a popular and unique aircraft. He said: "It's been touch-and-go as to whether the aircraft would be ready in time but I am absolutely thrilled it is now able to join us. There are few aircraft flying today that can match its beauty and sheer thunderous power. In my mind, it is one of a handful of legendary aircraft, including the Spitfire and Concorde that has the ability to stir the emotions."
The Air Tattoo, which is held in support of the Royal Air Force Charitable Trust, is the world's largest military airshow and attracts around 300 aircraft from across the globe. This summer's event will stage special tributes marking the 70th Anniversary of the Battle of Britain. Tickets must be bought in advance. Admission is free for all under-16s plus there is free parking. For further details, visit airtattoo.com
Royal International Air Tattoo 2010 - 17 & 18 July 2010
---
Explore Gloucestershire
8 July 2010

For further information.



OTHER NEWS
• The latest from The Times Cheltenham Literature Festival
• Twist & Pulse to Switch on Christmas Lights at Gloucester Quays
• New Season at Howlers Comedy Club
• Simon Pegg & Derren Brown coming to the 2010 Cheltenham Literature Festival
• First Pallas Cat kittens born at Cotswold Wildlife Park
• Unexplored Autumn Colour at Westonbirt
• Latest news from the 2010 Times Cheltenham Literature Festival
• Rare Woodland Bat found at Westonbirt Arboretum
• BBC History Festival at Gloucester Cathedral - 28 August 2010
• Tiny new arrivals at Cotswold Wildlife Park
• FREE entry for kids at Sudeley Castle near Winchcombe
• NEW! Special venue for childrens parties at Prinkash Bird & Deer Park
• REVIEW: The Dean Forest Railway
• New Cider, Perry & Ale Festival coming to Gloucester at the Wharf House
• NEW OFFER: £20 OFF a champagne balloon flight over the Cotswolds!
• A Circle of Friends at the Everyman Theatre
• Summer school holidays in Gloucestershire 2010
• REVIEW: James Morrison at Westonbirt
• Airshow pulls out all the stops
• Café Rene is the venue for the 2010 Gloucester Rhythm & Blues Festival
• Win Tickets to Toy Story 3 Regional Premiere at Cineworld Cheltenham!
• REVIEW: Blood Brothers at the Everyman Theatre
• Vulcan on its way to the Royal International Air Tattoo next weekend!
• RED BULL gives wings to Air Tattoo 2010
• Roman Credit Crunch and Medieval Poo
• A new chick in town! (well at Cotswold Wildlife Park there is)
• GLOUCESTERSHIRE TREASURE TRAILS are coming to a town near you this Summer!
• New Pony Rides at Puzzlewood
• Westonbirt Arboretum Live Music – Unique Location
• NEW OFFER! - 2 for 1 entry at Puzzlewood in the Forest of Dean
• NEW OFFER! Free Half-day Luxury Spa Package + a Free Session with ALL YOUR LIFE
• NEW EXCLUSIVE OFFER! Buy 2 Darklight Lasertag experiences and get 3rd FREE
• The Cotswolds's first ever giraffes!
• Young adventurers to explore Westonbirt for free this summer
• NEW EXCLUSIVE OFFER! Free game of Darklight Lasertag in Gloucester