REVIEW: Blood Brothers at the Everyman Theatre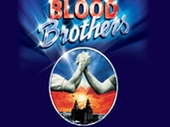 There have been some exceptional productions recently at the Everyman Theatre, with the recent hit comedy Calendar Girls breaking all Box office records in June. This month we have Blood Brothers.
This award winning musical written by Willy Russell has been running in London for over 20 years and judging by the numbers present during the performance it has been eagerly awaited in Cheltenham.

The story of two Liverpudlian twins separated at birth takes you on an emotional rollercoaster from beginning to end. It shows how their separate lives entwine over the years and very different upbringings. It is a story of love, guilt, betrayal, and an invisible bond shared by two young boys who become blood brothers at the age of seven, never learning their true identities until tragedy strikes. Excellent performances for me came from Sean Jones who played Mickey. As his character ages his whole persona changes effortlessly. The same actors play their characters from childhood to adulthood and do look as if they had excellent fun doing so! Lyn Paul (ex New Seekers) portrayed an outstanding Mrs Johnstone as the scouse mother. She has a fantastic clear voice which is imperative as much of the story is told through the music.

This production will make you laugh, make you cry and also make you think, but you will be engrossed from beginning to end. The end of the performance brought tears and even audible sobs, but most of all, a much deserved standing ovation from the audience.

Blood Brothers runs until 17 July.
Coming soon to the Everyman Theatre:
19 – 24 July: Bedroom Farce
26 – 31 July: Mum's the Word
6 -11 September: Dreamboats and Petticoats
20-25 September: Oklahoma
28 September – 2 October: Chess
---
Explore Gloucestershire
14 July 2010

For further information.



OTHER NEWS
• The latest from The Times Cheltenham Literature Festival
• Twist & Pulse to Switch on Christmas Lights at Gloucester Quays
• New Season at Howlers Comedy Club
• Simon Pegg & Derren Brown coming to the 2010 Cheltenham Literature Festival
• First Pallas Cat kittens born at Cotswold Wildlife Park
• Unexplored Autumn Colour at Westonbirt
• Latest news from the 2010 Times Cheltenham Literature Festival
• Rare Woodland Bat found at Westonbirt Arboretum
• BBC History Festival at Gloucester Cathedral - 28 August 2010
• Tiny new arrivals at Cotswold Wildlife Park
• FREE entry for kids at Sudeley Castle near Winchcombe
• NEW! Special venue for childrens parties at Prinkash Bird & Deer Park
• REVIEW: The Dean Forest Railway
• New Cider, Perry & Ale Festival coming to Gloucester at the Wharf House
• NEW OFFER: £20 OFF a champagne balloon flight over the Cotswolds!
• A Circle of Friends at the Everyman Theatre
• Summer school holidays in Gloucestershire 2010
• REVIEW: James Morrison at Westonbirt
• Airshow pulls out all the stops
• Café Rene is the venue for the 2010 Gloucester Rhythm & Blues Festival
• Win Tickets to Toy Story 3 Regional Premiere at Cineworld Cheltenham!
• REVIEW: Blood Brothers at the Everyman Theatre
• Vulcan on its way to the Royal International Air Tattoo next weekend!
• RED BULL gives wings to Air Tattoo 2010
• Roman Credit Crunch and Medieval Poo
• A new chick in town! (well at Cotswold Wildlife Park there is)
• GLOUCESTERSHIRE TREASURE TRAILS are coming to a town near you this Summer!
• New Pony Rides at Puzzlewood
• Westonbirt Arboretum Live Music – Unique Location
• NEW OFFER! - 2 for 1 entry at Puzzlewood in the Forest of Dean
• NEW OFFER! Free Half-day Luxury Spa Package + a Free Session with ALL YOUR LIFE
• NEW EXCLUSIVE OFFER! Buy 2 Darklight Lasertag experiences and get 3rd FREE
• The Cotswolds's first ever giraffes!
• Young adventurers to explore Westonbirt for free this summer
• NEW EXCLUSIVE OFFER! Free game of Darklight Lasertag in Gloucester