Winter Owl Evenings return to The International Centre for Birds of Prey Centre at Newent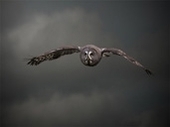 These special evenings are now on offer every Friday and Saturday evening in the weeks running up until Christmas.
Winter Owl Evenings are designed to allow visitors to experience owls in their natural surroundings and at the Centre there are an impressive number to see.

The evenings begin with a guided torch lit walk through the aviaries with Jemima Parry–Jones and her very informative staff. Numbers are limited and the groups never too big so you don't miss anything. Lots of them have funny little habits or stories to be told.
On a chilly evening it's a nice break when you return to the café for a hog roast and a mulled wine. They do cater for veggies as well and there is also hot apple juice on offer.

In the education room there is a further talk and flying demonstration of the smaller owls, with the evening concluding with an outdoor flying demonstration in torchlight - quite a sight in an eerie light.

Jemima and all the staff at the Centre are very passionate about their birds and this is reflected throughout the whole evening.

Explore Gloucestershire were invited along last year and we thoroughly enjoyed the whole experience and would offer the following recommendations:
Wrap up warm, preferably in waterproof clothing. You can't let a bit of rain spoil a great evening and umbrellas are not an option as they spoil the view for others and can be a hazard in small groups (as safety goggles are not an option either).
Bring a small torch and wear sensible shoes.
Don't forget your camera for indoor shots. Night vision on video is also good as flashes are not a good idea outside and also detract from the enjoyment of others.
There are lots of opportunities to get close to the Birds at Newent and these are also available as gifts for friends and family - ideal for Christmas presents!
---
Explore Gloucestershire
1 October 2010

For further information.



OTHER NEWS
• Canine capers at Westonbirt Arboretum
• Christmas Celebrations Afloat – So popular more dates added!
• NEW OFFER: 10% off at Taurus Crafts - Ideal for Christmas presents!
• Gloucestershire at its Best Photography Competition - Last chance to enter
• The Times Cheltenham Literature Festival crowned Tourism Event of the Year!
• The Tivoli pub in Cheltenham to have new lease of life after closure
• £15 Menu at The Wharf House - Last chance!
• Tourism Award for Treasure Trails
• SPECIAL CHRISTMAS IN GLOUCESTERSHIRE SECTION - now live!!!
• "Twist & Pulse to Switch on Gloucester Quays Christmas Lights This Thursday!"
• NEW OFFER: Free weeks pass at Barcelo Health & Leisure Club in Cheltenham
• Co-Opera Co. bring two of the most popular operas to the Everyman next week
• Gloucester's Zombie Thriller Video at Café René
• Follow Explore Gloucestershire on Twitter
• REVIEW: The Haunting at The Everyman Theatre in Cheltenham
• Swan Lake – For 3 Nights Only!
• Green Father Christmas to launch Westonbirt's Festive Fun
• Conservators protect mosaics from builders at Chedworth Roman Villa
• SPECIAL OFFER! 33% OFF Business Promotion with Explore Gloucestershire iPhone APP & Website!
• STOP PRESS: The First iPhone APP for Gloucestershire!
• Double value parking at two major town centre car parks throughout December
• Tickets on sale now for Winter Wildlife Festival talks
• Explosive Entertainment at The Everyman Theatre: REVIEW
• Continental market returns to Cheltenham
• Half Term & Halloween in Gloucestershire
• Birthday Celebrations with tea and cake at Gloucester Folk Museum
• The All Your Life Celebrity Charity Ball 'Party Only' Tickets now available for £25
• NEW OFFER! FREE Makeover and Photoshoot with ALL YOUR LIFE
• Congratulations to The Wharf House Restaurant
• NEW OFFER! 4 Fabulous money saving vouchers at Café René in Gloucester
• Calypso Comes to Cheltenham!
• When do you think the first Bewick's will arrive?
• 10% Off and Park for Free 6pm-8pm at Gloucester Quays Designer Outlet
• Winter Owl Evenings return to The International Centre for Birds of Prey Centre at Newent
• A message from Cafe Rene: "Calling all Zombies!!"