Fantastic flying kicks off RIAT Media launch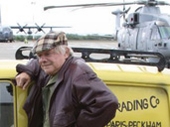 A BEVY of fantastic flying machines touched down today (Wednesday June 8) at RAF Fairford in Gloucestershire for the media launch of this summer's Royal International Air Tattoo, to help the event celebrate its 40th anniversary.

The aircraft - from the swing-wing fast jet Tornado GR4, through the USAF's MC-130P Combat Shadow and the Royal Navy's tiger-striped Navy Merlin, to two ultralight EV-97 Eurostars, provided by the RAF Charitable Trust, and a Boeing Stearman biplane from the Breitling Wingwalkers - touched down at the home of the Air Tattoo to launch this year's event, which takes place on July 16 and 17.

Sir David Jason, a great supporter of the Air Tattoo and an Honorary Vice Patron since 1999, arrived in an RAF Chinook HC2 from RAF Odiham to perform the official cutting of the Air Tattoo's 40th birthday cake and to wish the event well. He said: "It's a great pleasure to come to the media launch, as I like to feel it's helping drum up the support that the RAF Charitable Trust needs."

He added: "The Charitable Trust is close to my heart as it supports all the guys in the military who've fallen on hard times, as the money raised goes to help them and to make their lives more worthwhile. I feel very strongly about the role the RAF played in the Second World War, as I was born during the conflict and without them none of us would be here – so I feel duty bound, and proud, to support the Trust. "
The launch also featured three veterans from the first-ever Air Tattoo held in 1971 at North Weald, Essex. Spitfire Mk9 (MH434) which displayed at the first-ever Air Tattoo, flew in to join Tim Prince, Air Tattoo Chief Executive and a founder member of the airshow, along with aviation journalist and photographer Peter R March.

Recalling the Spitfire's first Air Tattoo appearance (it will also be displaying at this year's event), when it was piloted by former Red Arrows leader and legendary aerobatics display pilot Ray Hanna, Tim Prince said: "I can still recall the cold sweat I felt when Ray made his first approach: he was so low the tips of his propeller seemed to be touching the ground. But Ray went on to perform fantastically in MH434 and he helped cement the Air Tattoo's reputation for staging spectacular aerial displays."

Tim added: "It's a great pleasure to welcome our guests, and this has really set the scene for an outstanding 40th anniversary Royal International Air Tattoo. The United States Air Force is firmly behind us, as shown by the participation of the MC-130P Combat Shadow from RAF Mildenhall, along with Royal Navy, Royal Air Force and civilian aircraft, and we look forward to them joining us again, with thousands of members of the public, for our anniversary Air Tattoo on July 16 and 17."

Renowned aviation journalist Peter March from Bristol also attended the first ever Air Tattoo at North Weald. He said: "It's been a marvellous experience being a member of such an outstanding team of aviation enthusiasts. I've been involved for 40 years, and I hope to continue producing the programme and taking photos as long as I'm able."

First to touch down at the launch was the MC-130P Combat Shadow from RAF Mildenhall, representing and reinforcing the Air Tattoo's long-standing links with the United States Air Force. It was quickly joined by a Royal Navy Merlin helicopter from 814 Naval Air Squadron, Culdrose, sporting a grey striped livery and representing the Tiger 50 theme of this year's Air Tattoo, which marks the 50th anniversary of the NATO Tiger Association.

Next in was a Tornado GR4 from XV Squadron at RAF Lossiemouth, which flew the 500-plus miles from North East Scotland (in a mere 40 minutes) and put on a fly-past for the assembled media. The fast jet display was followed by a fly-past by the historic Spitfire MH434, linking past and present as one of the aircraft which displayed at the first-ever Air Tattoo in 1971.

Two EV-97 Eurostars, funded by the RAF Charitable Trust and providing Air Experience Flights for RAF trainees then joined the runway display, with the final arrival being a Boeing Stearman biplane from the Breitling Wingwalkers base at nearby Rendcomb, complete with wingwalker Danielle Hughes who performed her daring display on top of the bright orange biplane.

This year's Air Tattoo takes place from July 16 to 17 at RAF Fairford, in Gloucestershire, when more than 155,000 visitors are expected to view around 250 aircraft from across the world.

The event is staged in support of its parent charity, the Royal Air Force Charitable Trust, which provides financial support to a wide variety of RAF-related projects and initiatives within the RAF family. Since 2005 the Trust has gifted over £1.56 million to a wide range of projects and initiatives.
Event: RIAT 2011
Date: Saturday 16 - Sunday 17 July 2011
Time: Gates open at 7.30am. Flying display starts at 10.00am
Tickets: £39 for specific day; £44 for either day and £68 for 2 days. Children under 16 FREE when accompanied by an adult ticket holder. Tickets must be purchased in advance. Tickets can be purchased at www.airtattoo.com or by calling the Ticket Office on 0800 107 1940 No tickets are available on the gates.Also Available in selected Barclays Banks and Tourist Information Centres.
Where: Fairford, Glos.

---
Explore Gloucestershire
8 June 2011

For further information.

Contact phone : Ticket Office on 0800 107 1940
Also see : RIAT 2011
OTHER NEWS
• Pirates Invade the Dean Heritage Centre
• Renaissance Music at Lodge Park, Gloucestershire
• The £3 million restoration of the Everyman Theatre almost complete
• Shot in Cheltenham - Photographs from the past
• Celebrate Forest Discovery Day at Westonbirt
• Gloucester Cathedral wins praise for innovation in quality visitor attraction award
• Record-breaking early sales for The Times Cheltenham Literature Festival 2011
• Gloucester City Museum Official Opening
• 'Garden of the future' has opened at Slimbridge
• New activity attraction in the Forest of Dean
• Everyman Out There! The New Young Company Launches
• KIDS GO FREE this summer with the National Trust
• Local musicians, poets & artists join Treefest at Westonbirt
• Harts Barn to host first Plum Festival for the Forest of Dean
• The Times Cheltenham Literature Festival 2011 - details announced
• Award winning garden will open come rain or shine at WWT Slimbridge
• Blackfriars Priory opens its doors to visitors
• Cheltenham Horse Parade - Fine Form Exhibition
• World's rarest piglets make their debut... Warts and all!
• Grant helps Chedworth Roman Villa development
• Stars Shine at Air Tattoo
• Launch of 'LOVE YOUR ZOO' & 'ON YOUR DOORSTEP' at ICBP
• WORLD FIRST: Spoon-billed sandpiper chicks hatch in captivity
• Get back to nature this summer with Treefest at Westonbirt
• NEW OFFER: Free cuppa at Magicland in Cirencester
• Cheltenham's Everyman Theatre Restoration – Well under way!
• £3m makeover for top Hallmark Gloucester Hotel
• REVIEW: High ropes in the Forest of Dean with MOTIVA
• Comic Legend to re-open Everyman Theatre!
• FREE OFFER listings available for Gloucestershire businesses!
• New arrivals at Cotswold Wildlife Park!
• Screen star Emma Samms to join cast of Everyman pantomime
• City Council Announces 75th Annual Gloucester Carnival
• James Hunt Exhibition at the Cotswold Motoring Museum
• AWARD WINNER 2011: Cotswold Wildlife Park
• NEW OFFER: Free cup of tea at Primrose Vale PYO
• Luxury cinema comes to The Brewery in Cheltenham
• Vulcan Bomber returns to the 2011 Air Tattoo
• Fantastic flying kicks off RIAT Media launch
• Big boost to Cotswold Water Park near Cirencester
• Adam Henson to officially launch Harts Barn Farm Shop and Cookery School