Gloucester International Rhythm & Blues Festival Update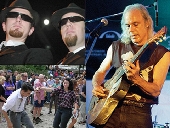 This year's Gloucester International Rhythm & Blues Festival brings a range of tremendous international, national and local artistes to the city for nine days of amazing, laid back music, starting on Saturday, 28 July.

Headlining international stars include The Holmes Brothers, Sharrie Williams and the Wiseguys, The Animals, Mike Sanchez and the Portions and American Blues Harmonica Masters Russ Green, Dennis Gruenling and Johnny Mars with The Michael Roach Band.

Other greats include the Matt Schofield Band, The Big Blues Tribe and Johnny Dickinson.

The festival starts on 28 July in Gloucester Park, with the Mike Harrison Band at 4pm and The Holmes Brothers at 8pm. These acts are the Blues Festival's contribution to the City Council's Summer Festival. The Central Gloucester Initiative hosts the main stage on the 29th in King Square and Café René is organising the stage in Greyfriars on the 4-5th July. All these events are free.

In between are gigs at the National Waterways Museum, the Tall Ship, Café René, Pig Inn the City, the New Inn, Fosters, the Dick Whittington, Deans Walk Inn, Poets Wine Bar and the big indoor ticketed event at Gloucester Guildhall, American Blues Harmonica Masters with the Michael Roach Band (Box Office 01452 503050 or online at www.gloucesteractive.co.uk/events
Sharrie Williams, who's headlining the Kings Square stage on Sunday, 29 July, has appeared with Dizzy Gillespie, Buddy Guy, Larry McCray, KoKo Taylor, Bobby Blue Bland, Charlie Mussel White, Taj Mahal, Honey Boy Edwards, Solomon Burke and Lazy Lester. She's headlined the Burnley and Maryport Festivals in the UK this year as well as the Chicago and Pocono Blues Festivals.

The Holmes Brothers are one of the best things to have happened to blues-related roots music in many years. With deep soul singing that resonates with passion and commitment, the blend of these three voices can take your breath away.
It's hard to pin down their style because they draw from such a wide musical base. At a typical Holmes Brothers show you will find a mixture of soul, blues, gospel, R&B and country. But no matter what the song or style, what you can count on is a three-part vocal harmony that is truly unique.

The second weekend features Mike Sanchez and the Portions, The Animals, Spank the Money, Rick Payne and other terrific acts.
British singer, pianist and guitarist Mike Sanchez is one of the world's most exciting and charismatic performers of Rhythm & Blues and Rock 'n' Roll. His indelible image as a frenetic front man, pumping powerful boogie-woogie from the piano in a soaking red suit, has won him fans from all over the world and attracted a following from many famous rock and blues legends who have lined up to work with him.

The Animals and Friends, of course, need no introduction. Peter Barton, former Mindbender, had been gigging in a band alongside John Williamson, former guitarist from Titanic. Jim Rodford was a well-known face from the Kinks and Argent. Johnnie guitar Williamson, again from his time with Titanic and Skeleton Crew, had become a familiar face on the Blues and Rock circuit. Pete Barton had also served his apprenticeship alongside Wayne Fontana in The Mindbenders and with Trevor Burton from The Move. The final ingredient's to this rock & roll cocktail was of course original Animal members, Dave Rowberry and John Steel.

This year marks the 7th for Gloucester's international blues festival. Sponsors include Kings Walk Shopping Centre, Gloucester City Council, The Mall Eastgate, lxb, Protocol Design Media, Café René and the Central Gloucester Initiative (CGI). It is organised by the CGI.

For further information.



OTHER NEWS
• Linking up with STAR 107.5FM
• Eating out with a difference at AV8 Restaurant
• Gloucester Tall Ships 2007
• The Glory of the Flower by LAPADA
• Heritage Open Days 6 - 9 September
• Photography Competition - WIN a Digital Photo Frame!
• New Aviaries at Birdland Park & Gardens
• £5 off your family ticket at Dean Forest Railway
• WIN TICKETS TO HOWLERS COMEDY CLUB
• HOWLERS COMEDY CLUB - New Autumn season dates
• SPECIAL OFFER - Promote your event for only £10 pcm
• Watch our movie of the Gloucestershire Floods of 2007
• Chocolate heaven at The Chase Hotel
• Events Cancellation & Updates
• Gloucester Blues Festival UPDATE
• Joust Cancelled 28 & 29 July 2007
• Flooding Situation - Emergency Services Update
• Flooding Situation - Emergency Services Update Tuesday 24 July 2007
• Gloucester Carnival Procession 2007 cancelled
• Joust cancelled for 21-22 July 2007
• Elton Farm Giant Maize Mazes
• NEW Severn Vale section added
• Royal International Air Tattoo 2007 Review
• Explore goes karting in Gloucester
• CATS - Get your paws on tickets for the closing shows
• David Beckham Acadmy at the Cotswold Show
• Joust Update & Joust Royal Feasts
• Saul Canal Festival Cancelled
• Pick Your Own Strawberries
• Kemble Air Day 2007 review - A great day out!
• Explore celebrates half million hits each month
• Last Howlers of the Season
• Host Birthplace Museum Secures Holst Letters
• Gloucester International Rhythm & Blues Festival Update