New activity attraction in the Forest of Dean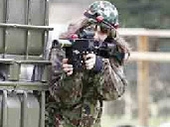 Nearly 35 years since they planted the famous Jubilee Maze at Symonds Yat West in the Forest of Dean, twins Edward and Lindsey Hayes have just opened their fourth activity attraction.

Laser Ops, the brand new action attraction at Symonds Yat West opened on Saturday 20 August 2011 and joins the other three visitor attractions on the same site, The Amazing Hedge Puzzle, Wye Valley Butterfly Zoo and Miniature Golf.

Laser Ops is an action-packed outdoor activity, designed so that groups of families and friends can enjoy a unique combat experience within a close quarter battlezone - inspired by the nearby CQB ranges used by the SAS.

All Laser Ops games have a special operations theme based on real events and a typical session will include 8 to 10 games out of over 20 available.

Groups of 10 or more can enjoy a game of Laser Ops but smaller groups can book a session and the Laser Ops organisers will get other teams to play with. Laser Ops marshals match the games and make sure the groups' abilities are as equal as possible to make the Laser Ops games as competitive and fun as possible, so maximum enjoyment is had by all.

Laser Ops technology is completely safe, unaffected by bright sunlight, with no painful paintballs or hidden costs. Sessions run for two hours unless otherwise arranged.
Try something different - try a game of Laser Ops in the Forest of Dean!
---
Explore Gloucestershire
24 August 2011

For further information.

Contact phone : Call or text 07703 306 762 to book your game of Laser op
Also see : Laser Ops
OTHER NEWS
• Pirates Invade the Dean Heritage Centre
• Renaissance Music at Lodge Park, Gloucestershire
• The £3 million restoration of the Everyman Theatre almost complete
• Shot in Cheltenham - Photographs from the past
• Celebrate Forest Discovery Day at Westonbirt
• Gloucester Cathedral wins praise for innovation in quality visitor attraction award
• Record-breaking early sales for The Times Cheltenham Literature Festival 2011
• Gloucester City Museum Official Opening
• 'Garden of the future' has opened at Slimbridge
• New activity attraction in the Forest of Dean
• Everyman Out There! The New Young Company Launches
• KIDS GO FREE this summer with the National Trust
• Local musicians, poets & artists join Treefest at Westonbirt
• Harts Barn to host first Plum Festival for the Forest of Dean
• The Times Cheltenham Literature Festival 2011 - details announced
• Award winning garden will open come rain or shine at WWT Slimbridge
• Blackfriars Priory opens its doors to visitors
• Cheltenham Horse Parade - Fine Form Exhibition
• World's rarest piglets make their debut... Warts and all!
• Grant helps Chedworth Roman Villa development
• Stars Shine at Air Tattoo
• Launch of 'LOVE YOUR ZOO' & 'ON YOUR DOORSTEP' at ICBP
• WORLD FIRST: Spoon-billed sandpiper chicks hatch in captivity
• Get back to nature this summer with Treefest at Westonbirt
• NEW OFFER: Free cuppa at Magicland in Cirencester
• Cheltenham's Everyman Theatre Restoration – Well under way!
• £3m makeover for top Hallmark Gloucester Hotel
• REVIEW: High ropes in the Forest of Dean with MOTIVA
• Comic Legend to re-open Everyman Theatre!
• FREE OFFER listings available for Gloucestershire businesses!
• New arrivals at Cotswold Wildlife Park!
• Screen star Emma Samms to join cast of Everyman pantomime
• City Council Announces 75th Annual Gloucester Carnival
• James Hunt Exhibition at the Cotswold Motoring Museum
• AWARD WINNER 2011: Cotswold Wildlife Park
• NEW OFFER: Free cup of tea at Primrose Vale PYO
• Luxury cinema comes to The Brewery in Cheltenham
• Vulcan Bomber returns to the 2011 Air Tattoo
• Fantastic flying kicks off RIAT Media launch
• Big boost to Cotswold Water Park near Cirencester
• Adam Henson to officially launch Harts Barn Farm Shop and Cookery School