New Stagecoach West 'County Link' bus route to help Explore Gloucestershire more!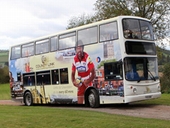 Travel further than you think on the NEW Stagecoach County Link!
24 October 2011 - Stagecoach West has launched a new hourly bus service that operates all the way from Hereford to Gloucester.

Route 33, a new bus service providing a direct link between Hereford and Gloucester started on Sunday (23rd October). Stagecoach's old 33 service terminated at Ross-on-Wye so passengers for Hereford had to change buses. Coined the County Link, the new Route 33 operates between Gloucester and Hereford via Churcham, Huntley, Lea, Weston under Penyard, Ross-on-Wye, Much Birch and King's Thorn. The new service runs every hour during the day, Monday to Saturday.

Stagecoach West held an official launch event for the service on Friday which took place at the Pilgrim Hotel in Much Birch, Herefordshire. At the launch event, Ian Manning, Managing Director of Stagecoach West, was joined by Cllr Julie Woodward, the Mayor of Hereford, Cllr Caroline Utting, the Deputy Mayor of Ross-on-Wye, Cllr Adrian Blackshaw, Herefordshire Council Cabinet Member for Highways & Transportation and Cllr Mark Hawthorne, the Leader of Gloucestershire County Council.


Ian Manning said: "We are pleased to have worked with Herefordshire Council and Gloucestershire County Council as part of their re-tendering exercise of some services recently to produce a new timetable structure which provides more regular buses for our customers between Gloucestershire and Herefordshire.

"Now passengers will be able to enjoy the benefits of more through journeys which we hope will encourage more people to travel with us and take advantage of our value for money fares."

Cllr Adrian Blackshaw said: "As one of the most rural counties in England, efficient and regular transport is essential to keep Herefordshire moving. We're delighted that Stagecoach West has committed to this new enhanced service which will make it easier for people to travel between the two counties. We particularly welcome the voucher scheme they have introduced which is timely given the current economic climate."

Cllr Mark Hawthorne said: "Our county-wide bus review was aimed at finding innovative solutions just like this one that will greatly improve the service. We need public transport that really works and this is an excellent example of how we've joined forces with our partners to get the best for Gloucestershire passengers."

Stagecoach has also catered for people wishing to travel between Hereford and Gloucester on a Sunday as its Route 32 service has also been extended to Hereford on that day as well as on weekday evenings. Route 32 evening and Sunday journeys now operate between Gloucester and Hereford via Highnam, Newent, Gorsley, Ross-on-Wye, Much Birch and King's Thorn.

The service enhancements were supported by a wide-scale marketing campaign which saw money-saving vouchers for Routes 32 and 33 despatched to over 45,000 households along the routes. The extension of Route 33 is one of several service enhancements Stagecoach West has made to its Wye & Dean bus network this month, including improving Services 35 & 36 which operate between Ross-on-Wye, Coleford and Monmouth and between Monmouth and Hereford respectively.
---
Ex[plore Gloucestershire
25 October 2011

For further information.



OTHER NEWS
• National Trails walks now available on the Explore Gloucestershire iPhone APP
• Air Tattoo announces Big Freeze
• Live 'n' Deadly live from Cotswold Wildlife Park
• Cheltenham Racecourse to host the London 2012 Olympic Torch
• DIY Christmas at Taurus Crafts
• "Set Your Taste Buds Off With a Bang at Our Monthly Food Market This Bonfire Night"
• See Westonbirt's trees in a new light this Christmas!
• Firework Displays in Gloucestershire
• New Stagecoach West 'County Link' bus route to help Explore Gloucestershire more!
• The wild stars of Autumnwatch swoop into Slimbridge
• RESTAURANT REVIEW: The Inn at Fossebridge in the Cotswolds
• Charity exhibition of original work by Joy Adamson at Ellenborough Park
• NEW OFFER: £20 meal deal for two at Joules Restaurant in Cheltenham
• 'Patrick Conoley, 75 Years of Sculpture' Exhibition
• October Half Term & Halloween in Gloucestershire
• Win £100 and FREE travel with Stagecoach West buses!
• Joseph & the Amazing Technicolor Dreamcoat Back at the Everyman this Half Term
• Photography & Poetry inspired by Autumn at Westonbirt Arboretum
• A taste of Italy comes to Tewkesbury
• Sculptor brings his magic to Puzzlewood
• The 2011 Cheltenham Literature Festival update
• Explore Gloucestershire iPhone APP: Version 1.1 now available
• Explore Gloucestershire APP: Now over 4,000 downloads!
• BBC Autumnwatch makes Westonbirt its October home
• Scary volunteers needed for Frightmare at Over Farm!
• Treasure trove of rarities is a delight for twitchers
• Autumn arrives early at Westonbirt Arboretum
• Zulu evening at Ellenborough Park: An Audience with Rob Caskie
• Robert Powell to star in Everyman Theatre Birthday Celebrations